Best hotels in Makarska
Hotels in Makarska are the canvas upon which vacation dreams are painted. Each stay is a masterpiece framed by the Adriatic blue and the mountains' emeralds.
Makarska is home to an amazing variety of hotels. Each provides a distinctive experience on the Dalmatian coast. There are different types of hotels in Makarska, from quaint boutique hotels tucked away in the old town to coastal hotels boasting stunning sea views.
Many hotels in Makarska have spa services, contemporary amenities, and quick access to the town's stunning beaches and lively promenade. Hotels in Makarska are the perfect option for anyone searching for an incredible and revitalizing vacation along the Adriatic coast since they provide the perfect balance of comfort and natural beauty.
And best of all, the hotels in Makarska are positioned in opposition to the magnificent Biokovo Mountain.

1. Aminess Khalani Beach Hotel
Pushing the boundaries of luxury vacationing in Makarska, the Aminess Khalani Beach Hotel boasts a breathtaking view of the sea and the beautiful Biokovo mountain looming over. It exudes sophistication and elegance and is influenced by stone, water, and Mediterranean spirit. Its magnificent rooftop terrace and king-size rooms are designed for luxury. And a host of outstanding features, including pools, a spa, and kid-friendly play areas, beckon you to enjoy life's little pleasures. You'll feel like a real princess after exploring our amazing gourmet menu and fantastic beach! Experience the ultimate family vacation at Makarska's lone five-star hotel. This hotel earned its place on our list of the best hotels in Makarska.
2. Valamar Meteor Hotel
A lavish seaside hotel in Makarska. The Valamar Meteor Hotel has tastefully furnished rooms and suites with stunning views of the Adriatic Sea. This exquisite 4-star hotel has a wide selection of services for a wonderful vacation in Makarska. The fitness center, spa, and outdoor pool are available to guests. There's a chic cocktail bar for unwinding and delicious Mediterranean food served at the hotel's restaurant. One of the best features is direct beach access, which lets guests enjoy the sun on the immaculate pebble beaches. Travelers looking for an unforgettable Adriatic experience will find the Valamar Meteor Hotel to be the perfect option thanks to its great location and helpful staff.
3. Hotel Park Makarska
The Park Hotel is situated in a very distinctive area. This hotel is your best option in Makarska because it is located in the most picturesque area of the Adriatic coast, Dalmatia, where the blue sea laps against the long, sun-kissed pebbly beaches. It was also one of the first hotels to introduce fully intelligent hotel rooms. Each of the well-appointed, roomy accommodations has an attached bathroom. The hotel features a small outdoor pool, a sun terrace with a pool bar, a 24-hour reception with free WiFi, a hotel restaurant, a seaside a la carte restaurant and bar, a quiet lobby bar, and a gift store.
4. Hotel Osejeva Makarska
Enjoy breathtaking views of the sea from the recently opened Hotel Osejava in Makarska. The hotel is situated in the city center along a busy promenade surrounded by three beautiful beaches. This modern haven features the newest styles in interior design. It is equipped with luxurious modern furnishings, making it an ideal year-round hideaway for business or pleasure that can even host sports teams. A sports facility with tennis courts, a running track, a swimming pool, and a basketball court is conveniently nearby, as are two well-furnished congress halls. Hotel Osejeva with all its offer is undoubtedly one of the best hotels in Makarska.
5. Hotel Ani
You need to look no further than Makarska's Hotel Ani for a beautiful holiday retreat. Nestled in close proximity to the city center of Makarska, Hotel Ani offers the ideal combination of seclusion, comfort, and distinctive experiences. The hotel's outstanding service guarantees that every guest has an unforgettable stay. Superior design that is both fashionable and contemporary will greet you at Hotel Ani and provide you with the best experience imaginable. Hotels offer a variety of amenities to meet every demand, such as cozy accommodations, top-notch dining choices, and an abundance of activities in Markarska Riviera.
6. Boutique Hotel Mirjam
One of the cutest hotels in Makarska, the Hotel Mirjam is an opulent hotel just 200 meters from the beach of Biloševac. This boutique jewel provides an unrivaled vacation with a seasonal outdoor pool, a gorgeous garden, free private parking, and a fitness center. There are cozy equipped apartments with all the necessary conveniences. Every day hotel features a buffet with a continental and Italian selection, making it a banquet for the senses. For the ultimate in relaxation, guests staying at the Hotel Mirjam can enjoy the use of the spa, hot tub, and sauna. A visit to this seaside haven guarantees a memorable time in Makarska.
7. Hotel Milienij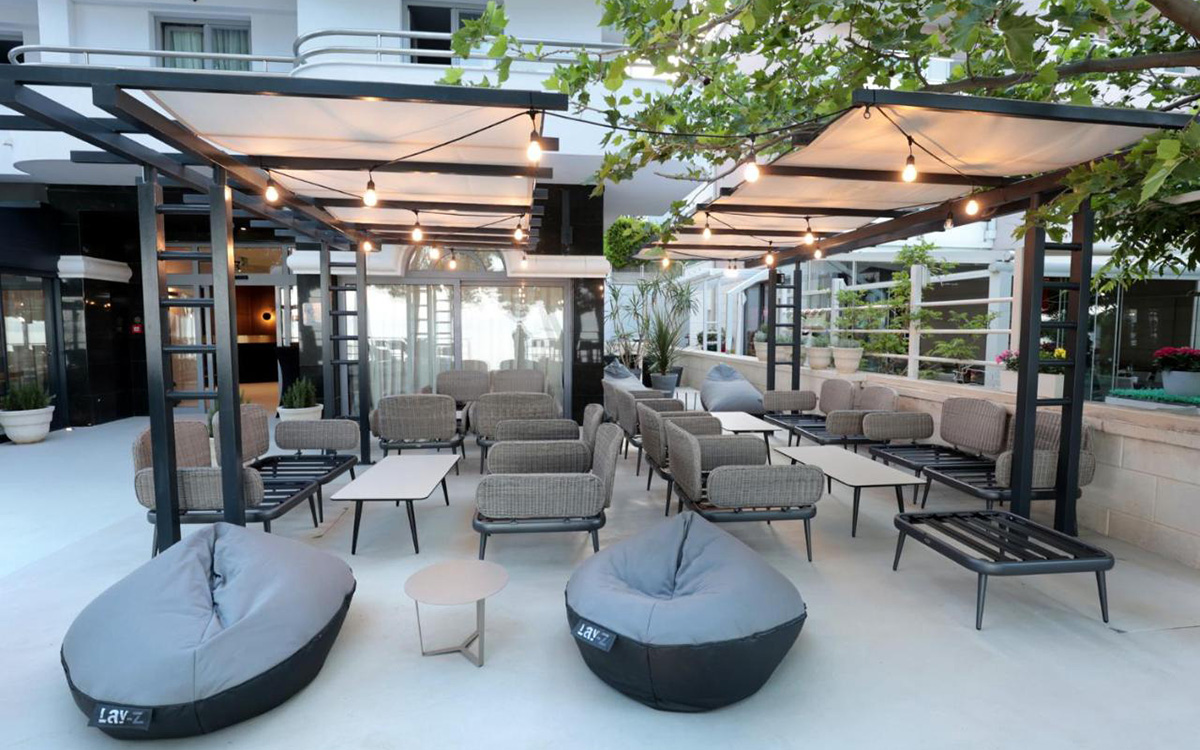 The Milenij Hotel in Makarska is the best option for those looking for a warm environment and a variety of practical conveniences. With amenities like air conditioning, a minibar, and a refrigerator, well-appointed rooms provide comfort whether you're here on business or for pleasure. With a 24-hour front desk, room service, and a dedicated concierge to make sure your stay is nothing short of wonderful, the hotel's dedication to providing outstanding service is clear. Enjoy delectable meals at the hotel's on-site restaurant. There is safe, private parking available on the property for anyone arriving by car. Discover the nearby Peninsula of St. Peter.
8. Heritage Hotel Porin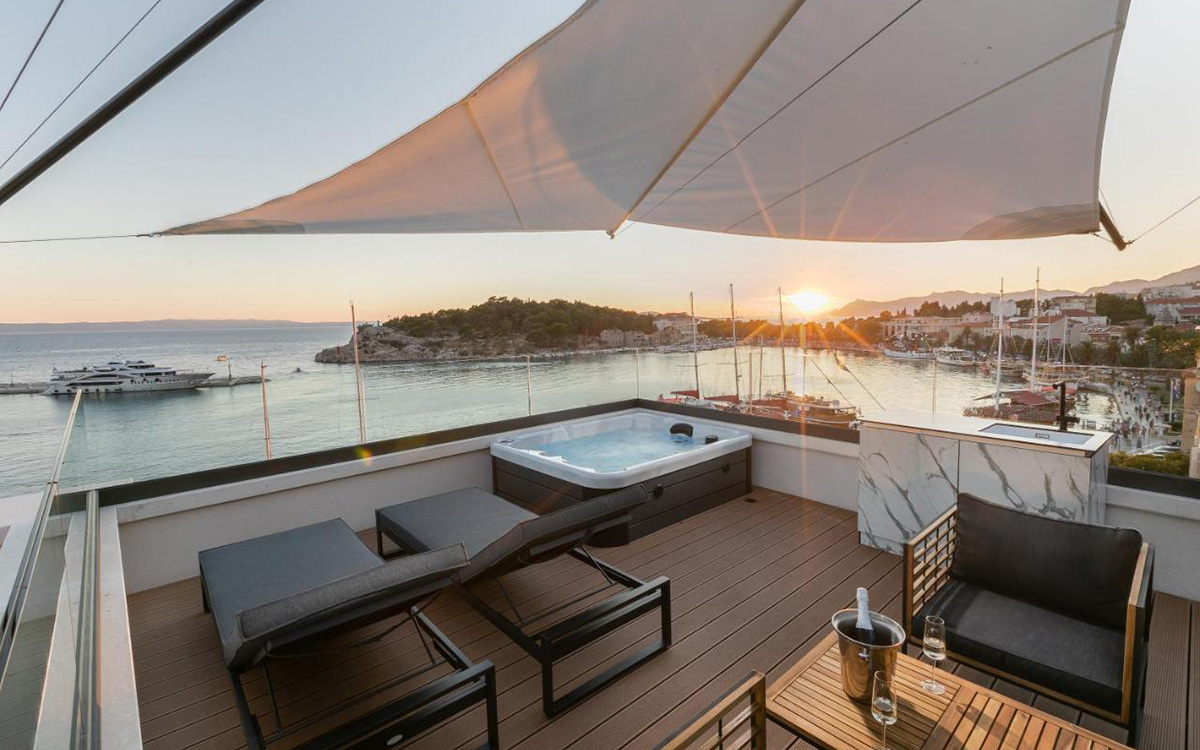 This four-star jewel preserves the allure of Makarska's 19th-century architecture by mixing modernism with a rich historical legacy. A cozy, welcoming atmosphere greets visitors to this historic hotel in Makarska. The 11 rooms are tastefully furnished with opulent accents, guaranteeing a memorable stay. The Heritage Hotel Porin offers a singular and heartfelt experience that will take you back to bygone eras. It emits a rustic charm that is beautifully linked to modern luxury. At this beautiful hotel, make memories that will last a lifetime and always feel welcome. Hotel Porin definitely deserves to be placed among the best hotels in Makarska. That's for sure!
9. Dalmacija Placeshotel by Valamar
At Dalmacija Placeshotel by Valamar, begin your day with a delicious breakfast that is served on a patio with a view of the calm sea. This seaside hotel also has a buffet restaurant with international food that tempts palates. Guests can find the outdoor pool, tucked away in a large sun deck, ideal for lounging on cozy sun loungers. Enjoy a variety of cool drinks at the pool bar to quench your thirst. Indulge in calming massages enhanced with perfumes and spices from the Mediterranean region at the specialized spa section to further improve your tranquility. Savor the pinnacle of beachside happiness.
10. Hotel Biokovo
Your perfect "home away from home" in Makarska is Hotel Biokovo. It is committed to giving visitors an incredibly pleasurable and restful stay that entices them to come back year after year. For your convenience, the hotel has a free breakfast, luggage storage, and a front desk open around the clock. Try Mediterranean food at nearby restaurants like Grill Panorama, Hrpina, and Konoba Kalalarga for a great meal. Just a short distance away is the Botanical Garden Kotisina as well. Hotel Biokovo offers you the finest of Makarska and ensures a restful and joyful stay.
Best hotels in Makarska FAQ
What are the best hotels in Makarska close to Old Town?
The best hotels close to Old Town include Hotel Dalmacija, Hotel Biokovo, and Hotel Park Makarska.
What are the best hotels near Biokovo Mountain?
The best hotels in Makarska near Biokovo Mountain include Hotel Dalmacija, Hotel Park Makarska, and Hotel Biokovo.
What are the best cheap hotels in Makarska?
The best cheap hotels in Makarska include Hotel Mirjam and The Maritimo Hotel.
What are the best hotels in Makarska for families?
These hotels in Makarska are highly rated by couples Valamar Meteor Hotel, Aminess Khalani Beach Hotel, and Dalmacija Placeshotel.
What are the best hotels in Makarska for couples?
The best hotels in Makarska that are loved by couples include Dalmacija Placeshotel, Hotel Mirjam, and Hotel Biokovo.
What are the best hotels in Makarska on the beach?
The best hotels in Makarska on the beach include Aminess Khalani Beach Hotel, Valamar Meteor Hotel, and Osejava.
What are the best hotels with a pool in Makarska?
The best hotels with a pool include Aminess Khalani Beach Hotel, Valamar Meteor Hotel, and Hotel Ani.
What are the best hotels with a spa in Makarska?
The best hotels with a spa include Dalmacija Placeshotel and Hotel Mirjam.
Learn more about Makarska
One of the most stunning destinations in the Dalmatian region of Croatia is Makarska. And the entire Riviera is unquestionably one of the most gorgeous Adriatic vacation spots. This region, which is home to the majestic Biokovo mountain and stunning coastal scenery, is highly recommended for travel.
What makes the Makarska Riviera ideal for a beach vacation are the numerous hidden bays and the paradisiacal beaches. The numerous romantic resorts that adorn this magnificent coastline are also a highlight. Drawing travelers from all over the world with their alluring vacation appeal and breathtaking attractions. The abundance of entertaining activities and excursions is another thing that makes traveler appreciation strong.
You might also like these articles!
• The 13 best hotels in Dubrovnik
• The 10 best hotels in Rovinj