Rome loves his reputation as an open-air museum, and rightly so. This amazing city accumulated more than two and a half thousand years endless and incredible antiques, various sights, historic buildings, outstanding galleries of Renaissance and Baroque art, churches filled with paintings and frescoes bay Italian artists, decorated public parks and beautiful fountains.
This is one of the most beautiful cities in the world, and its history is probably the richest of all. A visit to Rome is the gateway to understanding the history of Europe. It's undoubtedly one of the most famous and favorite tourist destinations in the world. Of course, there are large crowds, lots of tourists and bad traffic. Well, that is also why Rome is famous for. And anyone who strays from the tourist trails, the city will reward him with the streets full of life in the midst of vast amounts of historical ruins.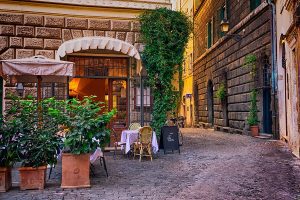 Tips for sightseeing
When it comes to sightseeing Rome, the best option is to take tours. When you try to visit the top attractions a big problem is waiting in line to see it. Agencies have different arrangements and with them, and you can enter without waiting in line. Sightseeing without a guide is not the best option.  Of course, you can visit the sights of Rome alone, but with the guide, sightseeing is more interesting.
Rome is really magnificent and specific city with a lot of sights and attractions that are collected through different periods of its history. It definitely can't be sightsee in one day. If you make a good plan for your journey to Rome, your journey will be unforgettable. But, if you visit Rome without planning and in haste, the eternal city could really disappoint you.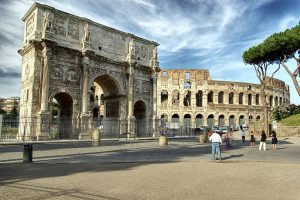 7 things you must see in Rome
1. Colosseum 
In the city filled with monuments, the Colosseum chested the status as most recognizable attraction and the city's symbol. It's nearly 2,000 years old, and it was the largest amphitheater in the entire Roman Empire.
2. Fontana di Trevi
Probably the most famous fountain in the world. Rome is the city of fountains, there are about 280 of them, but we can freely say that the Trevi Fountain is a queen of all the Roman fountains.
3. Castel Sant'Angelo
Built by Emperor Hadrian as a mausoleum, over time turned into a fortress. For a while, the fortress served as a prison, and today is finally been turned into a museum.
4. Pantheon
The Roman temple built during the reign of Emperor Hadrian. The only fully preserved architectural monument of ancient Rome. Pantheon and today look like almost 2,000 years ago.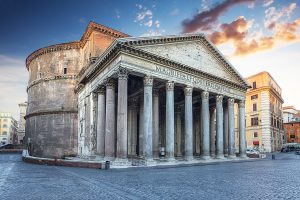 5. Vatican
You can not leave Rome without seeing where Pope lives and Vatican City. St. Peter's Basilica, the Sistine Chapel and all the wonderful museums in the Vatican are something that you must visit.
6. Forum Romanum 
The forum was the center of ancient Rome. Today there are not many things preserved so good, or at least not entirely. The forum is actually scribbled with temples, churches and numerous triumphal arches.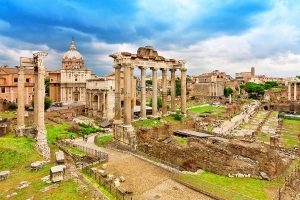 7. Piazza Navona
Piazza Navona is favorite Roman square, both for locals and for their guests. Today Piazza Navona is a lively square, surrounded by restaurants and cafes, where guests can enjoy in the unique atmosphere.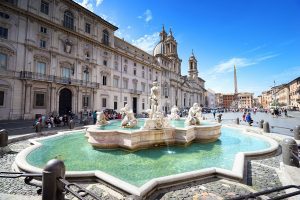 Accommodation in Rome
In Rome, the accommodation can be found relatively favorably. Bed&breakfast accommodation is particularly popular, which has become increasingly sought. Apartments are most numerous type of accommodation. If you are planning to stay with your family or friends, apartments are the best option for you. The particularity of Rome are many excellent small family and boutique hotels, which offers superior service. Studio in Rome is particularly popular, perfect for couples and for those who are planning to stay alone. If you want a quality stay with your friends, you can rent the whole house.
Of course, this is only part of what offers you the capital city of Italy. For a more detailed search of accommodation in Rome, you can use our search engine on Visitteo.
When you're  looking for accommodation in Rome, make sure where it is. Because if you book accommodation outside the center, it makes your sightseeing difficult and you're wasting too much time on transport. If you decide for a night out and your accommodation is far from the center, transport can be a problem. Night transport is mainly related to the central part of the city, so you will probably need a taxi, which for such a distance can be very expensive.