Maškovića Han today
Maškovića Han is the largest monument of Turkish architecture in Croatia and the westernmost building of Islamic architecture on the territory of the former Ottoman Empire. Han is a monumental and representative monument of Islamic architecture, restored and converted into a small heritage hotel through which visitors can get to know part of the turbulent history of Vrana and Jusuf Mašković. Today, in Han, next to the hotel, there is a restaurant, a wine shop, a souvenir shop, and a small museum. The inn was built as a fortress and built of finely carved stone blocks. Maškovića Han is in the immediate vicinity of the Vrana Lake Nature Park, the largest lake in Croatia.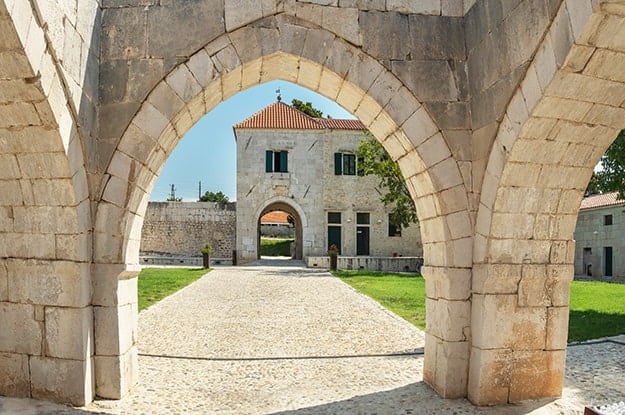 Jusuf Mašković
The construction of Han began in 1644 with the order and funds of Jusuf Mašković. He was an Ottoman vizier and a great admiral of the Ottoman navy. He was born as a Christian in Vrana, which was then on the Venetian-Ottoman border. He is known for conquering the city of Chania in the western part of Crete in just 54 days in 1645 during the Candian War. As commander, Jusuf Mašković did not execute the prisoners but released them. Because of that act, the Turkish sultan executed him. Its tragic fate leaves Han unfinished, which was imagined as a lavish monumental and modern building that would have all the necessary comfort, including a Turkish bath – a hammam.
© 2023 Visitteo. All rights reserved.