Blue Cave Croatia
Beneath the Mediterranean's azure kiss, the Blue Cave in Croatia cradles secrets in its blue heart, where the sea whispers in sapphire hues and time dances to the rhythm of the deep.
The Blue Cave's beauty has been jealously guarded by nature, which was nearly impossible for mankind to visit. In 1884, the undersea entrance was expanded at the request of Baron Ransonet. Barely enough to allow a tiny boat to pass through, allowing bigger parties of people to explore the cave.
Thanks to the internet and the dissemination of the incredible cave videos, interest in the Blue Cave has increased dramatically over the past 20 years. The Blue Cave is still unmatched in its stunning blue beauty. Despite being a popular tourist attraction in Croatia. If you visit it carefully, though, it will be an experience you won't soon forget!

About Blue Cave Croatia
There are perhaps ten caves on the small Croatian island of Biševo, but only Blue Cave has gained international recognition. Sunlight enters this unusual natural gem through an underwater opening, illuminating the cave in a stunning blue light. Every year, thousands of tourists are attracted to the uncanny impact of Blue Cave.
The blue gem glistening in Biševo's crown! The name of this natural phenomenon comes from the blue light that appears in the cave at specific times of the day. The cave is 24 meters long and 12 meters deep, with an entrance that is just 2.5 meters wide. It is situated on the eastern side of Biševo. Around midday, light streams into the cave through an aperture, giving the water inside a shimmering. Blue light effect and giving the cave itself a blue glow.
Because of its breathtaking natural beauty, the Blue Cave is becoming an increasingly popular tourist destination in Croatia. A visit there is sure to leave you with wonderful memories. The Blue Cave is somewhat of an ordeal to get to because it is situated on the remote island of Biševo, but that doesn't stop visitors.
The history of the cave and how it was formed
Although the precise date of the Blue Cave's discovery is unknown, it is known that local fishermen were aware of it for many generations prior to it spreading to the rest of the world. After discovering it during a diving trip, Austrian explorer, artist, and speleologist Baron Eugene von Ransonet-Villez first described and displayed it to the public in 1884.
Following his advice, dynamite was used to blast a 5 m high by 2.5 m wide artificial entry into the rock to allow boats to pass through. The opening is big enough for rowboats and dinghies, but not so big that it obstructs the interior lighting.
Biševo island
Slightly larger than 5.8 km2, Biševo is located about 4 km from Vis Island. Only a few people live on it. The island is well known for its Blue Cave, but there are a lot more sea caves, stunning sand and pebble beaches, and cliffs. And other breathtaking natural gems that are hidden away. This is a much lesser-known about Biševo island.
Biševo, despite its modest surface area, is a very exciting place to sail and boat in general. Because of its location far out in the open Adriatic. Its coasts exhibit a particularly powerful influence of the sea and are a true witness to its relentlessness. Due to these factors, the sea's and salt's effects have caused nature to build a veritable little museum of erosion creations.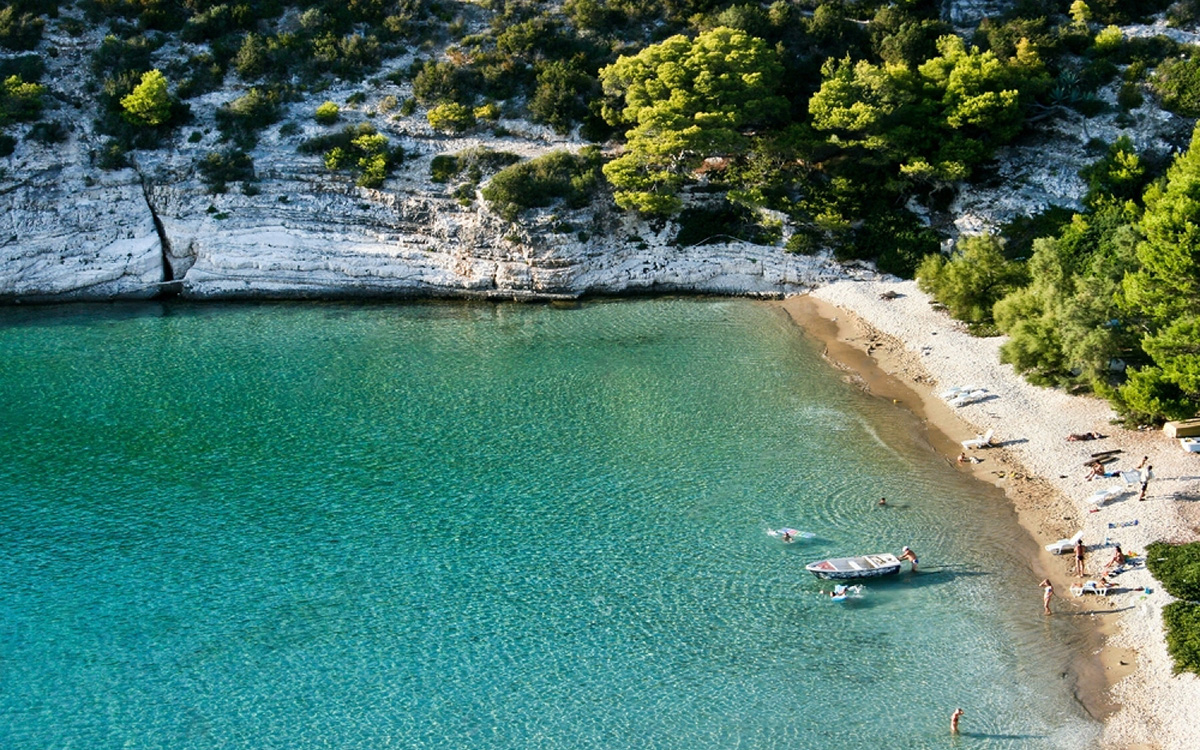 Getting to the Blue Cave Croatia
It would be said that the difficulty of accessing Croatia's Blue Cave would discourage tourists, but sadly, the huge crowds are still there. But if you prepare a bit, you too can be astounded by this natural beauty.
The easiest and most simple way to visit the cave is by scheduled speedboat tour. The most convenient routes are from the adjacent islands of Vis and Hvar. However, tours of the Blue Caves are also available from Split, Trogir, and Dubrovnik. You must first buy a ticket at the little marina in Biševo in order to access the cave.
If you are visiting the Blue Cave in a boat, keep in mind that you have to dock at the Biševo marina. After that, in order to board one of the official, smaller boats to the cave, you will need to purchase a ticket.
Maybe the best way to visit Blue Cave is to book a tour online in advance. Book a private tour and visit the cave without hassle and waiting in lines.
Blue Cave Tours & Tickets
Blue Cave Tours from Split
There are some great excursions that go from Split to the Blue Cave in Biševo. Some of these include stops at other islands, like Hvar.
About the tour: When visiting the islands near Split, you must typically arrange numerous boat trips or go ferry hopping. You can tour five islands in one simple day with this all-inclusive journey, which includes stops at lesser-known jewels like Stiniva Cove on Vis Island and the popular Biševo Blue Cave and Hvar Town. For this tour, there is a 12-person maximum capacity, and conveniently, snorkel gear and on-board Wi-Fi are provided.
Blue Cave Tours from Hvar
Since it's a shorter trip from Hvar than from Split, visiting the Blue Cave from Hvar is a great choice. And because of its isolated beaches, fascinating history, and exciting party culture, you should definitely spend some time in Hvar.
About the tour: When visiting the Blue Cave, opt for a small-group speedboat excursion from Hvar rather than the large tourist boats. With only 12 passengers per boat, you may avoid the crowds and have a more private journey to the island of Biševo. Home of the well-known Blue Cave and other marine grottoes. A pleasant skipper and swimming stop round out the trip.
Blue Cave Tours from Dubrovnik
It is not advisable to travel all the way from Dubrovnik. As the ride is like sitting inside a washing machine and takes more than two hours. But, there are plenty of people ready to take your money if you're in Dubrovnik on a tight schedule and truly want to explore the cave.
About the tour: Take a small-group excursion to the well-liked Blue Cave to avoid the throng of people who visit this attraction. The crew of the boat is committed to making your voyage intimate, therefore they use alternative routes and unusual departure times to make sure you have a less crowded experience. Furthermore, this profitable tour is available in the morning and afternoon. Making it easier to fit into your schedule than other tours that require a full day.
Blue Cave Tours from Brač
Blue Cave is easily accessible from Brač because it is a nearby island to Biševo. During high season, there are foot passenger ferries from Split to Brač every day. While during the off-season, there are three or four sailings a week.
About the tour: Visit the Blue Cave, the Blue Lagoon, and Vis Island as part of a sightseeing tour to escape the crowds on shore and take in some of Croatia's best natural wonders. There will be plenty of room for you to unwind on board because this sailing excursion is only available to a select group of 12 people. Plus, you can see more attractions in less time when you travel by speedboat.
Is the Blue Cave in Croatia worth visiting?  
Is a trip to Croatia's Blue Cave worthwhile of everything? That will mostly depend on how well you handle crowds. It's undeniably a breathtaking sight, but the allure of the location is slightly diminished by the long lines.
Having said that, a lot of people go to the Blue Cave and have an enjoyable experience. Especially since certain tours include food and drink, snorkeling, and visits to private beaches. If you do decide to take a trip, make sure to reserve a tour as early in the season as possible.

FAQ
Can you swim in Blue Cave?
Unfortunately, swimming is not permitted in the Blue Cave. And it simply would not be safe given the constant stream of visitors arriving and departing by boat. While waiting for your turn, you can swim close to the ticket office. Additionally, the majority of Blue Cave trips involve swimming at some stunning beaches, so if you're determined to get wet, you can.
Why is the Blue Cave blue?
Sunshine that enters the cave through the roof and lights the water is what gives the Blue Cave in Croatia its blue color. The cave then glows blue as a result of this reflecting all around it. Similar blue caves can also be found in Croatia, however far fewer people visit them.
How long is the wait at the Blue Cave?
Depending on the season, you may have to wait anywhere from 10 minutes (if you're fortunate enough to be among the first) to two or three hours to enter the Blue Cave in Croatia. Of course, there will be a longer wait during the busiest time of year.
How do I get to the Blue Cave?
Tours are the most convenient way to visit the Blue Cave in Croatia. They leave from Split, Hvar, Brač, Vis, and even Dubrovnik. We suggest staying a few days on Hvar and starting the journey from there because Split and Dubrovnik are rather far away and the speedboat ride can be bumpy. To reserve a spot, you can buy a ticket here.
Can I go to the Blue Cave without a tour?
It is totally feasible to visit the Blue Cave alone. But it also involves careful planning and can be a very difficult journey. Consider the possibility that, in the absence of a tour guide, you may overlook interesting locations that are only known to seasoned residents.
When is the best time to visit the Blue Cave?
The Blue Cave in Croatia is best visited on a sunny day since light from the sun only causes the cave to sparkle through its crack. If at all possible, go during the off-season to avoid the worst of the crowds. Try to go there as early as possible in the morning.