If you've been dreaming of beautiful beaches and thinking of visiting a one-of-a-kind destination, consider this your sign to book a ticket to Croatia. You may want to come simply to admire its many islands and jaw-dropping beaches, but you'll find much more if you choose to explore this amazing country. Croatia boasts not only over a thousand idyllic islands along its coast but also some of the cleanest beaches in Europe, with beautiful crystal clear water. Croatia keeps its best beaches well hidden, in hard-to-reach places and tiny islands. Here's where to find the most beautiful seaside spots.
1. Zlatni Rat Beach, Brač 
This is probably Croatia's most famous beach, and it deserves every accolade it gets. Often referred to as the Golden Cape or Golden Horn because of its distinctive shape. It is a gloriously golden stretch of pebbles that reaches out into the Adriatic, its shape ever-altering slightly with the tide. The very tip of the Zlatni Rat keeps changing its shape constantly due to the influence of winds, waves, and sea currents, making it appear different and repeatedly interesting.
2. Nugal Beach, Makarska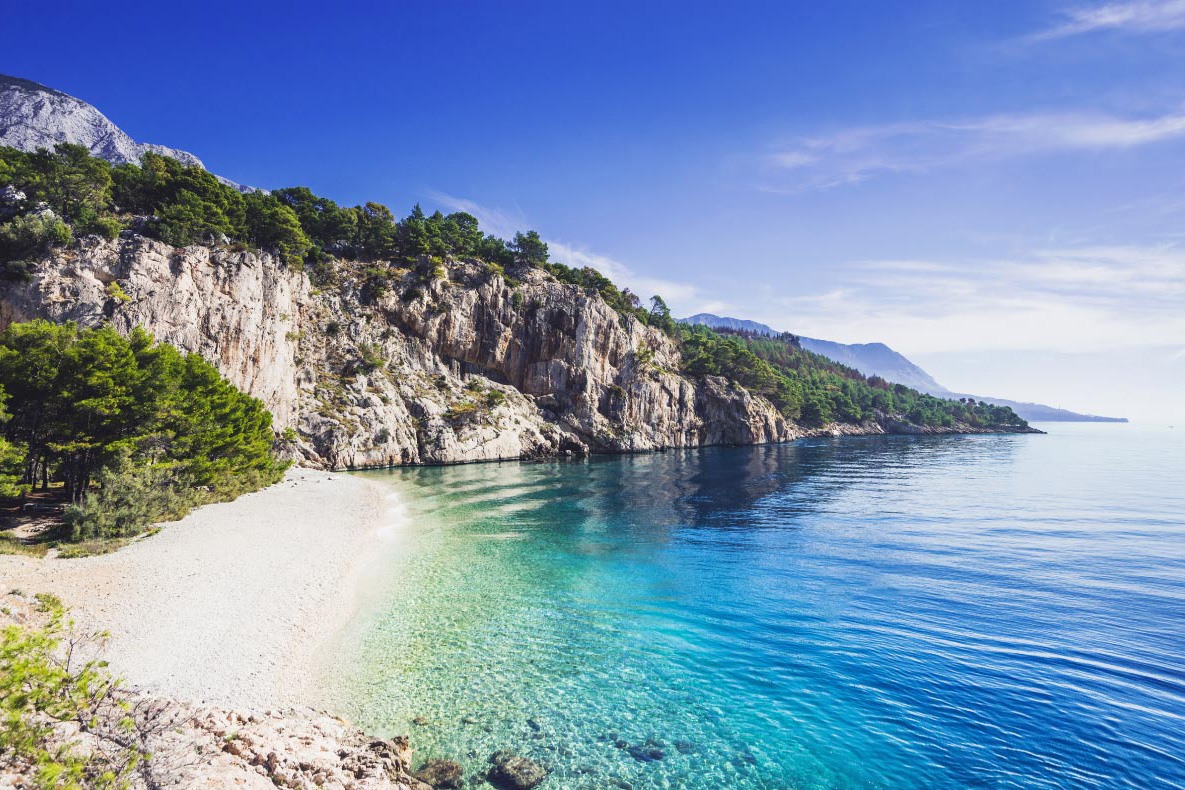 One of the beautiful hidden beaches that abound in the Adriatic is certainly Nugal beach in Makarska. The Internet portal European Best Destination named it the third most beautiful beach in Europe in 2019. Nugal Beach is a pebble beach located in a rocky bay. It is surrounded by stony mountains, dense greenery, warm and crystal clear sea. It is the perfect place for a family vacation, diving, snorkeling, and unity with nature. This beautiful beach is also ranked among the best secret beaches in the world.
3. Stiniva Beach, Vis 
Since 1967, Stiniva Bay is a protected natural monument in Croatia, under the status of a significant landscape. Stiniva beach is located in the southern part of the island Vis – the farthest inhabited island in Croatia. Stiniva Bay is known for its unique natural beauty dominated by high cliffs that form a small "sea entrance" to this pebble beach with a clear turquoise sea. It was voted, by tourism organization European Best Destinations, as the most most beautiful beach in Europe.
4. Dubovica Beach, Hvar
For many, it is the perfect bay. South-facing, with clear water, a fine restaurant, and along the small pebble beach, the picturesque stone buildings give the protected bay of Dubovica an additional charm. Despite being one of Hvar's most popular beaches, Dubovica is off the beaten track and takes a bit of a hike to get to. But with its historic stone manor house, rugged coastline, and clear blue waters, this pebbly shore is well worth all the effort.
5. Podrače Beach, Brela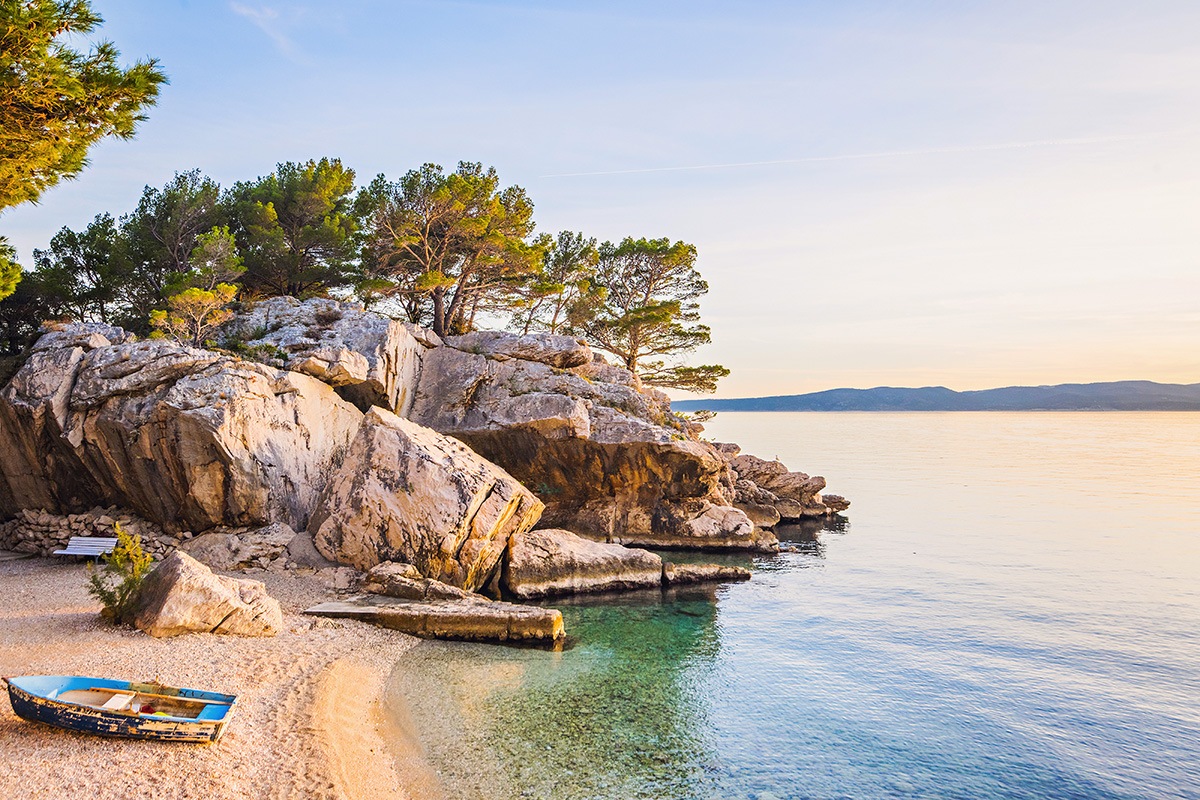 The Podrače beach in Brela is one of the most photographed beaches in Croatia. The beach is known for soft sand and clear water. You can expect plenty of tourists, locals, and families. The beach has a slightly Robinson appearance, untouched and peaceful, hidden among the rocks this Makarska riviera's pearl is a symbol of serenity you can find only in Brela. Beach is pebbly, which makes it perfect for families with small children. We are sure it will leave you breathless as well.
6. Sakarun Beach, Dugi Otok
As the day progresses, colors change from turquoise to emerald to inky blue at this wide, south-facing bay with a shimmering white-pebble beach and pinewoods. This is Sakarun, near the northern tip of Dugi Otok island, a beach perfect for children, with a sandy seabed and shallow water – wade in far from the shore, and the sea will remain only knee-deep. This fine white sandy beach is no longer an insider tip, but this dreamlike bay is still one of the most beautiful beaches in Croatia.
7. Oprna Beach, Krk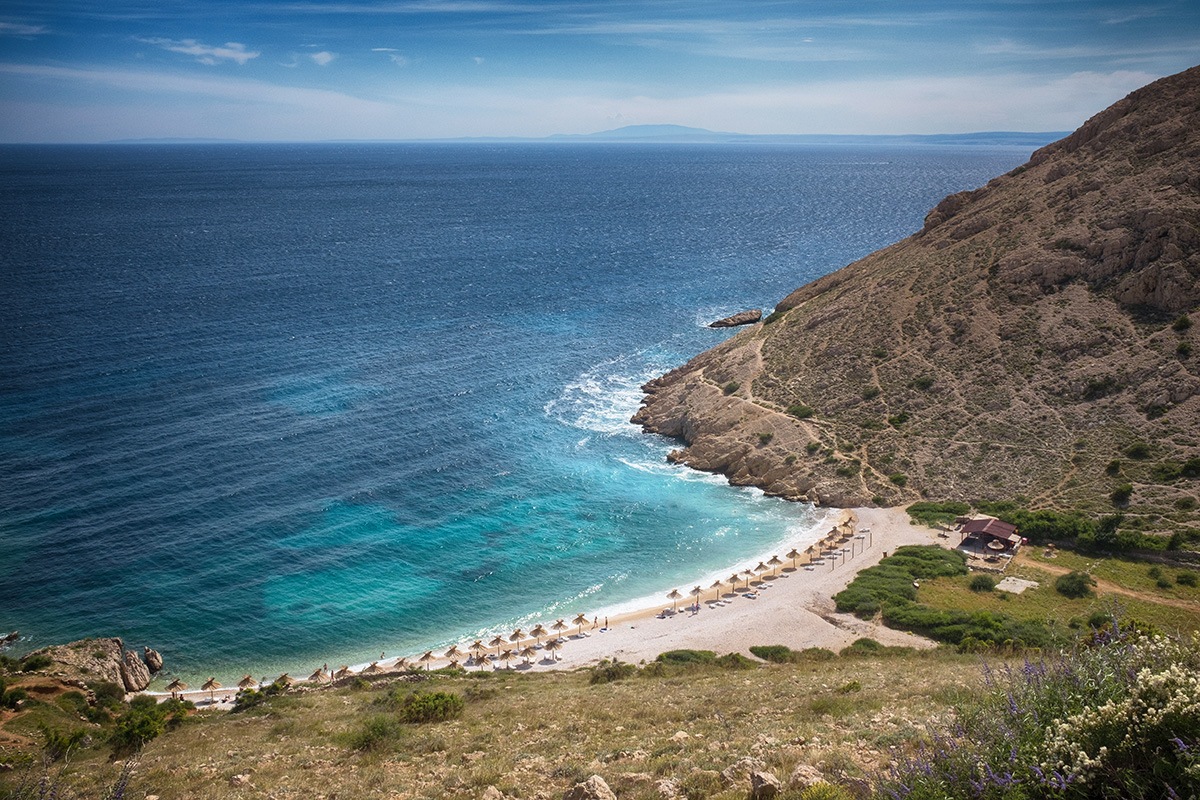 The island of Krk is known for its very clean sea. It is also called the island of blue flags, which symbolize the purity of the sea. Oprna beach is the favorite beach on the island Krk. The crystal clear water of the around 120-meter long bay attracts snorkelers and divers to this popular beach with relatively shallow shores. Pedal boat rentals and a beach bar provide some variety. It is possible to rent loungers and umbrellas.
8. Banje Beach, Dubrovnik
One of the most popular beaches in Croatia, if possibly only because of its location in Dubrovnik, is Banje Beach. Immediately outside Dubrovnik's city walls, this madly popular pebble beach is lined with sunbeds and white-chiffon-draped baldachin beds and has views of the green island of Lokrum rising on the horizon. Dubrovnik also features a fascinating old town and ancient city walls, and places to dip yourself in the ocean and enjoy a day on the beach.
9. St. John's Beach, Cres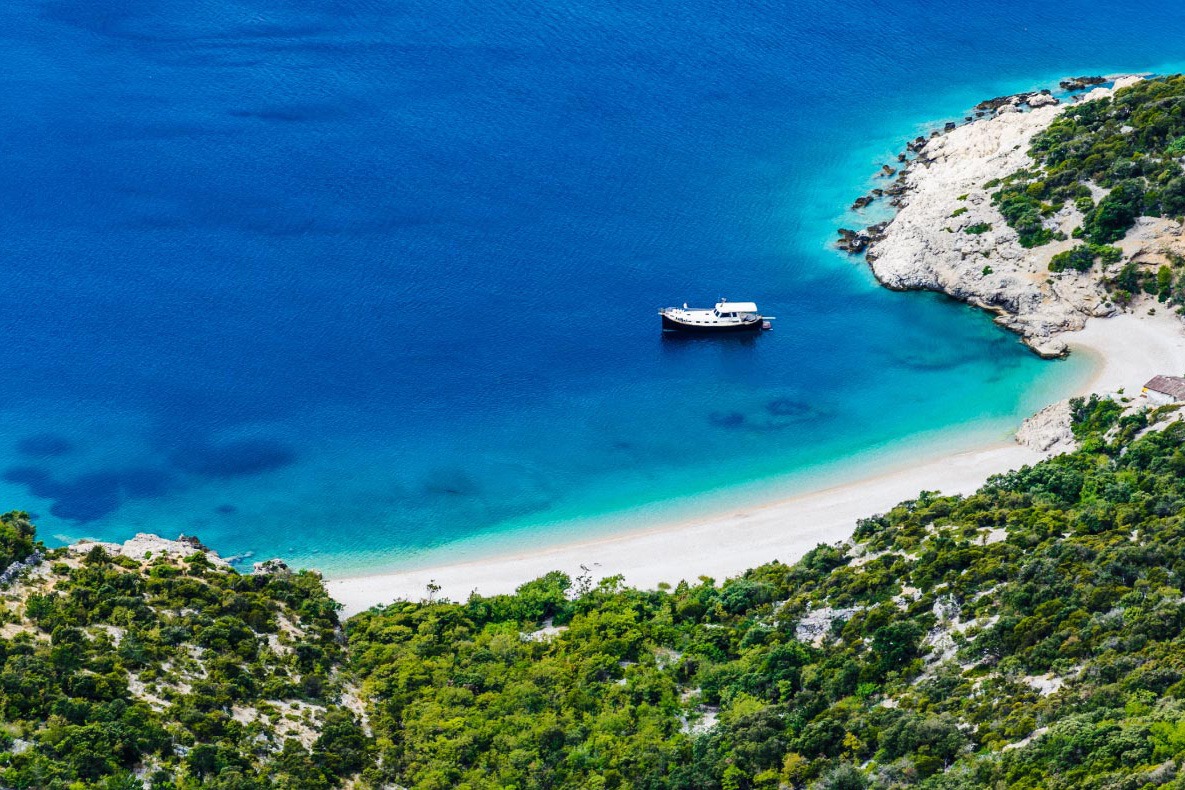 St. John's Beach (and sometimes Lubenice Beach), lies on the island of Cres. It is one of the strings of islands in the Istria Peninsula. Located in an attractive cove at the base of steep cliffs below Lubenice village, its 150-meter length and the pebbled surface is protected from strong winds, making it a fun place to swim with the kids.mIt can take up to 40 minutes down to the beach and an hour back up to your car.
10. St. Jacob Beach, Dubrovnik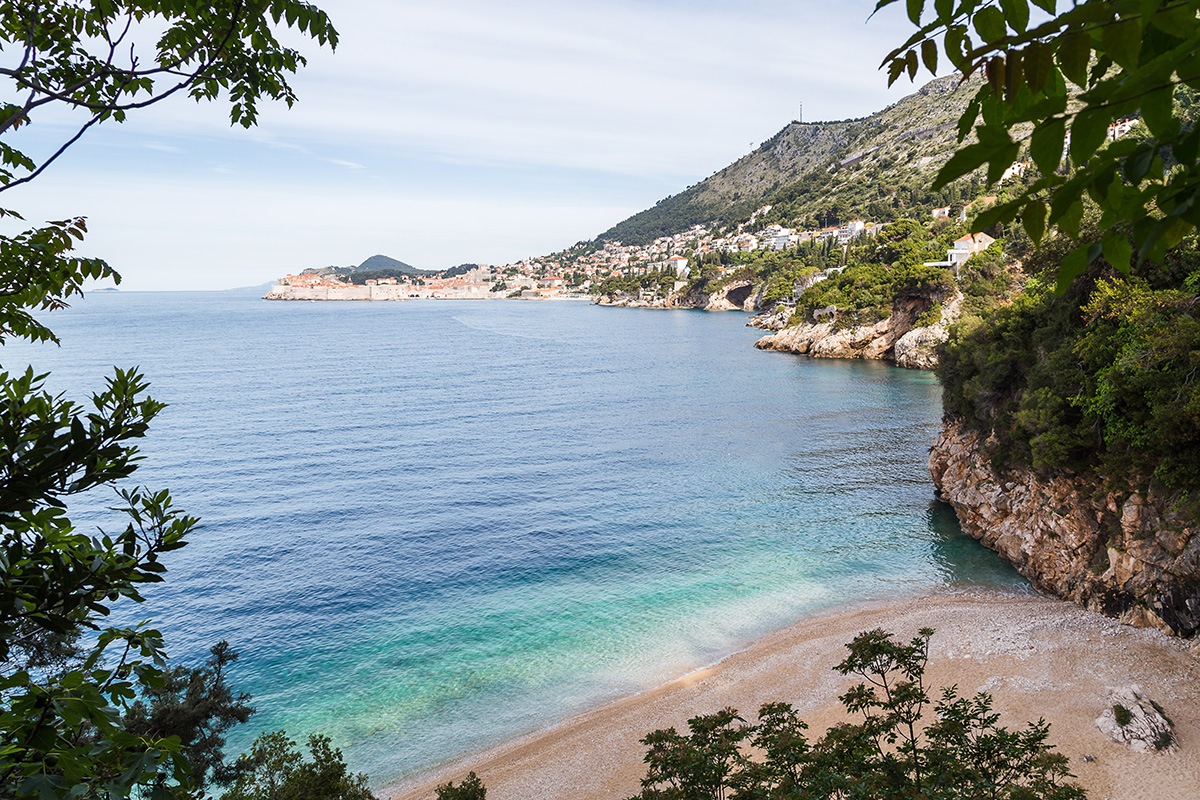 St. Jacob beach, one of the most beautiful beaches in Dubrovnik is located in the eastern part of Dubrovnik. St. Jacob beach is one kilometer away from the center of the city, located in an isolated area below the church of St. Jacob, after which it was named. Being a lovely pebble beach with distant views of Dubrovnik Old Town this is a very popular gathering spot among locals, especially in the summer months.
11. Pasjača Beach, Konavle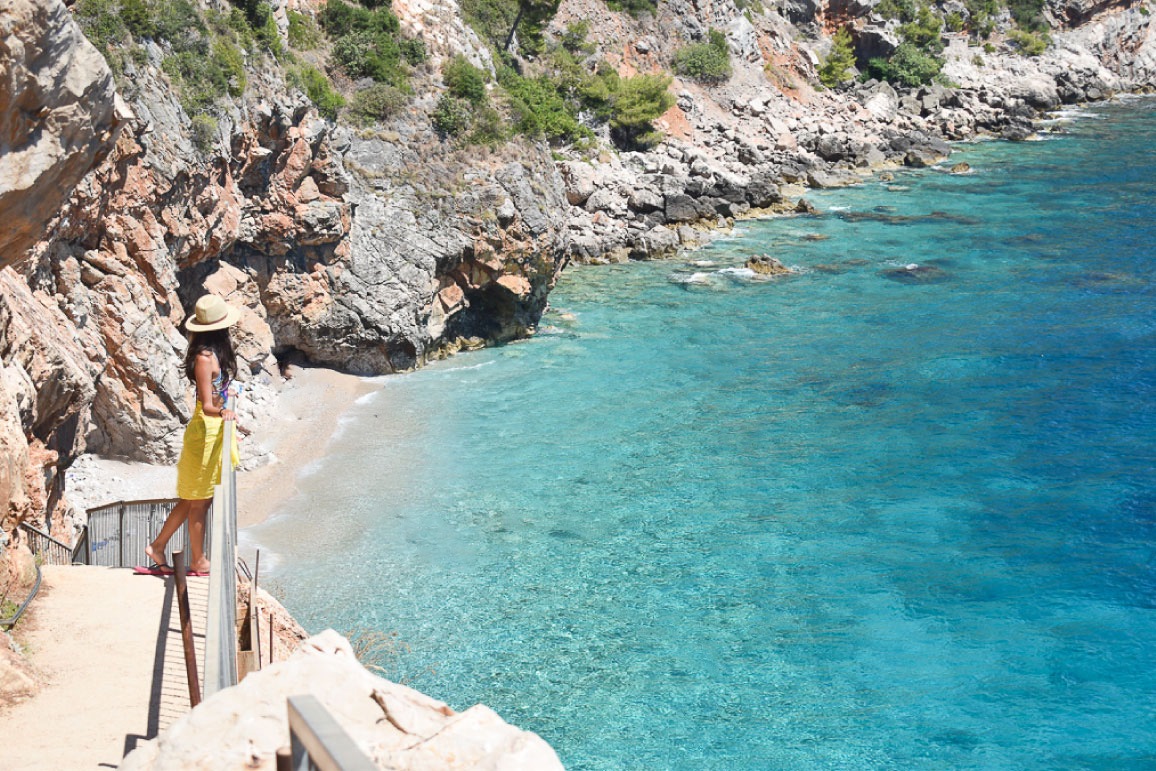 Pasjača beach is one of the most beautiful beaches on the entire Adriatic. This sandy beach is located in Konavle, about thirty kilometers away from Dubrovnik. The beach is not natural. It was created by throwing stones during World War II when tunnels were dug in the surrounding villages. The sea crushed the rocks and made a beautiful beach that shyly emerges from under the huge cliffs of Konavle rocks. Unfortunately, the beach is disappearing as the sea spreads the sand.
12. Pobrizi Beach, Vrgada
The island of Vrgada hides one of the most beautiful beaches in Croatia. The famous Golden Beach of Vrgada hides many charms. The locals call it Pobrizi beach. Pobrizi beach is one of the most famous sandy beaches on the Pakostane Riviera. This beautiful beach is located behind steep cliffs, and you can only reach it by going down a very steep staircase that is cut into the rock or through a small narrow path that runs through a pine forest.
13. Skala Beach, Hvar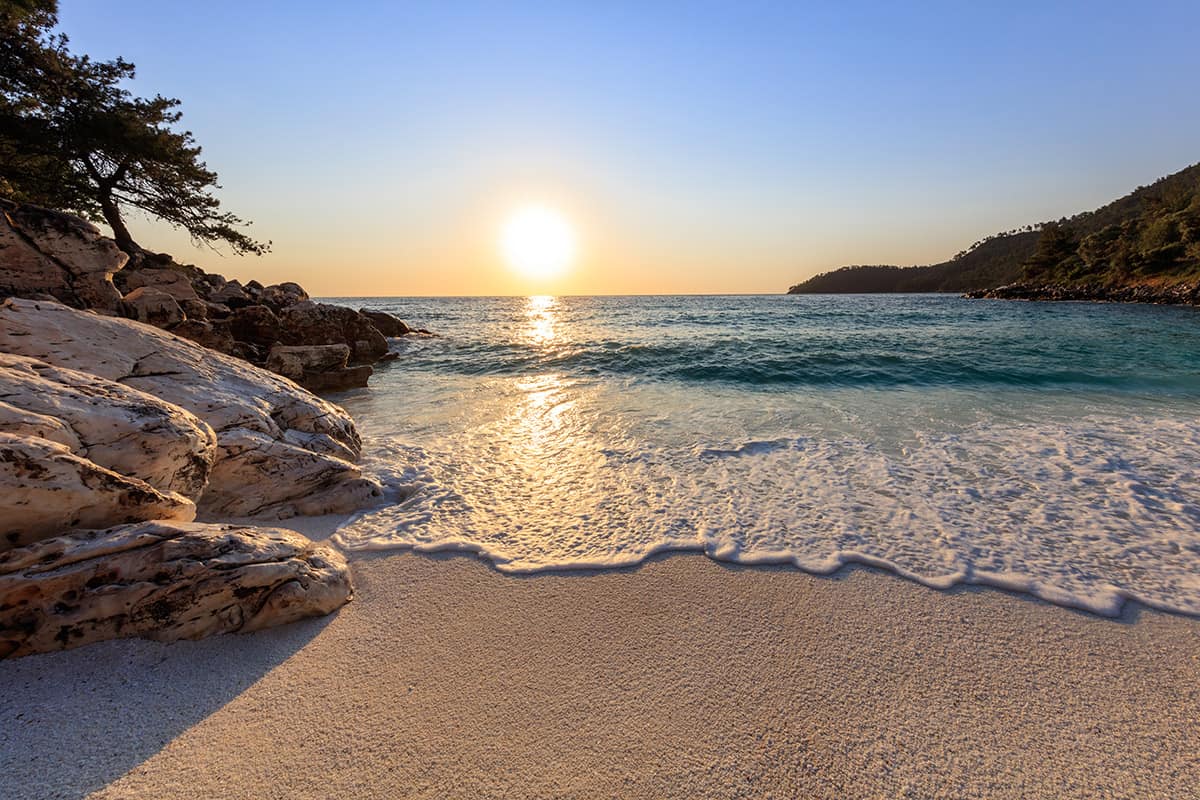 Skala beach is located on the eastern coast of Sveta Nedilja and it can be easily reached by foot or by bike. There are no public parking spaces nearby, and the beach is quite full in the summer months. The clean sea attracts guests from other places on the island of Hvar. The Skala beach is surrounded by large stone blocks and rocks. When you have had enough sunbathing, you can jump into the water and cool down.
You can find accommodation in places where these beaches are located on Visitteo. Compare prices of hotels, apartments, rooms, studios, villas, and many other types of accommodation.
Discover Croatia, get inspired, and find interesting destinations on our social networks – Instagram, Facebook, Twitter and YouTube