Best hotels in Mostar
Hotels in Mostar are like portals to a time-traveling where each stay unfolds the city's stories, connecting you to the ancient echoes of Old Bridge and the vibrant tapestry of Bosnian hospitality.
Nestled in the heart of Bosnia and Herzegovina, Mostar offers a captivating blend of history and natural beauty. Hotels in Mostar reflect this charm, providing a range of accommodations from boutique to budget-friendly options. Enjoy the breathtaking views of the iconic Old Bridge or immerse yourself in the rich culture of the Old Bazaar. Whether you seek luxury or a cozy retreat, hotels in Mostar promise a comfortable stay amidst the city's picturesque landscapes and cultural treasures.
1. Hotel Kriva Ćuprija
The Kriva Ćuprija hotel was built in Mostar's Old Town, a UNESCO World Heritage Site. The hotel is situated right in the middle of the old town, a short stroll from the well-known Old Bridge. The hotel is named after Kriva Ćuprija Bridge because the bridge is situated at the hotel's entrance. You can stay in the ambient of the 17th century and take in the architecture of that era without sacrificing the comforts of contemporary living. The hotel's prime location in the center of Mostar's Old City, only a short distance from the well-known Old Bridge, is another perk of its location.
2. Hotel Carpe Diem
The Hotel Carpe Diem has one of the highest ratings for a good reason, this is due to a highly trained staff as well as food that is not available at any other hotel. The dishes at Carpe Diem bar & restaurant are consistently of the highest quality. On the menu, you'll find just about everything that could possibly appeal to you. Guests can book local activities directly from the hotel reception, making it easier and more comfortable for them to take advantage of everything that Mostar has to offer. The Carpe Diem Hotel is an essential addition to any list of the best hotels in Mostar.
3. Hotel Verso Mostar
The Hotel Verso is a new hotel that has recently been constructed in Mostar. It has four stars and a perfect location in the center of the city, only a short distance away from the Old Bridge and close to many well-known tourist destinations. The hotel is the best option for anyone who wants to make the most of their time in Mostar by participating in a variety of exciting activities while also having plenty of time to unwind. It has ten rooms, a restaurant, a bar, and a souvenir shop. Additionally, it has a garage with free parking and the possibility to charge electric vehicles.
4. Hotel Emerald
The enchanting 4-star Hotel Emerald can be found tucked away in the heart of Mostar and is only 4.4 kilometers away from the historic Old Bridge. Guests have access to free Wi-Fi, free private parking, and a restaurant that serves delectable meals on-site, all at no additional cost. Each day begins with the option of a breakfast that is either halal or continental, and the front desk is open around the clock. Discover local treasures such as the Old Bazar Kujundziluk and the St. Jacobs Church near the hotel.
5. Hotel Pasha
A mere 10-minute stroll from the iconic Old Bridge Mostar, Hotel Pasha offers a 4-star retreat featuring a seasonal outdoor pool, private parking, and a charming terrace. With free WiFi and luggage storage, this hotel presents a seamless blend of convenience and comfort. Select units boast a balcony with captivating city views. Air-conditioned rooms, complete with a desk, electric teapot, minibar, safety deposit box, flat-screen TV, and a private bathroom with a bidet, ensure a delightful stay. Guests relish a halal breakfast each morning. Multilingual staff, fluent in German, English, French, and Croatian, stand ready at the 24-hour front desk.
6. HA Hotel Mostar
Discover the allure of Ha Hotel Mostar, a recently constructed 4-star hotel nestled in the southern expanse of Mostar. Boasting modern aesthetics, this hotel unveils 37 luxurious and impeccably furnished accommodation units, creating an ideal haven for both business and leisure travelers. The contemporary interior design adds a touch of sophistication, promising a comfortable and stylish stay for those eager to explore the wonders of Mostar. Whether you're a businessman seeking convenience or a traveler yearning to immerse in Mostar's beauty, Ha Hotel caters to all, offering a harmonious blend of modern luxury and strategic location.
7. Hotel Eden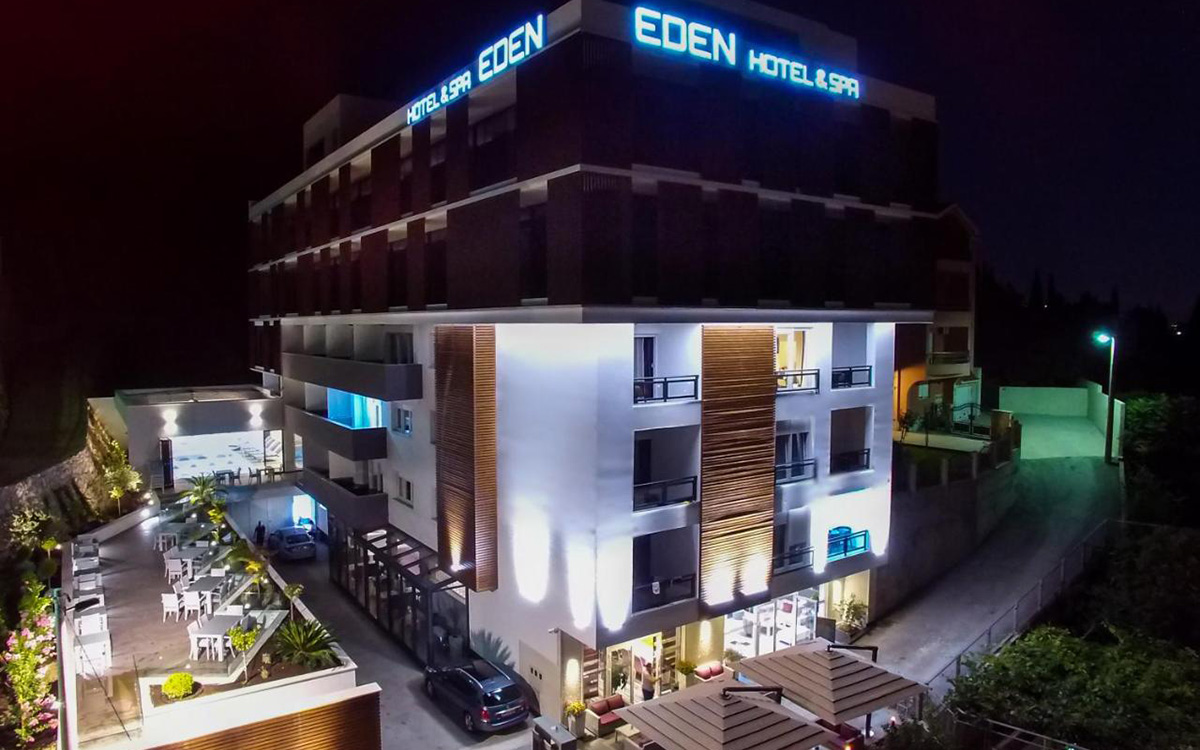 The Eden Hotel & Spa is a place where style and elegance coexist with the comforts and extravagance of a four-star hotel right in the center of Mostar. The hotel is in an excellent location that makes it perfect for exploring and sightseeing. With the finest in contemporary design, the hotel offers 48 roomy rooms and suites. Top chefs' culinary creations perfectly complement the cozy and welcoming ambiance of the hotel's restaurant. Regardless of the reason behind your trip to the stunning city of Mostar – business or pleasure, the hotel provides a host of amenities and services that will turn your stay into an unforgettable luxury experience.
8. Hotel Villa Milas
Conveniently located near the UNESCO-listed Old Bridge and the Old Town, Hotel Villa Milas offers a cozy retreat. There's a front desk open around the clock to guarantee smooth service, and the hotel lobby is stocked with free magazines. Situated near the Saint Peter and Paul Church and the Franciscan Monastery, Villa Milas provides an excellent opportunity for a culturally immersive getaway. All ages can enjoy the relaxing atmosphere, soundproof rooms, and serene outdoor setting of Hotel Villa Milas, especially with its prime location for tourists exploring the city on the Neretva.
9. Hotel Mepas
The most prominent cultural institutions are all around Hotel Mepas, which is conveniently located ten minutes on foot from the old town in the heart of Mostar's business district, where East and West converge. It is perfectly located near the main City square, with lots of restaurants, popular nightclubs, and coffee shops. It provides visitors with the perfect fusion of contemporary architecture and classic elegance. At Hotel Mepas, you can enjoy an indoor swimming pool, a wellness center, a modern gym, and fantastic culinary offerings, as well as spacious rooms and suites with expansive views of Mostar.
10. City Hotel Mostar
Situated in the town's center, the City Hotel is the ideal place to stay for visitors to Mostar. The hotel offers its guests an impeccable fusion of beauty, style, and the cultural heritage of the Herzegovina region through its stylish architectural design, which incorporates traditional elements, and first-rate service. The chic atmosphere of the City Hotel is a great option for both business travelers and tourists who are visiting Mostar to take in the breathtaking scenery. City Hotel definitely deserves to be on our list of best hotels in Mostar, that's for sure.
Best hotels in Mostar FAQ
What are the best hotels near Mostar Old Bridge?
Some of the most popular hotels for travelers looking to stay near Mostar Old Bridge include Pansion Most, Hotel Kriva Ćuprija, and Hotel Emen.
What are the best hotels near Neretva River?
The most popular hotels near Neretva River are Pansion Most, Hotel Kriva Ćuprija, and Hotel Emen.
What are the best cheap hotels in Mostar?
Popular cheap hotels in Mostar include Hotel Mepas, City Hotel Mostar, and Pansion Most.
Which hotels in Mostar are good for families?
Many families that traveled to Mostar enjoyed staying at Hotel Mepas, Hotel Carpe Diem, and City Hotel Mostar.
Which hotels in Mostar are good for couples?
These hotels in Mostar are highly rated by couples Hotel Mepas, Hotel Carpe Diem, and Hotel Verso.
What are the best hotels with a spa in Mostar?
Hotels that received excellent reviews for the best spa center in Mostar include Hotel Mepas, City Hotel Mostar, and Eden Hotel & Spa.
What are the best hotels with a pool in Mostar?
The best hotels with a pool include Hotel Mepas, Eden Hotel & Spa, and Hotel Pasha.
Which hotels are closest to Mostar Airport?
Popular hotels close to Mostar Airport include Hotel Mepas and Pansion Most.
Learn more about Mostar
The town of Mostar is a cultural center of the region and one of the most beautiful towns in Bosnia and Herzegovina. The name Mostar comes from the word most, which means bridge, and it can be translated as "The bridge keeper".
The Old Bridge is the symbol of Mostar and its most attractive feature. It is a stone bridge built back in the 16th century, during the rule of Suleiman the Magnificent, when Bosnia and Herzegovina was part of the Ottoman Empire. Although Mostar is famous for its iconic bridge across the Neretva River, the town has much more to offer.
In Mostar, you will find not only mosques (which are great in number) but also Catholic and Orthodox churches, as well as a Jewish synagogue. The diversity of Western and Eastern architectural styles can be seen all around the town. Islamic architecture and buildings from the Austrian-Hungarian period blend and make Mostar unique and beautiful.
You might also like these articles!