Best hotels in Banja Luka
Hotels in Banja Luka are not just places to rest, they are vibrant tapestries weaving the city's history with modern comfort.
Hotels in Banja Luka offer both comfort and a taste of the area. With their beautiful views of the city, these hotels are great places to start getting to know real Bosnian culture. Each hotel, from the sleek and modern to the historic and charming, tells a different story that makes visitors want to learn more about Banja Luka's rich culture. With warm hospitality, beautiful views, and modern conveniences, these hotels turn stays into unforgettable journeys that capture the essence of this fascinating Bosnian city.

1. Courtyard by Marriott 
The guests at Courtyard in Banja Luka have more options and flexibility thanks to the new, modern lobby. The hub of it all is the Bar, where you can enjoy a delicious breakfast or evening cocktails and dinner. Free Wi-Fi is available all around, comfortable, adaptable areas for working or relaxing, and quick access to the most recent news. Additionally, a fully equipped fitness center will keep you feeling renewed and energized. Your stay at Courtyard, whether you're traveling for business or pleasure, will undoubtedly be more comfortable, effective, and joyful than it has ever been!
2. Hotel Zlatna Kruna

Hotel  Zlatna Kruna beckons with its enticing offerings. The hotel, a distinguished 4-star establishment, houses a restaurant and a bar, adding to the allure of the stay. Immerse yourself in the seamless connectivity provided by free WiFi, a testament to modern comfort. The attentive 24-hour front desk enhances the overall experience. Each room, adorned with a private bathroom featuring a hairdryer, features a flat-screen TV and air conditioning. Some rooms extend the charm with a balcony. A minibar, a quintessential amenity, awaits in every room, promising a touch of indulgence. Delight in the morning with a continental breakfast, a perfect prelude to a day filled with exploration.
3. Hotel Ideja
The Hotel Ideja is located in Banja Luka's old town, also known as Hanište, in the city center. This formerly artisanal area of the city still retains its historical charm. The Hotel Ideja is perfectly situated for travelers who want to quickly and easily conduct business while also exploring Banja Luka. There is more to Hotel Ideja than just a place to stay the night and relax. In addition to the comfort and convenience that rooms offer, the hotel also provides extra services to ensure the greatest possible stay. This hotel definitely deserves to be on the list of the best hotels in Banja Luka, that's for sure.
4. Hotel Jelena
Hotel Jelena is a place where business people, tourists, recreational people, and all those who wish for the best hotel service meet. With 54 rooms, 3 superbly equipped apartments, two presentation rooms, banquets and conferences, a wellness center, a restaurant, and a cafe bar with a summer garden, the Hotel Jelena is the right place for you. Located just a few minutes walk from the center of Banja Luka, Hotel Jelena provides all the comfort for the accommodation of guests, various business facilities, excellent offer of local and international dishes, and a rich wine list. The hotel has its own parking, which is free for all guests.
5. Integra Hotel Banja Luka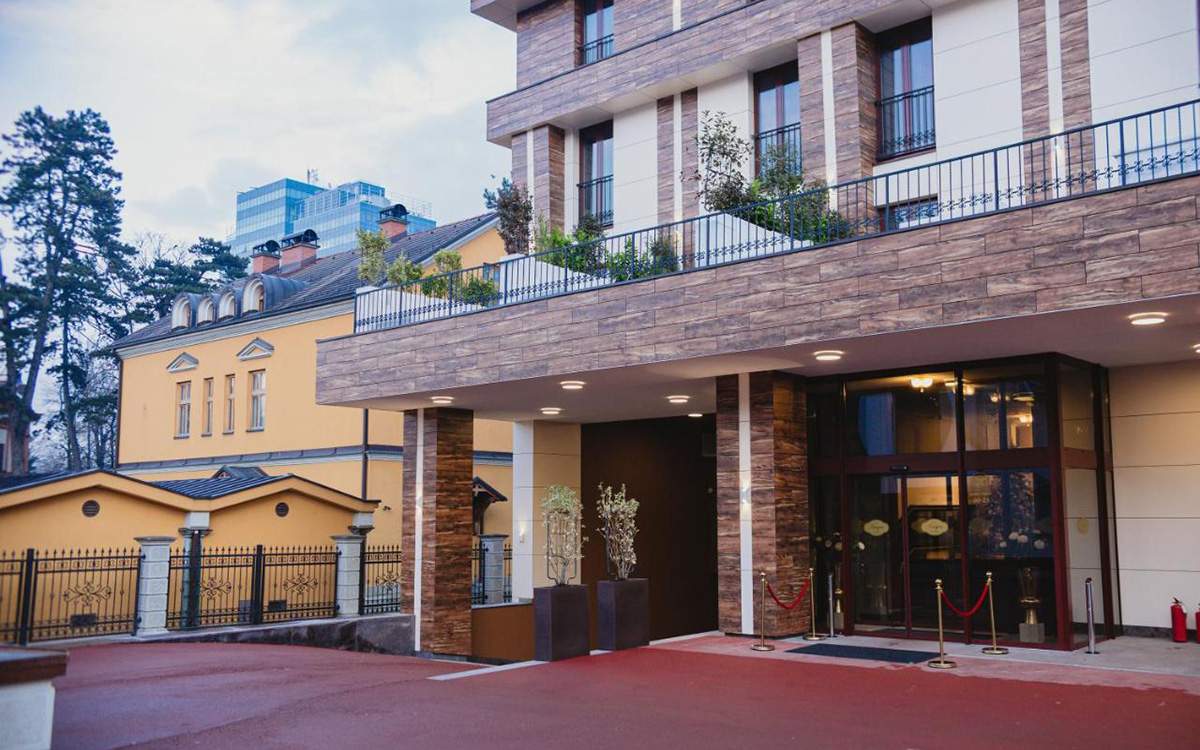 Hotel Integra in Banja Luka, just a leisurely 15-minute stroll from the storied Kastel Fortress, beckons with a host of enticing features. Relax on the terrace or indulge in culinary delights at the on-site restaurant. Revel in the modernity of free WiFi and unwind with a drink at the well-appointed bar. Air-conditioned rooms, equipped with a desk, coffee machine, fridge, minibar, safety deposit box, flat-screen TV, and a private bathroom complete with a bidet, await discerning guests. Immerse yourself in comfort with the provided bed linen and towels. Begin your day with a continental or American breakfast, setting the tone for a memorable stay at Hotel Integra Banja Luka.
6. Hotel Talija
In the very center of Banja Luka, the administrative, cultural, and sports center and the largest city of Republika Srpska, is the Hotel Talija. Although in the strict center of the city, the hotel is located in a street that offers complete peace due to its location, it is ideal for a restful stay. Hotel is most often used by business people for their activities, meetings, and seminars, but also by all those who put pleasure and rest first. Over 70 beds are available to guests in rooms and apartments with superior equipment in the "de luxe" category. Especially single out the newly built "Superior" part of the hotel, which is superbly equipped with facilities necessary for rest, stay, and recreation.
7. Hotel Cezar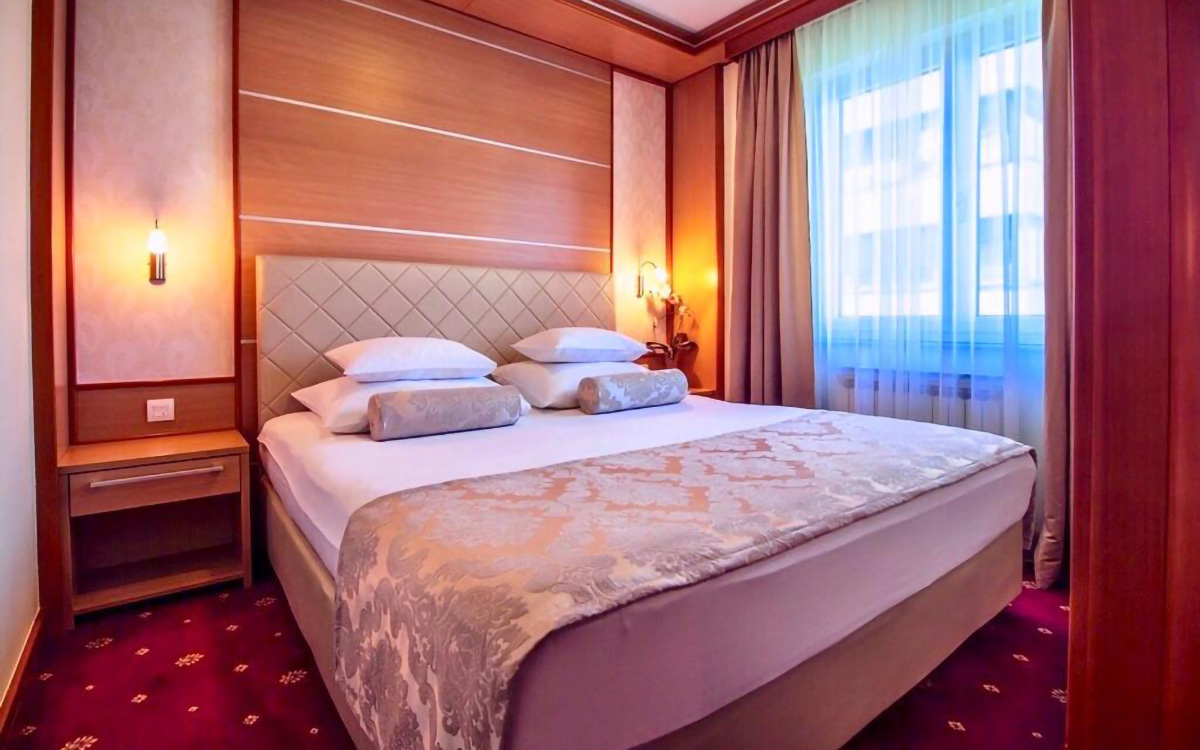 Nestled in the heart of Banja Luka, Hotel Cezar boasts a prime, all within easy reach of the bustling bus and train station. The hotel seamlessly blends modernity with the highest standards of accommodation and relaxation, powered by cutting-edge technology. The hotel is close to iconic landmarks like Banja Luka City Stadium and Sv. Bonaventure Catholic Cathedral. Indulge in the convenience of a 24-hour front desk, room service, and concierge during your stay. Relish in the added perk of free breakfast, and for those arriving by car, rest easy with complimentary parking at your disposal.
8. Hotel Happy Hills Rooms
The recently renovated Happy Hill Rooms can be found tucked away in Banja Luka, just a short distance from the historic Kastel Fortress. This charming hotel is delighted to have guests stay with them. Take pleasure in the opulence of a patio, the convenience of complimentary private parking, and the stress-free connectivity provided by free WiFi. Each room comes equipped with a terrace, a flat-screen television, and air conditioning.  Spend some time in the common lounge area, or go on one of the sightseeing tours that are available in the surrounding area.
Best hotels in Banja Luka FAQs
What are the best hotels in Banja Luka close to the city center?
Some of the most popular hotels close to the city center include Courtyard by Marriott, Hotel Zlatna Kruna, and Hotel Jelena.
What are the best luxury hotels in Banja Luka?
Popular luxury hotels in Banja Luka include Courtyard by Marriott, Hotel Zlatna Kruna, and Hotel Ideja.
What are the best cheap hotels in Banja Luka?
Popular cheap hotels in Banja Luka include Hotel Happy Hills Rooms, Hotel Cezar, and Integra Hotel.
Which hotels in Banja Luka are good for families?
Many families that traveled to Banja Luka enjoyed staying at Hotel Cezar, Integra Hotel, and Hotel Vila Vrbas.
Which hotels in Banja Luka are good for couples?
These hotels in Banja Luka are highly rated by couples Hotel Cezar, Integra Hotel, and Hotel Vila Vrbas.
Learn more about Banja Luka
Banja Luka is the capital of Republika Srpska and the second-largest city in Bosnia and Herzegovina. It is located on the Vrbas River and is surprisingly green for a city of its size. The riverside parks and walking paths are wonderful. One of the most picturesque towns in all of the Balkans can be reached in under an hour from Belgrade.
Visitors are mesmerized by Banja Luka's stunning buildings, fascinating past, and delectable cuisine. Tourists who want to see a wide range of sights in a short amount of time and relax in a town that is at once sophisticated and a gateway to one of the most beautiful green oases in this part of Europe are flocking to this city.
The historical monuments in the western center of Bosnia and Herzegovina serve as a bridge between the country's western and eastern halves. Banja Luka has become a real modern city in recent decades, but visitors can still explore history complexes and be enchanted by the harmonious architecture of cult buildings.
You might also like these articles!