Best hotels in Sarajevo
Hotels in Sarajevo, like hidden chapters in the city's vibrant tale, invite travelers to dwell in the artistry of Bosnian hospitality.
In the heart of Sarajevo, where history and hospitality dance, hotels are more than mere accommodations – they're the protagonists of your Bosnian adventure. Discover the charming symphony of Colors Inn on Koševo Street, and let the allure of Hotel Hills or Radon Plaza embrace you. Hotels in Sarajevo not only provide a cozy refuge but also an experiential journey, where the city's stories blend seamlessly with modern comfort. Let hotels in Sarajevo be your storytellers in this Bosnian odyssey.
1. Hotel Hills Sarajevo
The Hotel Hills, Thermal & Spa Resort Sarajevo is a magnificent hotel with 330 luxurious guest rooms and suites located in the middle of Sarajevo, which is often called a green oasis. The hotel features indoor and outdoor swimming pools, an adrenaline park for kids and adults of all ages, and a wellness center with a spa and fitness center. Ascend to the restaurant on the roof for a breathtaking view of Sarajevo's cityscape and the beautiful natural scene surrounding the hotel. On one side, you can see beautiful mountain views, and on the other, you can see the beautiful cityscape of Sarajevo.
2. Swissotel Sarajevo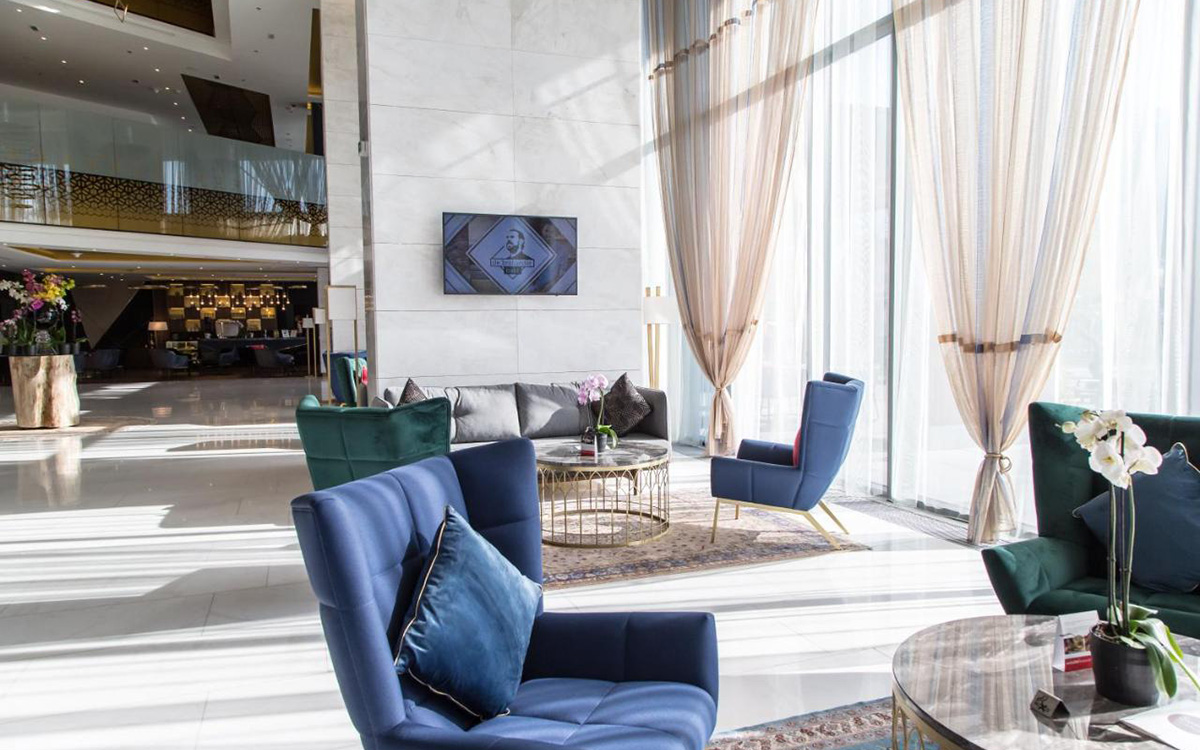 In the middle of the city's busy center, the Swissotel Sarajevo is a great example of the warm hospitality that is a big part of Bosnia and Herzegovina's culture. The unique details in its modern rooms are exquisite, and the views from them are enough to take your breath away. There are also two great restaurants, which are really modern and redefine what it means to indulge. The Fusion restaurant is a symphony of Bosnian classics, international culinary masterpieces, and Eastern treats. Swissotel Sarajevo is right in the middle of all the action in the business district, so it's easy to get to local attractions and major transportation hubs.
3. Radon Plaza Hotel
Nestled within the captivating milieu of Sarajevo, the Radon Plaza Hotel stands as a testament to lavish indulgence, a symphony of opulence orchestrated by a Finnish sauna, an inviting indoor pool, and an array of recreational activities. Leisure beckons with the presence of a bowling alley and billiards, inviting guests into an ambiance of unhurried amusement. Satisfy your thirst at the Lobby bar, an on-site place exuding a soothing atmosphere. For enhanced convenience, Radon Plaza Hotel offers parking facilities and an airport shuttle service, seamlessly intertwining accessibility with a commitment to untroubled travel.
4. Hotel Europe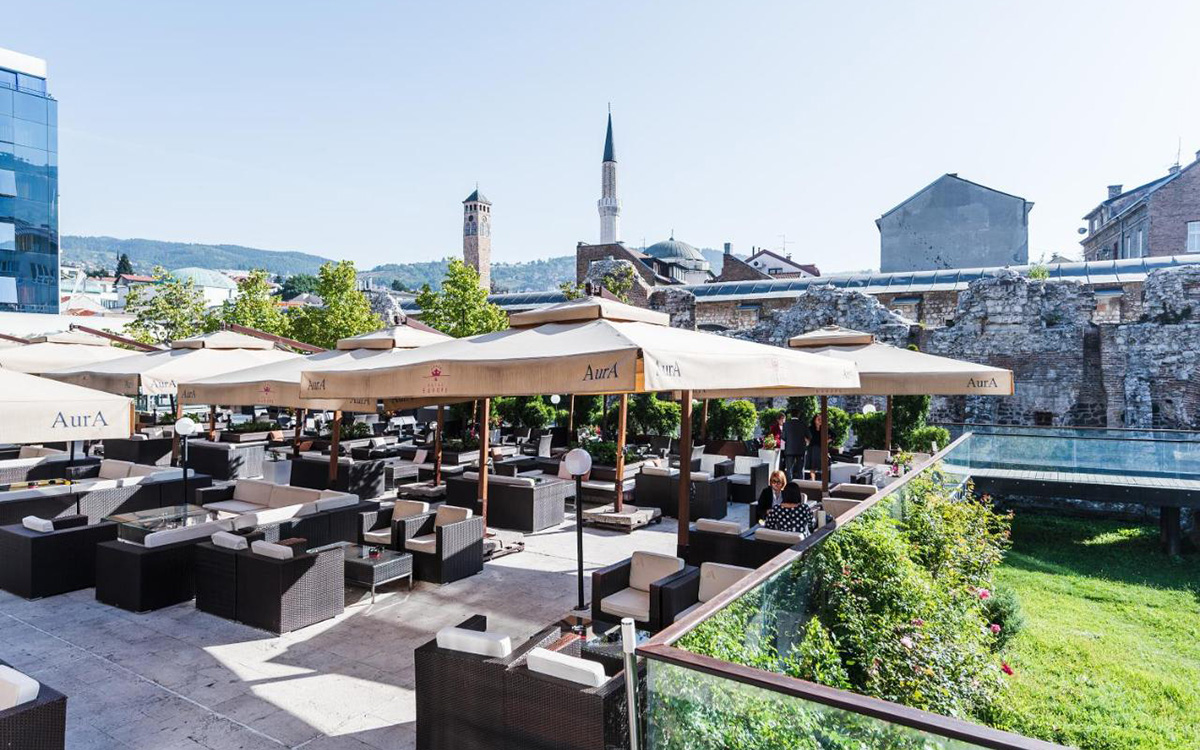 Just a few steps away from the touristy Old Town, Hotel Europe is right in the middle of Sarajevo. The traditional part of the hotel keeps the spirit of the past alive with its flashy decorations from long ago, while the new part is designed in a more modern style. Hotel Europe has been a silent witness to Sarajevo's history for a hundred years and has been the home of famous people from all over Europe and the world. The Hotel Europe will make your stay in Sarajevo a real experience that you will always remember with a smile.
5. Malak Regency Hotel
Situated in the beautiful Ilidža neighborhood of Sarajevo, close to the Great Alley, is the luxurious five-star Malak Regency Hotel. The hotel brand has come to represent excellence, graciousness, and professionalism to esteemed visitors worldwide. Many people know the Malak Regency Hotel's gourmet and bistro restaurants for serving up some of the best Bosnian, international, and oriental food. With its lovely garden and the sound of the Željeznica River, the café restaurant Orient is the ideal place to enjoy coffee and spend time with your loved ones. Escape to a peaceful haven of relaxation at the state-of-the-art Spa by Malak as well.
6. Courtyard by Marriott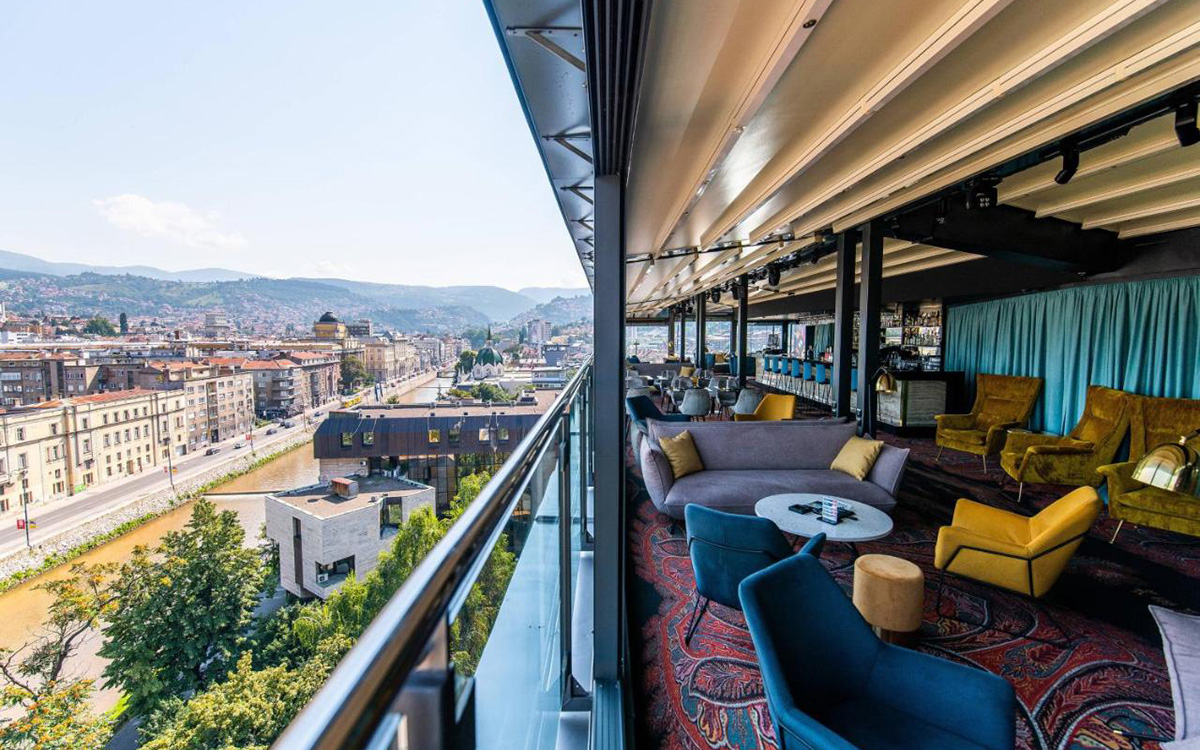 The Courtyard Sarajevo offers contemporary hotel rooms and suites, an unbeatable location in the city center, and excellent service to suit the needs of both business and leisure visitors to Bosnia and Herzegovina. Savor specialty cocktails at the lavish, elegantly designed S One Sky Lounge, which offers expansive views of Sarajevo. The hotel offers a 24-hour fitness center, a delicious signature restaurant, and a convenient on-site market. You won't have any trouble exploring the area because of its excellent location in the city center. The hotel is close to excellent restaurants, shops, and museums, and only a short distance from the charming Old Town.
7. Hotel Holiday Sarajevo
The hotel Holiday is large and welcoming, featuring a contemporary interior design and a cozy atmosphere. It comprises 380 tastefully furnished accommodations, of which 364 are rooms and 16 are suites. Additionally, there is a gym, café inn, wellness spa, patisserie, and aperitive bar available to you. With its elegant fusion of modern and traditional, comfort and luxury, and most importantly, professionalism and usefulness, hotel Holiday is ideal for you. With such a rich history, the Hotel Holiday will astonish visitors with its classic elegance, first-rate service, and unique features. Without this hotel, the list of the best hotels in Sarajevo wouldn't be complete.
8. Hotel Koncept Residence
In the tapestry of Sarajevo emerges the Hotel Koncept Residence, an oasis of accommodation, embracing a shared lounge, complimentary private parking, an expansive terrace, and a gastronomic haven. Koncept Residence, a harmonious blend of convenience and luxury, features a 24-hour front desk, airport transfers, room service, and pervasive WiFi. Each air-conditioned room, curated for comfort, unveils a symphony of amenities – wardrobe, kettle, fridge, safety deposit box, flat-screen TV, and a private bathroom adorned with a bidet. Bedecked with exquisite linens and towels, Hotel Koncept Residence epitomizes refined hospitality, extending a continental or halal breakfast for discerning guests who come to Sarajevo.
9. Hotel Central Sarajevo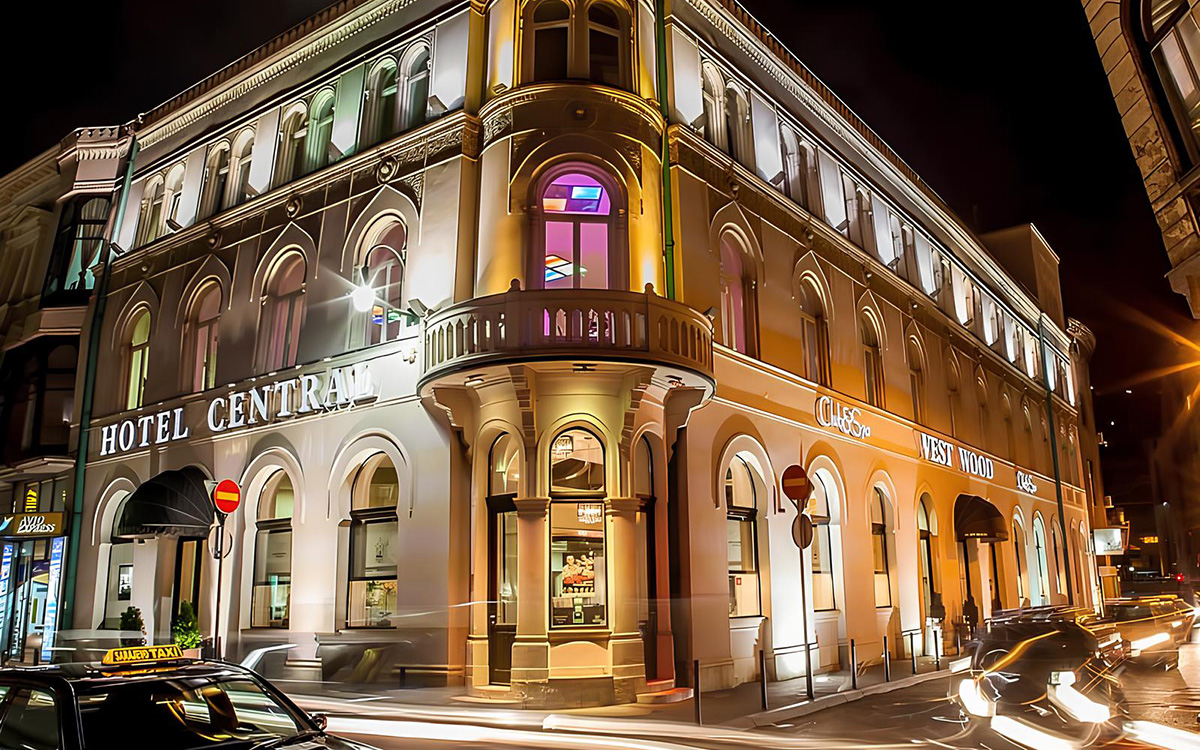 Hotel Central in Sarajevo is a great choice if you're searching for a place to stay where you can feel completely relaxed and at comfort. This iconic hotel has undergone an extensive renovation to provide you with the greatest possible hotel experience – all inspired by art. Unwind in the opulent 25-meter pool and stay in shape at the top-notch health club. Indulge in a variety of global treatments at an award-winning spa, which is manned by highly skilled and talented therapists. From the moment you walk into the breathtakingly beautiful lobby and friendly reception, until you check out of incredibly cozy bedrooms, you will receive first-rate, guest-friendly service.
10. Hotel Colors Inn
The Colors Inn, right in the middle of everything, is a true representation of Sarajevo's allure. It can be found in a charming Austro-Hungarian building on Koševo Street. The hotel has been transformed into an authentic oasis of comfort by a team of young architects who were able to preserve the unique architectural spirit of the city in which it is located while also enriching it with urban details and colors. The luxurious Park of Light is only a few meters away and features nearly all of Sarajevo's genuine offers. And most of all, Hotel Colors In is one of the cutest hotels in Sarajevo.
Best hotels in Sarajevo FAQs
What are the best hotels near Sarajevo city center?
Some of the most popular hotels for travelers looking to stay near Sarajevo city center include Hotel President, Hotel Central Sarajevo, and Hotel Astra.
What are the best luxury hotels in Sarajevo?
Popular luxury hotels in Sarajevo include Bosmal Arjaan, Swissotel Sarajevo, and Hotel Hills Sarajevo.
What are the best cheap hotels in Sarajevo?
Popular cheap hotels in Sarajevo include Garni Hotel Konak, Hotel Boutique 36, and Hotel Colors In.
Which hotels in Sarajevo are good for families?
Many families that traveled to Sarajevo enjoyed staying at Hotel Hills Sarajevo, Tarcin Forest Resort and Spa, and Koncept Residence.
Which hotels in Sarajevo are good for couples?
Hotels highly rated by couples include Courtyard Sarajevo, Bosmal Arjaan by Rotana, and Radon Plaza Hotel.
What are the best hotels with a spa in Sarajevo?
Hotels that received excellent reviews for the best spa center in Sarajevo include Hollywood Hotel Sarajevo, Hotel Europe, and Bosmal Arjaan by Rotana.
What are the best hotels with a pool in Sarajevo?
The best hotels with a pool include Hollywood Hotel Sarajevo, Hotel Europe, and Hotel Hills Sarajevo.
Which hotels in Sarajevo allow pets?
Pet-friendly hotels in Sarajevo include Motel Italia and Hollywood Hotel Sarajevo.
Learn more about Sarajevo
Nestled in the bosom of the Balkans, Sarajevo, Bosnia, and Herzegovina's pulsating capital, is a convergence point where the intricate dance of East and West unfolds across the tapestry of time. A 'Jerusalem of Europe' or 'Jerusalem of the Balkans,' its history resonates through the marrow of its diverse cultural and religious veins.
The culture spins effortlessly through history, weaving Ottoman, Austro-Hungarian, and Yugoslav threads into the vibrant cityscape. Baščaršija's minarets dance with Sebilj's spires in a mesmerizing fusion of past and present. Amidst this historical ballet, life pulses through the centuries-old commerce of Bascarsija Bazaar and the vivacious flow of the Miljacka River.
Sarajevo isn't just a stop, it's a living narrative that calls to peel back its myriad layers where history, culture, and allure entwine in an embrace both enchanting and confusing. Dive into the enigma of Sarajevo, where every stone whispers tales.
You might also like these articles!