Culture lovers will find a variety of attractions in the largest town on the Istrian peninsula. An itinerary of three thousand years of history, where every step is a landmark in the old town. And every city sightseeing begins and ends with the Roman amphitheater in this magnificent and turbulent city.
About Pula
Pula, in the beautiful Istria region of Croatia, is the largest city and boasts a long history. Its well-preserved Roman monuments are among its biggest draws, perhaps the most renowned being the Pula Arena – one of the most impressive Roman amphitheaters that has survived to this day and is now integrated into the modern city. There are remnants of the Roman era in every part of town.
There are many cultural, economic, and tourist attractions in Pula. Furthermore, Pula's coastline is a sight to behold with vibrant blue waters and plenty of activities to indulge in. Between its historical treasures, cultural attractions, and spectacular natural beauty, Pula is an excellent choice for any traveler looking to explore Croatia.
History of Pula, Croatia
So important to the Romans that they built their sixth-largest amphitheater here. Pula became a Roman colony 100 years after they first arrived in 177 BC. It was renowned for producing wine and olive oil, and by the time of Augustus from 63 BC 'Pietas Iulia' was a thriving urban center with a forum, temples, and city walls.
Unfortunately, between Augustus and the Austrians, Pula diminished to being a minor port with only a few hundred citizens. However, at the end of the 19th century, the Habsburgs made 'Pola' their naval hub and center for shipbuilding.
When it passed into Italian hands it was heavily bombed by the Allies during World War II, then industrialized again under Tito. Package tourism arrived in the 1970s, and now its position as the main hub of an economically booming region has made Pula one of those rare coastal towns where life goes on even in winter.
How to get to Pula, Croatia
You can reach Pula by plane, thanks to the city's own international airport, which is 6 kilometers outside Liznjan. This airport makes it a breeze to fly into nearby towns in Istria like Medulin, Liznjan or Premantura, it also serves some parts of Slovenia and Italy. Single-terminal at Pula Airport offers flights to both domestic and foreign destinations courtesy of Jet2, easyJet, British Airways, Ryanair, Lufthansa, and many more airlines. For those who prefer an alternate route to get here by air, Rijeka Airport – located a little over an hour and a half away from Pula, will fit the bill perfectly.
You have several options to get from Pula Airport to the city center. You can take a taxi which is outside the building next to the bus terminal, or catch an airport bus. The latter will take you to Pula, Medulin, Verudela, Fazana or Rovinj. You can also use public bus line 23, you can find further information on its schedules and stops here. If that doesn't work for you, try ordering a door-to-door private transfer. Lastly, if you'd rather explore independently, a car rental could be another option.
What to visit in Pula
Pula Arena
This majestic ancient sight is a well-preserved Roman amphitheater. On a guided tour or on your own learn about its history and imagine the gladiatorial spectacles that took place there. During the reign of Emperor Vespasian in the 1st century, it was completed alongside the Colosseum.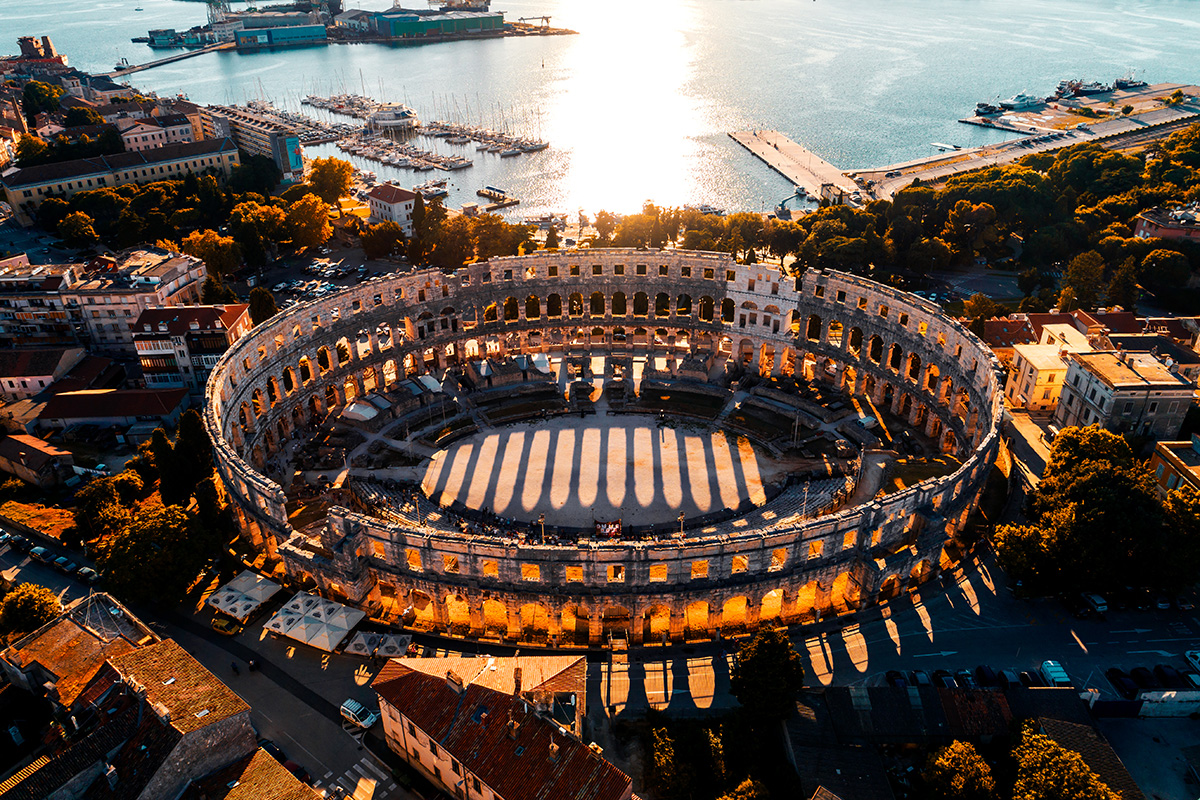 Arch of the Sergii and the Forum
Walk from the Arena to the city center and explore the Arch of the Sergii, an ancient Roman triumphal arch. You'll find the Forum, which was once Pula's main square, adjacent to the arch.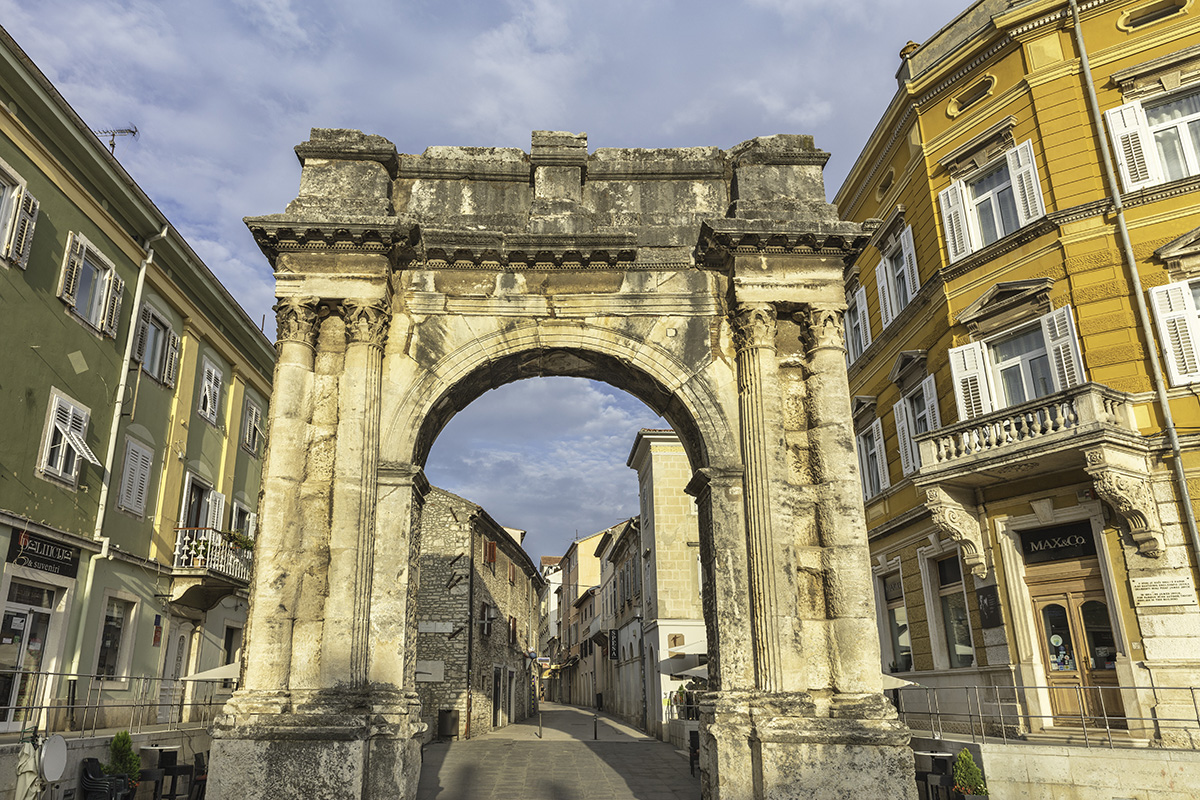 Temple of Augustus
Take a moment to admire the architectural beauty and historical significance of the Temple of Augustus, situated near the Forum. This well-preserved Roman temple is dedicated to the first Roman emperor, Augustus.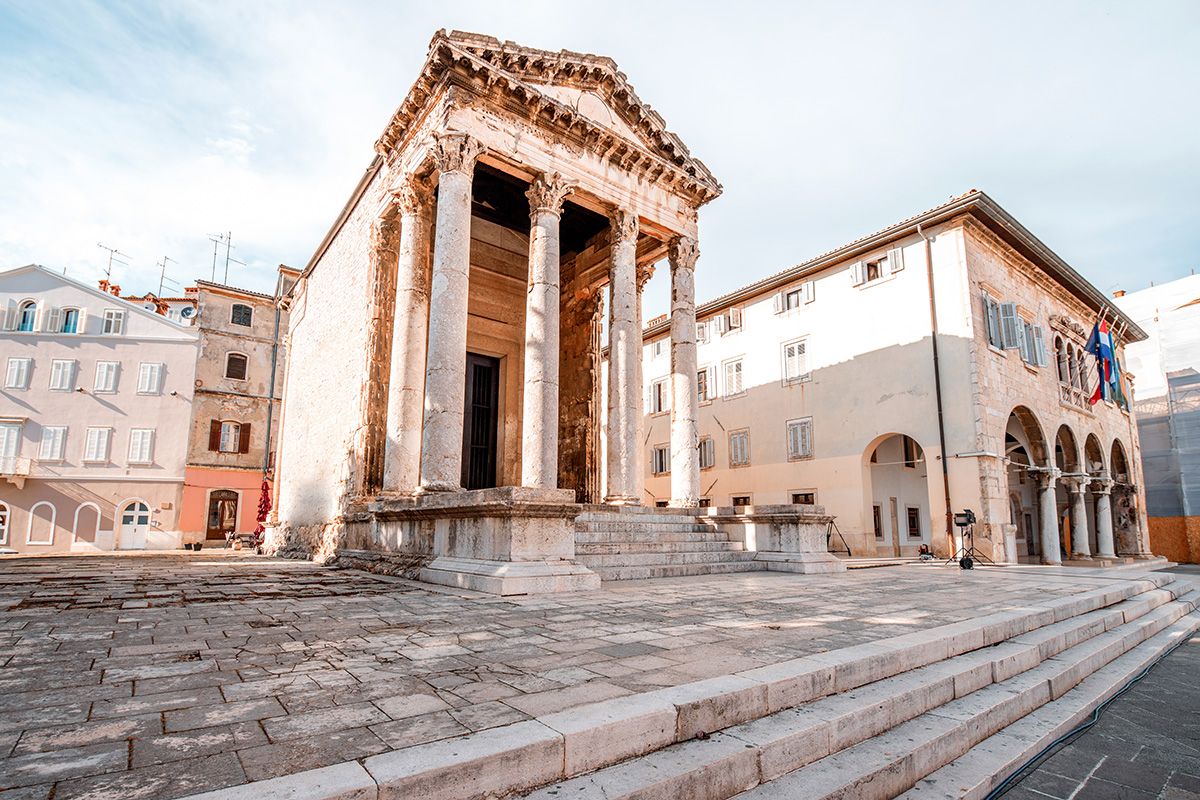 Pula Promenade
Also known as Riva, which stretches along the harbor. Enjoy scenic views of the Adriatic Sea, watch the boats go by, and stop at one of the cafes or restaurants to relax and eat. In the evening it comes alive with music and activity from filling bars, and its charm will certainly captivate you!
Fortress Kaštel
This fortress from the early 17th century is one of Pula's most important tourist attractions. As part of the Venetian rule in 1632, this fortification was built to protect the port and the city from invaders.
Cathedral of the Assumption
The majestic Cathedral of the Assumption of Mary is often considered one of the most exemplary churches in Pula. Dating back to the 4th and 5th centuries, this impressive structure stands in the heart of the city, with its freestanding tower – built from pieces of an old amphitheater.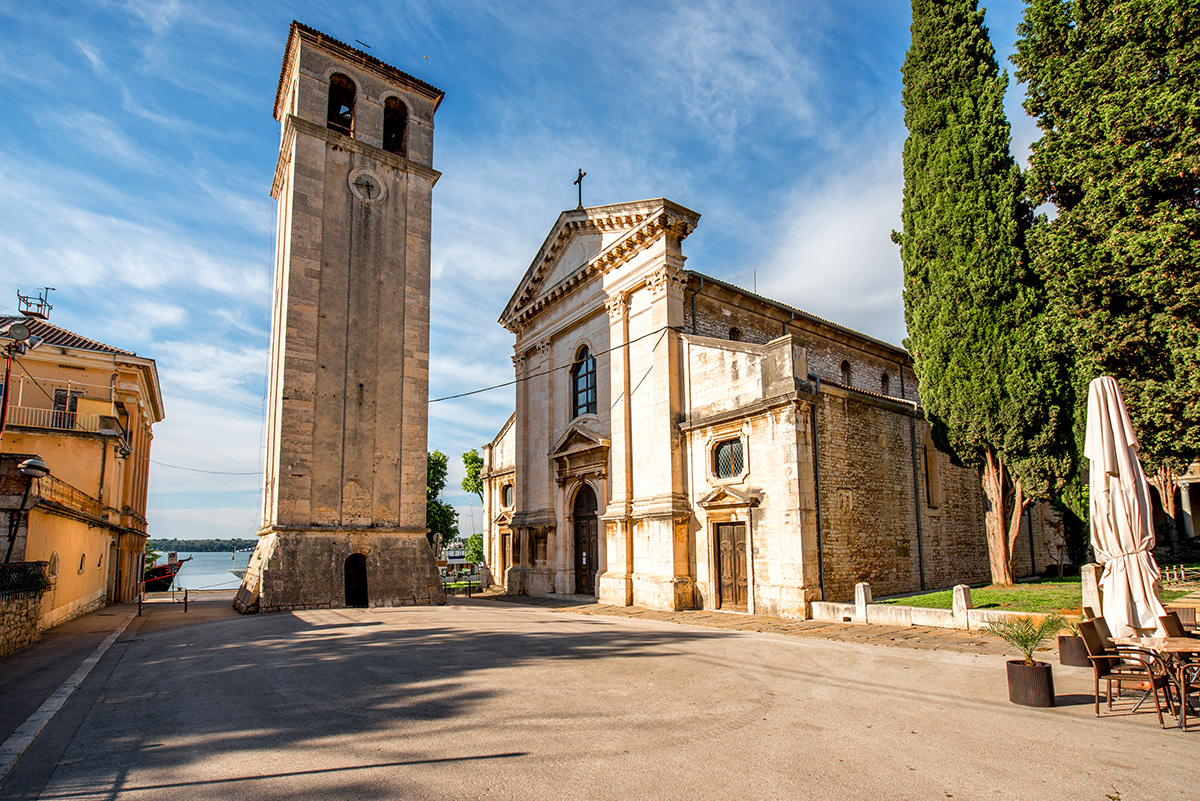 Pula Aquarium
Pula Aquarium is one of the most beloved attractions in Pula. Highly recommended for families with children. This marine museum is located on the Verudela Peninsula, outside of town. It's a great place for both adults and younger visitors to explore hundreds of fascinating species from the northern and southern Adriatic Sea as well as the tropical sea and Croatian rivers and lakes.
Pula Old Town
Visiting Pula's Old Town is a must when traveling through Istria. It is one of the most stunning historic city centers in Croatia. On your walk, you'll see a wealth of amazing architectural relics from different eras. From Roman to Venetian, Austrian, and Italian monuments, every corner here offers something unique.
Beaches in Pula
Ambrela Beach
Located near the entrance to Verudela, one of the most popular tourist zones on the island. Ambrela is a sandy beach with easy access to the sea, so it is ideal for families with children. Due to its exceptional water quality, the beach, along with others in Pula, has been awarded a Blue Flag. It is possible to rent beach chairs, umbrellas, changing rooms, and showers.
Havajka Beach
The Havajka or Hawaii Beach is situated right in front of the Park Plaza Arena Hotel in the Verudela zone. It is a pebble beach ideal for families with small children due to its shallow waters. The beach is a bit away from the parking lot or a bus station, so walking for a few minutes is required to reach it. Those seeking adventure can jump from the high cliffs surrounding the beach, which provide a calm sea.
Histria Beach
It is located just in front of the Park Plaza Histria Hotel and its entrance is suitable for everyone, including children and seniors. Histria Beach is a half-rocky, half-concrete beach on the Verudela peninsula. There are bars and restaurants on the beach, as well as additional facilities like a volleyball court, tennis court, squash court and more. You can also rent sunbeds and parasols and other equipment.
Gortanova Uvala Beach
One of Pula's most beautiful beaches is Gortanova Uvala Beach, hidden in the pine trees along the long promenade Lungomare. Families with children can choose Gortanova Uvala because it has a pebble and rock beach with an accessible entrance. You can spend the whole day here because a pine forest provides deep shade. There is also a rocky part that is perfect for divers. There is a beach bar in the vicinity where you can refresh yourself.
Kamenjak Cape Beach
The Beach is situated on the southernmost tip of the Istrian peninsula, is part of a protected natural park and provides an extraordinary landscape. With its 30-kilometre-long coast featuring numerous bays, beaches and islands, it's perfect for any individual in search of solace and tranquillity. Although not covered in sand, its rocky shore with flat rocks offers restful surroundings. Its abundant marine life also makes it popular among scuba divers. All this can be found close to Pula – making Kamenjak Cape truly a hidden gem!
Day trips from Pula
Brijuni
The Brijuni islands are among Croatia's eight national parks and are the closest to Pula. There is a safari park with wild animals, but it is also a popular holiday destination for former Yugoslavian president Josip Broz Tito. Take a tour of the museum, which was formerly a holiday house, and meet his parrot Koki. You can also see perhaps the oldest olive tree on Earth, which is around 1700 years old.
Hum
The smallest town on earth! Hum has only 20 residents, but that doesn't stop him from attracting tourists. Every year, the men of the parish vote for the village prefect by carving their votes into a wooden stick. This tradition has been going on for hundreds of years.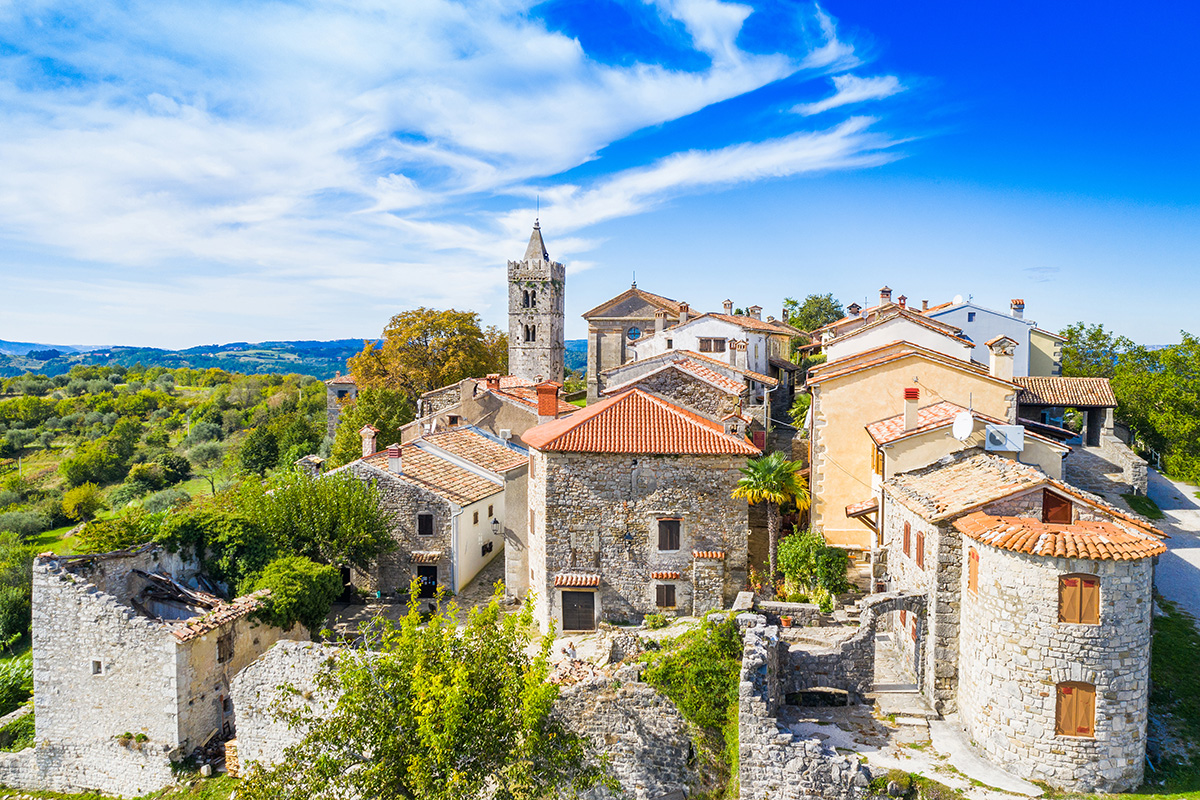 Poreč
The town of Poreč, which is historically and culturally rich, might not be too big, but it definitely has all the charm of a small town with some interesting sights. The town's main attraction is the Euphrasian basilica, dedicated to the bishop from the 6th century. You can also see the remains of one of the most ancient temples in Istria, Neptune's Temple, as well as Gothic and Roman houses.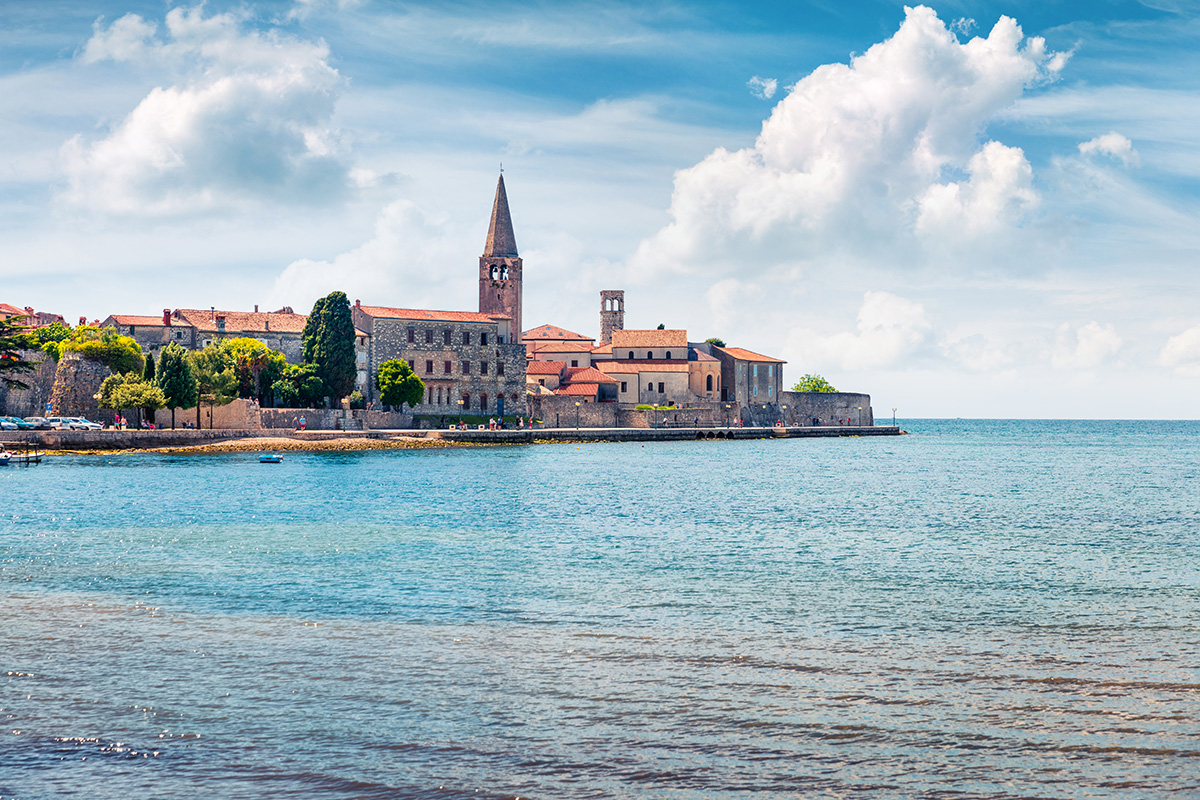 Rovinj
Located in the heart of the Adriatic, Rovinj is a peaceful little town that is ideal for a relaxing holiday. The Old Town of Rovinj is full of old houses dating back to the 1700s. In the past, Rovinj was a very important port, home to fishermen and sailors, but today it is a top destination in the Mediterranean. Its mild climate and favorable weather conditions make Rovinj a popular destination during the winter as well.
Cape Kamenjak
Cape Kamenjak Nature Park is a must-see when visiting Pula. Situated 15 kilometers south of the city, the entrance to this natural gem is close to the village of Premantura. Prepare to be mesmerized by majestic cliffs and breathtaking bays that are among the most picturesque in Croatia. Plus, there's also plenty of hiking and biking trails strewn across the magnificent landscape. Don't miss out on this opportunity!
Motovun
On a hill overlooking the Mirna River valley, Motovun is located in a fort 270 m above sea level. It is one of the most beautiful medieval towns in Istria. There is a forest near it, known as Motovun, which is rich in truffles and rare mushrooms, and grapes are grown on its slopes to make famous Istrian wines.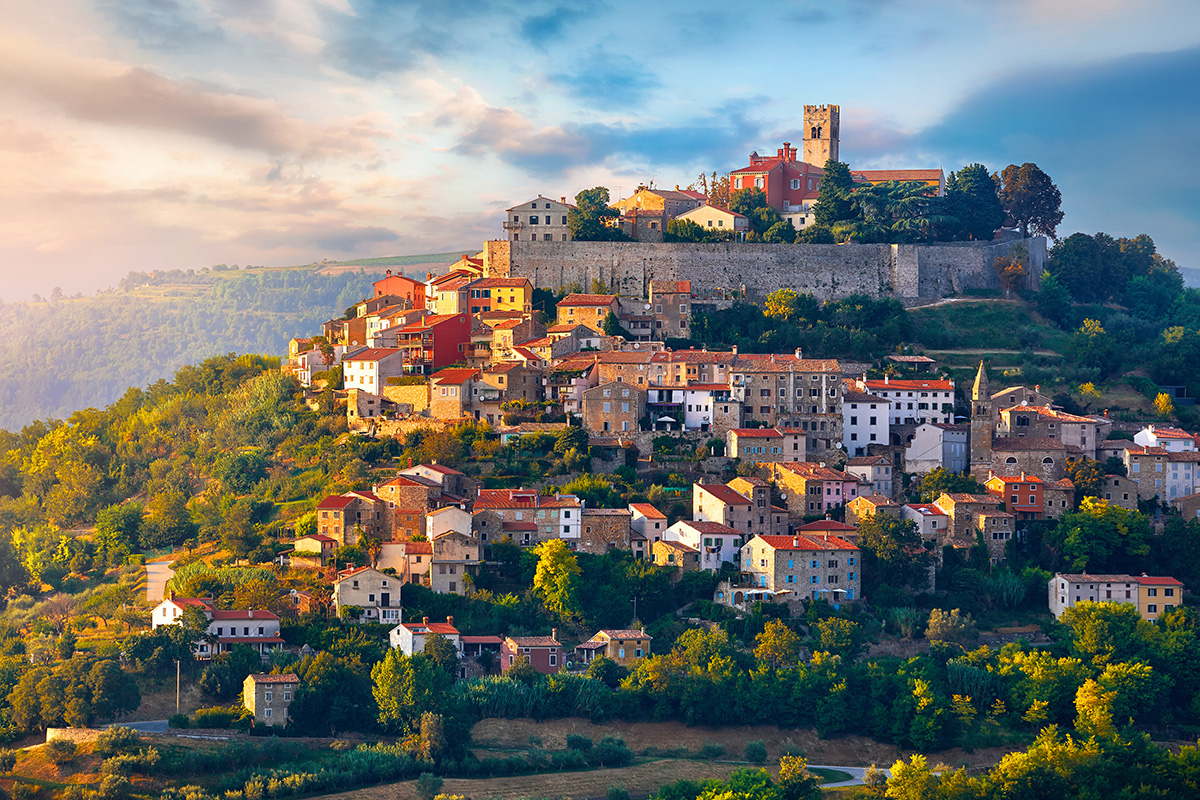 Grožnjan
The city has earned its nickname as an artist village. Small medieval alleys lace around the old town, inviting guests to newly opened cafes and konobas with their rustic charm. The beauty of Grožnjan does not stop there – its surroundings are teeming with captivating marvels to discover.
Food in Pula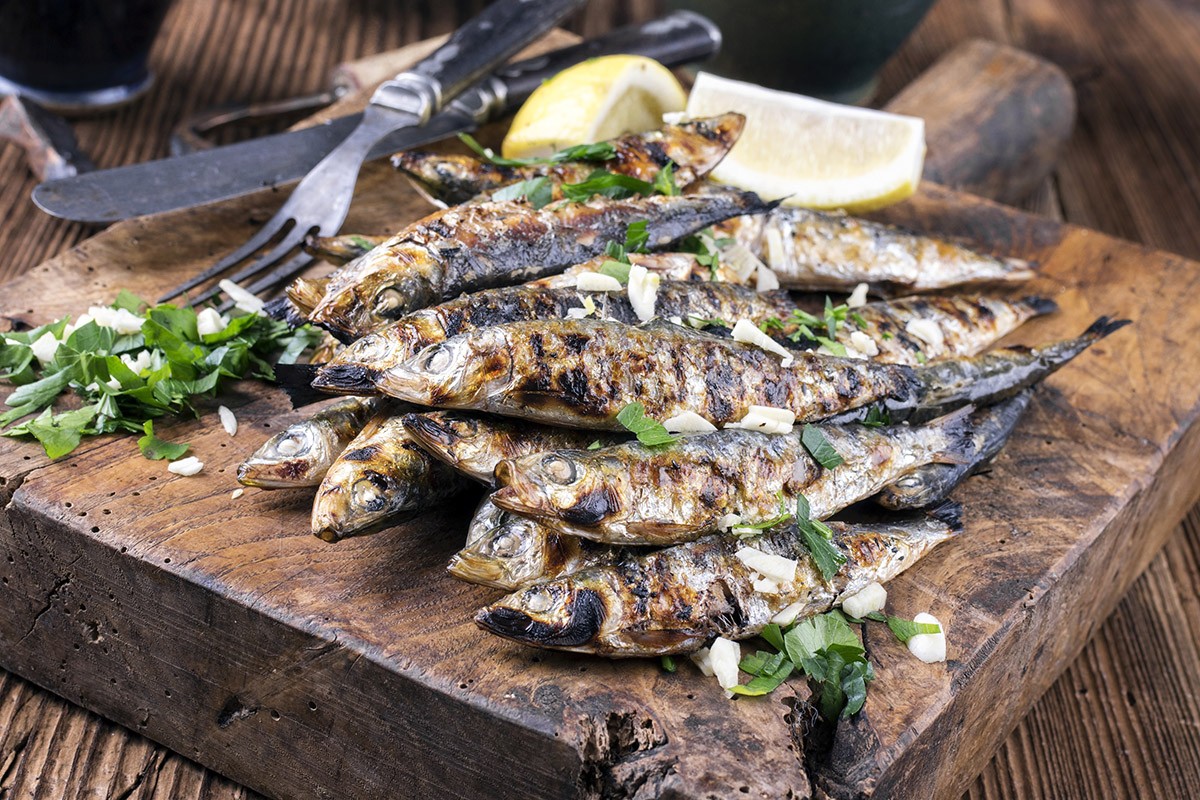 Visiting Pula requires the sampling of traditional Istrian cuisine. Mediterranean flavors are prominent in this cuisine, which shares many similarities to Italian cuisine, with a sauce made from olive oil, fresh ingredients and herbs such as rosemary, sage, garlic and tomatoes. Fuži with truffles is a popular dish among Istrians – a Croatian type of pasta made from homemade dough served with truffles, prestigious mushrooms are highly valued for their flavor.
For an even more authentic take on this dish, prosciutto can be added for an unforgettable harmony of taste unique to Istria. Authentic Istrian prosciutto is cured and covered in herbs distinguished by being produced within 12 kilometers of the coast. Maneštra stew is another classic peasant meal now regarded as a specialty – a combination of beans, potatoes and seasonal vegetables. There are many vegetarian and vegan restaurants in Pula, including Tivoli, Piazza Nove, Farabuto, Bistro Alighieri, Jupiter, and Milan.
If you're in Pula or Istria, don't miss the chance to try some of the best wines in the world. Visit Benazic Winery, a family owned business just two kilometers from the city center that offers homemade products like brandy, cheese, olive oil and wine from regional vineyards. They have won multiple awards for their work. Trapan Winery is another great spot located a few kilometers southeast of Pula, they provide high quality wines coming from organically farmed vineyards combined with delicious Istrian products such as prosciutto and cheese.
Pula nightlife
Nightlife in Pula is the most vibrant out of all Croatian cities. As compared to big cities like Split and Dubrovnik, most of the action here takes place in Verudela or Premantura. Top choices for a night out include Aruba – a cafe/bar by day and a disco zone by night, Uljanek where you can rock out to some great tunes, and Monte Serpente, perhaps the biggest discotheque with happenings almost nightly. Fort Bourguignon which plays techno music but turns into a rave fest during summer, and Cargo Bar where you can enjoy many concerts and events during peak season. As you can see, Pula has something for everyone's taste, so you're sure to have a good time. Jazz lovers should visit Fiorin, and indie fans will love Rojcnet.
Festivals and events in Pula
Pula Film Festival
The oldest Croatian film festival, held at Pula Arena since 1954, takes place either in July or August. Pula Film Festival offers free screenings and awards called Golden Arenas.
Outlook Festival
Outlook Festival is the most popular bass and dubstep festival in Europe. It takes place at the beginning of September, in Fort Punta Christo, with DJs and light shows at night, and beach parties at day.
Dimensions Festival
At the end of August, the Dimensions Festival takes place in Fort Punta Christo and is known for lovers of electronic music.
Pula Summer Festival
During the months of July and August, the Pula Summer Festival presents a series of concerts, featuring both domestic and international artists. This festival is held at Pula Arena, and some may recognize it as Histria Festival.
Salsa Latina Istriana
All dance lovers are invited to attend the Salsa Latina Istriana. Under the supervision of well-known national and international dance instructors, free dance workshops are offered to promote salsa and other Caribbean dances, allowing everyone to try themselves in this fun activity. There are workshops for beginners, as well as experienced dancers.
International Pula Jazz Festival
Every year, surrounded by the extraordinary architecture of Pula, in the ancient garden of the Home of Croatian Veterans, a wide variety of people from all over the world meet. The Pula Jazz Festival has become a real center of culture, setting a new standard for jazz and music events in general. Taking its place in the international festival calendar, the event turned into a unique postcard of Pula, Istria and Croatia in the world of cultural life.
Pula Marathon
In late September, you can join the Pula Marathon, a world-famous sports event. The marathon runs through the city center and finishes with refreshments in Pula Arena.
Pula outdoor activities
Pula offers a wealth of opportunities for an adventurous holiday, from water-based to full-on adrenaline activities. There is something for everyone here. Vacationers who are looking to explore the seaside can try kayaking or perhaps even discover hidden bays and sea caves. Thrill-seekers won't be disappointed either, cliff-jumping sites such as Havajka Beach offer that extra rush of adrenaline. Those eager to learn more about their underwater surroundings have the option of snorkeling or scuba diving schools for beginners, while families with little ones could take advantage of Pula's fabulous water parks. For those short on time, why not book a tour package offered by many local agencies?
Car rental in Pula, Croatia
We recommend searching for cheap car rental in Pula with our metasearch engine. You will find all major car rental companies in Pula or Pula Airport on our site. Find competitive prices, and what's even better, you have all offers in one place, and you can easily compare them, and search for the best car rental in Pula. You can find cheap car rental not just in Pula, we cover the whole of Croatia and all major cities and airports. Search for car rental in Zagreb, Split, Rijeka, Makarska, Trogir, Zadar, Opatija, Dubrovnik, Šibenik, Umag, Rovinj or Poreč.
Renting a car is the best way to explore Pula and Croatia, and you can travel off the beaten path, see more in less time, and stop wherever and whenever you want. Additionally, renting a car in Croatia is the most economical way to travel through the country if you visit off-season.
You do not need to worry about driving in Pula or the whole of Croatia as the road infrastructure is excellent, with a multilane motorway crossing the country from east to west and south to north and a network of national toll-free roads running parallel to the toll motorway. All roads are asphalted and wide enough, with clear road signs.
Accommodation in Pula, Croatia
In the old town of Pula, but also in the surroundings of the port city, there is a great range of accommodations. From beautiful vacation hotels to gorgeous vacation apartments and campsites, everything is available. There are many places to stay in Pula, including large hotels and resorts, small family-run boutiques, private apartments, campgrounds, and even glamping. The neighborhoods of Stoja and Verudela in Pula are home to large hotels, resorts, and campsites. You can easily find accommodation of your choice in Pula and Croatia with Booking.com.
Arena Pula is the leading hotel group in Pula, with many hotels, resorts and campsites under its wing. Many of their properties are part of the Park Plaza brand. Booking.com is the best place to find, compare and book accommodation in Pula. You can search for a variety of accommodations here, and prices are competitive with no need for prepayment or a 48h cancelation policy. If you're looking to stay in the city center for a few days, check out Hotel Amfiteatar, City Center Rooms or Polai Center Apartments.