Best apartments in Vodice
These apartments in Vodice, like gems in a coastal crown, beckon with their unparalleled charm.
Vodice's idyllic streets unfold like stanzas in a timeless poem. Meandering paths of cobblestone guide the way to serene cafes, where conversations and coffee pour endlessly. The sparkling waters of the Adriatic call out, promising endless possibilities for boating and exploring. The most exquisite apartments in Vodice embody a sense of serenity and sophistication. Adorned with vibrant blooms, their balconies beckon one to sway with the gentle sea breeze. And as the sun rises each morning, splashing warm tones of pink and gold across the sky, these apartments in Vodice come alive in perfect harmony.

1. Apartments Arancini Residence
Immerse yourself in the perfect blend of Mediterranean tranquility and contemporary opulence at Arancini Residence Apartments. Only moments away from the beach and a short walk to both the Parish Church of St. Cross and Vodice Harbor, this 4-star aparthotel is the ideal destination for those seeking a balance of relaxation and exploration. Spoil yourself with massages at the full-service spa or maintain your fitness routine at the well-equipped gym and sauna. Take a refreshing plunge in the seasonal outdoor pool. As you plan your stay in Vodice, make sure to include Arancini Residence's luxurious apartments on your list.
Distance to the center: 350 m
Distance to the beach: 700 m
2. Apartments Maritea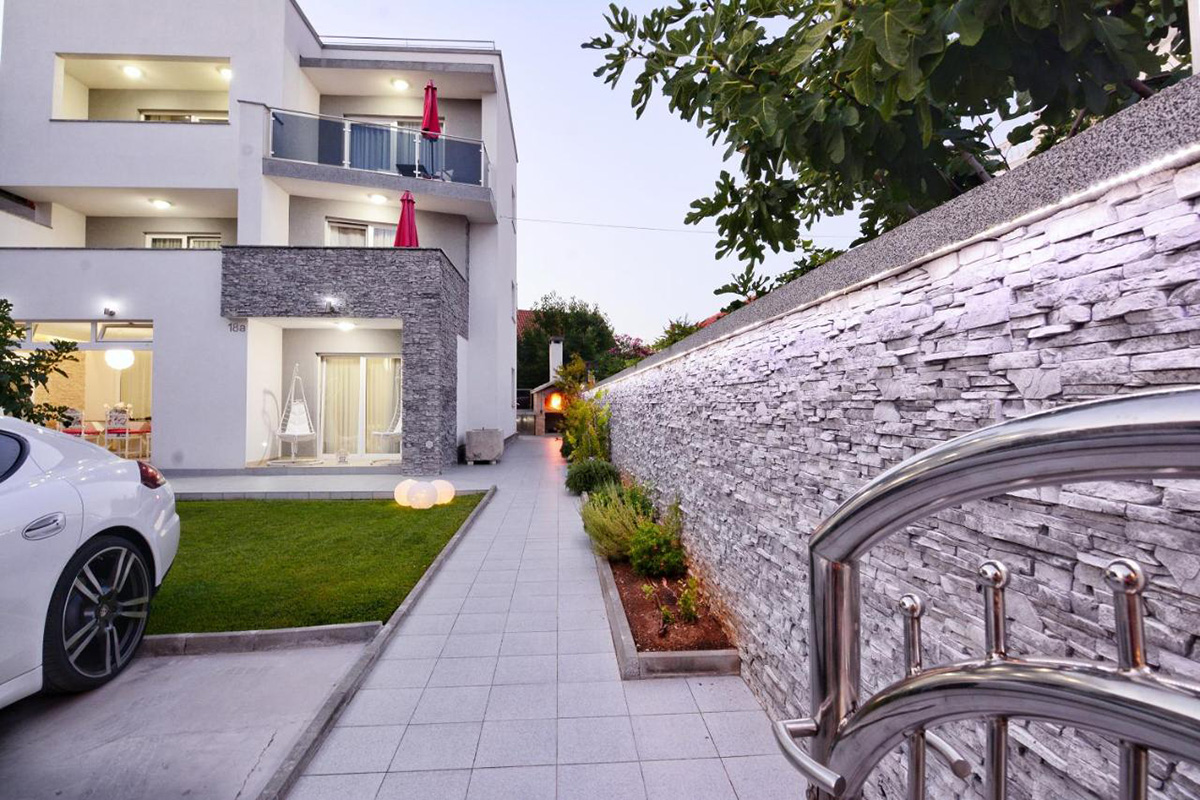 Apartments Maritea are for sure the perfect home away from home in the heart of Vodice. Lovely apartments are just 300 meters from the nearest beach, offering more than just a comfortable stay – but a truly unforgettable experience. Upon arrival, you'll be welcomed by warm, inviting colors that exude a sense of coziness and relaxation. Its convenient location is one of the highlights of staying at Apartments Maritea. A grocery store is just a stone's throw away for all your necessities. A taste of Vodice's vibrant nightlife is offered in the night bars as the sun sets.
Distance to the center: 300 m
Distance to the beach: 300 m
3. Apartments M&L
With Apartments M&L, you can find your oasis in Vodice, offering modern architecture combined with classic urban touches. With its beautiful outdoor pool, the apartments are ideal for extended stays in Vodice when traveling with family. Due to their modern and unique design, the Apartments M&L are certain to be among the best apartments in Vodice. And definitely deserves to be on this list of the best apartments in Vodice. They offer a unique experience with contemporary design and comfort.
Distance to the center: 300 m
Distance to the beach: 500 m
4. Apartments Royal
Experience a superior level of relaxation during your vacation at Apartments Royal, a modern and chic accommodation option in Vodice. Boasting 7 luxurious apartments with a 5-star rating, each one offers top-notch quality, modern, and aesthetics. Take advantage of the peaceful garden while lounging by the pool on comfortable sun beds. Immerse yourself in the beauty of Dalmatia through the vibrant Mediterranean plants surrounding you. If you are looking for a superb place to unwind during your vacation in Vodice, then Apartments Royal is the right choice for you!
Distance to the center: 1.5 km
Distance to the beach: 350 m
5. Downtown Luxury Apartments with Hot Tub
Experience ultimate luxury at the lavish Downtown Apartments with Hot Tubs in Vodice. Apartments are ideal for couples who really want to relax while on vacation and explore Vodice a little bit more. This conveniently located two-story gem is just steps away from the main promenade, providing an ideal base for exploring all that Vodice has to offer. Don't miss out on the chance to stay at these unique and delightful apartments – they have earned a spot on our list of the best apartments in Vodice.
Distance to the center: 50 m
Distance to the beach: 200 m
6. Apartments Ella Vodice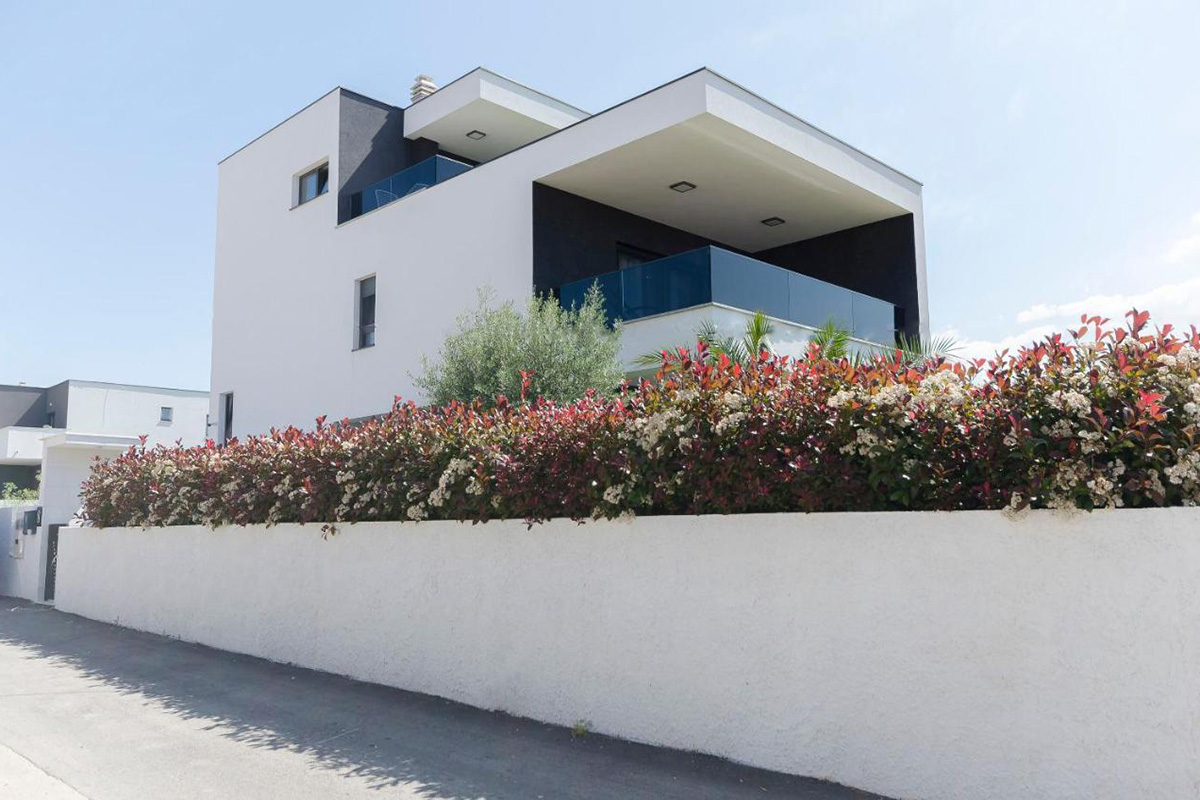 Nestled along the sun-kissed shores of Vodice lies an idyllic escape waiting to be discovered – Apartments Ella. Conveniently located near Male Vrulje Beach and Hangar Beach, this alluring getaway allows for effortless enjoyment of sandy coastlines. Apartments Ella offers an optimal combination of comfort and opulence. For your holiday accommodations in Vodice, Apartments Ella should definitely be at the top of your choices. For cooking enthusiasts, apartments are fully equipped with top accessories.
Distance to the center: 900 m
Distance to the beach: 500 m
7. Apartments Rooftop House Vodice
Apartments Rooftop House Vodice – where the beauty of the mountains meets modern convenience. The apartments feature spacious balconies to enjoy the breathtaking views and also spacious seating areas with a satellite flat-screen TV for your comfort. Experience 4-star amenities such as a fitness room and sun terrace for relaxation, as well as a year-round outdoor pool and separate kid's pool. Enjoy the stunning sea views from the infinity pool as well. Take your pick among six contemporary one-bedroom apartments, each offering a cozy living room, sofa bed, and fully equipped kitchen.
Distance to the center: 1.8 km
Distance to the beach: 1.7 km
8. Apartments TayLa- Vodice
At Apartments TayLa, experience the perfect harmony of comfort and serenity while staying in Vodice. Conveniently situated near beloved beaches like Male Vrulje, Hangar, and Imperial, apartments allow guests to bask in the sun and discover the pristine waters of the Adriatic Sea. Apartments are especially well-suited for families seeking a peaceful and comfortable retreat by the pool. While not as extravagant as other options in Vodice, it undoubtedly deserves a spot on the list of top apartments in this charming Dalmatian town.
Distance to the center: 900 m
Distance to the beach: 500 m
9. Apartments Villa Ljubica

Indulge in unforgettable moments in apartments at Villa Ljubica. Along with stunning vistas and opulent pools surrounded by local foliage, the location of the apartments boasts a short distance to the bustling Hangar beach just 100 meters away, as well as the city center of Vodice is only 200 meters away. The luxurious villa features 8 deluxe apartments equipped with all necessary amenities and a spacious terrace with sea views. Relax by the outdoor pool on comfortable lounge chairs or grill up a tasty meal on the barbecue. Additionally, Vodice is perfectly situated near national parks and historic Croatian cities full of rich traditions.
Distance to the center: 200 m
Distance to the beach: 100 m
10. Apartments Slavica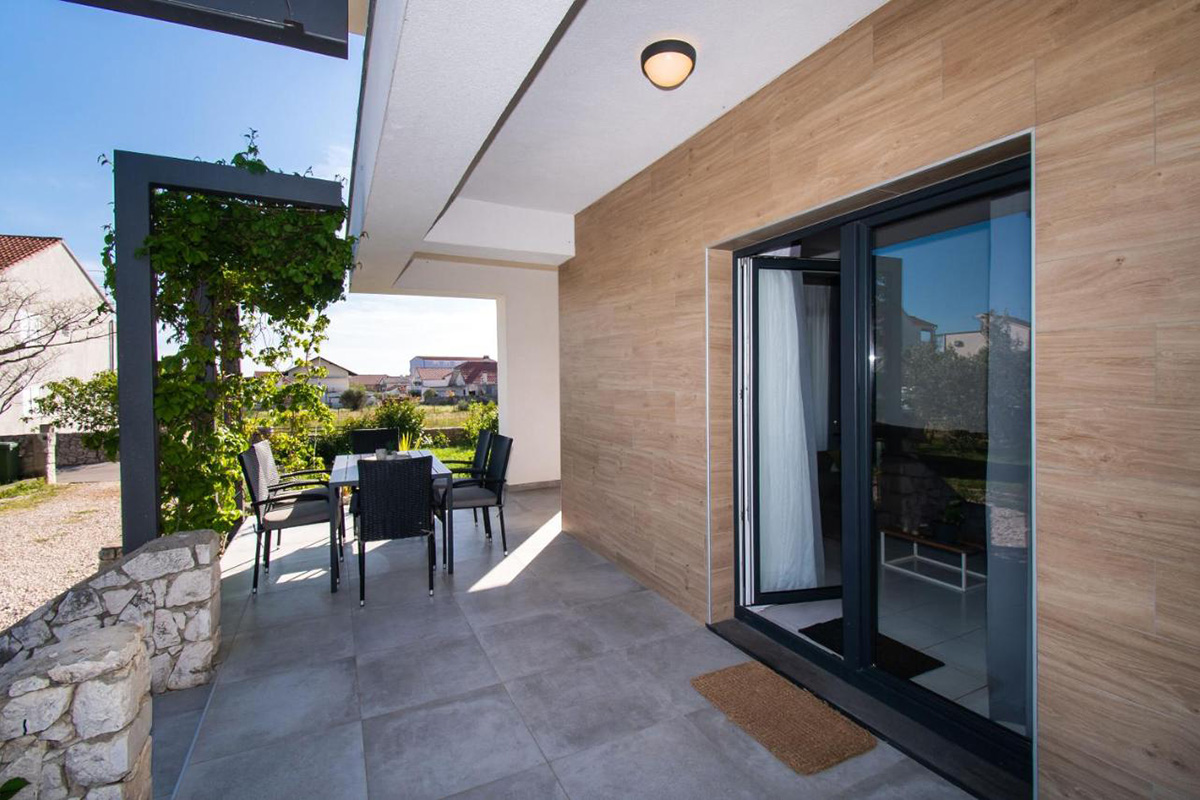 The Apartments Slavica offers a queen-sized bed and a living room with a kitchen and sofa bed possible to open in case of four people. Ideal for single travelers up to families with two children. The most interesting places in Vodice are only a short walk away from the Apartments Slavica. Newly renovated design apartment with a romantic garden terrace situated in one of the Vodice's most popular and coolest neighborhoods. Apartments are designed with modern and practical elements that provide maximum comfort and the best experience during your visit to Vodice.
Distance to the center: 900 m
Distance to the beach: 500 m
Learn more about Vodice
When it comes to Vodice, there's so much to mention. This charming town on the Šibenik Riviera is a beloved destination in Dalmatia. Visitors are coming back because of vibrant nightlife, beautiful turquoise beaches, and charming old towns filled with unique landscapes. Repeatedly selected as one of the top coastal destinations in Dalmatia, this vacation gem boasts a charming old town and bustling marina at its heart.
While summer brings a lively atmosphere filled with festivals, street performers, delectable Dalmatian fare at local restaurants, and vibrant beach parties, there are also plenty of peaceful apartments perfect for families with children seeking a tranquil retreat.
From Vodice, you can easily reach some of the most popular cities in Dalmatia, which are rich in historical sights and some are even under UNESCO protection. These include Trogir, Šibenik, Split and Zadar. With plenty of nearby day trip options, there is no shortage of exciting activities to partake in as some of Croatia's most stunning attractions are within easy reach from Vodice.
You might also like these articles!
• The 13 best hotels in Dubrovnik
• The 10 best hotels in Rovinj