On a small peninsula, Zadar's old town is home to Roman ruins, medieval churches, cosmopolitan cafes, and quality museums. Surrounded by historical ramparts, Zadar is an intriguing city.
About Zadar, Croatia
Situated in the Adriatic, Zadar is the administrative, economic, cultural and political center of northern Dalmatia with a population of 75,000. Boaters flock to its shores because of its picturesque islands and untouched nature.
The region has an impressive 24 bigger and around 300 smaller islets and rocks, as well as three nature parks. Alfred Hitchcock once said that Zadar's sunsets are the best in the world and you can decide for yourself if you spend one evening there.
Unlike most tourist destinations in Croatia, this city offers much more than historical monuments – it is alive with energy from both locals and visitors alike. Zadar holds many architectural wonders from antiquity to contemporary times, including a unique Sea Organ – the first of its kind ever created.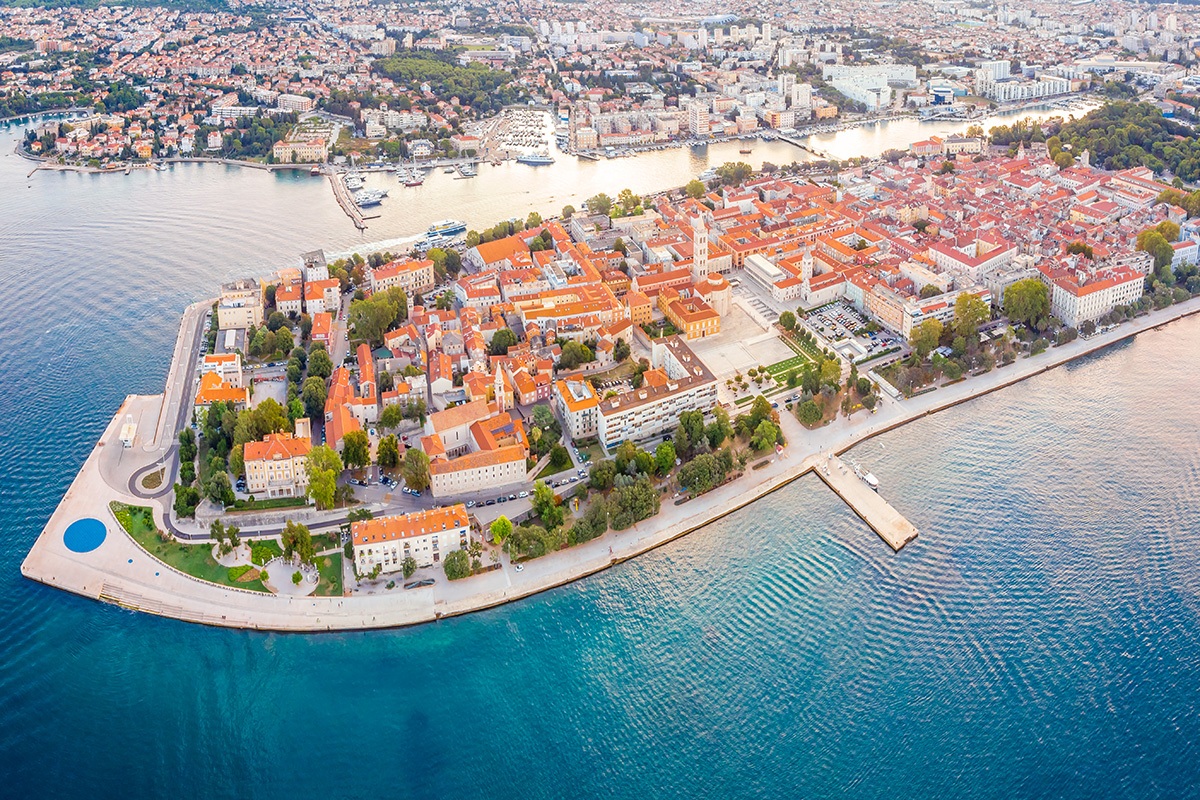 History of Zadar, Croatia
Zadar possesses a long and fascinating history. It began as a colony of Iadera, conquered by the Romans, and was subsequently occupied by Venetians who were repeatedly attacked by the Turks. In the 18th century, Venetian rule passed to the Austrians and then to Italy until 1943 when German forces took over.
After World War II, much of the historic city center was rebuilt, only to suffer yet another blow when Yugoslavian forces attacked in 1991.
Though many of its past occupants have come and gone, Old Town Zadar remains ancient and beautiful – full of archaeological ruins tracing back to prehistoric times. Nowadays this port city is a popular tourist destination with plenty of culture and activities waiting to be discovered.
Its unique blend of Antique, Romanesque, Renaissance and Habsburg elements mixed with modern architecture gives Zadar its individual charm that you just have to experience for yourself!
How to get to Zadar, Croatia
Getting to Zadar by airplane
Zadar has a modern airport, only nine kilometers from the city center. Despite its small size, it offers excellent links to European cities and many low-cost airlines have chosen it as their base for flights to the Adriatic. Liburnija provides a public transport service between the airport and the city and the bus stop is located in front of the principal airport building.
Getting to Zadar by bus
Zadar has excellent bus connections with larger cities in Croatia as well as with Bosnia and Herzegovina and Germany, among other countries. At the intersection of Bregdetti and Ante Starcevic streets, the main bus station of Zadar is located near the railway station.
 Getting to Zadar by train
Regular trains travel from Zagreb to Zadar, with a transfer to Knin. The railway station in Zadar is in the vicinity of the bus station. There are also regular trains from Vienna, Belgrade, Prague, and Budapest to Split, which stop in Knin where you can take the local train to Zadar during the summer.
 Getting to Zadar by ferry
Jadrolinija runs an overnight ferry service from Ancona, Italy to Zadar from June – September each year which takes nine hours. And also offers a national catamaran schedule with connections from Ugljan, Pasman, Dugi Otok, and some other islands. During the summer season, the old town's roads can get jammed as cars queue up around the walls of the city waiting to board their boats.
What is the best time to visit Zadar?
Visiting Zadar in the summer months of June to August is a great time to soak up the sunshine and take in the city's sights. However, while these are the most popular times of the year, they also come with higher prices and more tourists.
If you're looking for a quieter experience on a budget, heading there at the start of Autumn is your best bet. As well as being less crowded and cheaper, temperatures remain warm enough to enjoy exploring this historic city without having to battle tourist hordes.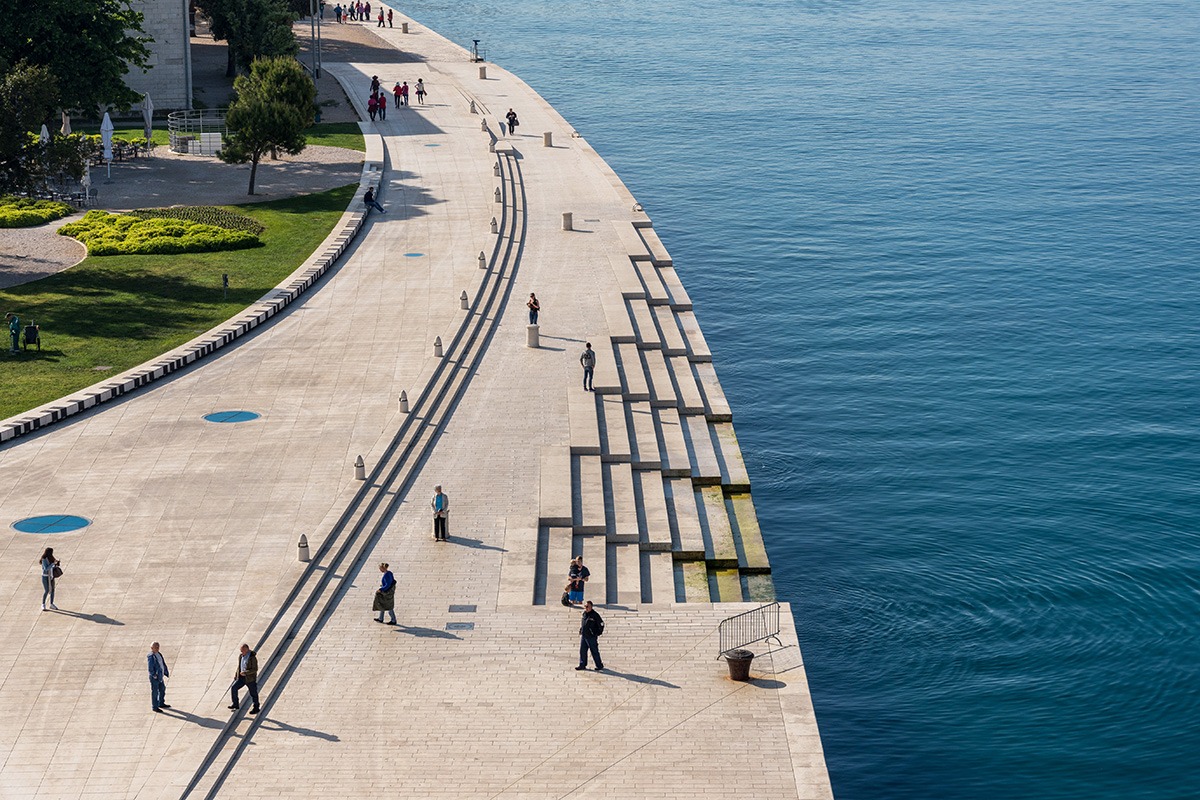 The most popular sights in Zadar
St. Donat's Church
Built on remnants of the Roman Forum in the 9th century, the church was originally dedicated to the Holy Trinity and acquired its name after the bishop who supervised its construction, Bishop Donatus. Zadar's Church of St. Donat is one of the most important monuments of pre-Romanesque architecture of the early Middle Ages (9th century) in Croatia and its symbol. Among the most important churches of the kind in Europe because of its particular shape.
St. Anastasia Cathedral
Its three-nave Romanesque cathedral was built in the 12th century, giving it its current appearance. Its bell tower was constructed in the 15th and 19th centuries, mostly in Neo-Romanesque style. The cathedral of St. Anastasia summarizes the history of the entire Zadar through history. It is impossible for Zadar to be imagined without a cathedral, both urban and spiritual. Her appearance and decoration cannot be avoided.
Roman Forum
One of the most fascinating things about Zadar is the way Roman ruins seem to sprout randomly from the city's streets. This is especially evident at the ancient Forum, which was built between the 1st century BC and the 3rd century AD. St. Donatus' Church dominates one side, and it is the center of civic and religious life just as it was during Roman times. Roman Forum is an inevitable square for strolling and one of the symbols of Zadar.
Greetings to the Sun 
Zadar's southern quay is home to the Greeting to the Sun, a remarkable light installation made up of 300 photosensitive glass plates that absorb daylight and transform at night into a stunning light display. Zadar's circular plate, which is 22m in diameter, was designed by Nikola Bašić, who also designed the Sea Organ.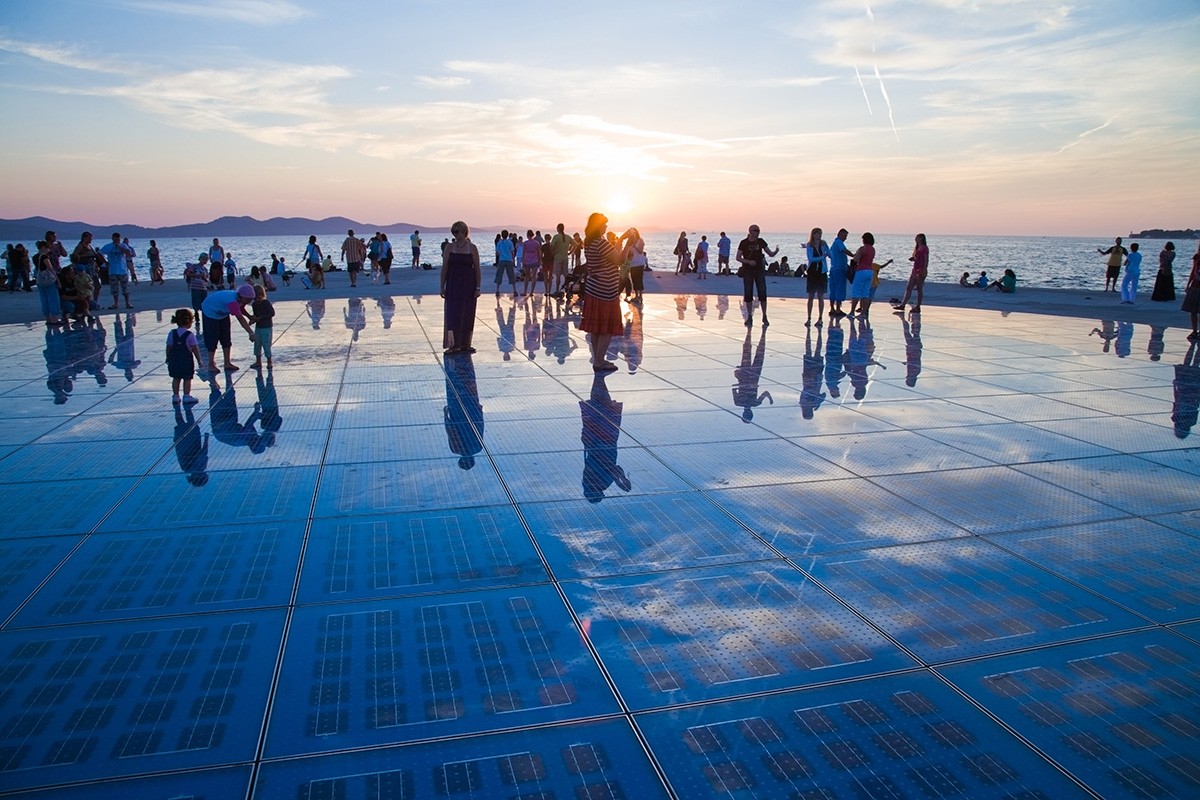 Sea Organ in Zadar
The Greeting to the Sun has been given a makeover, linking up with another remarkable feature of Zadar – The Sea Organ. It features cleverly cut steps in the waterfront promenade with pipes beneath that when filled with water, create a harmonic sound like waves gently sighing. Visitors to Zadar have consistently named it as a favorite thing to experience.
Best day trips from Zadar
Plitvice Lakes National Park
Plitvice Lakes National Park is without a doubt Croatia's most popular national park and is the most popular day trip from Zadar. Croatia's UNESCO-designated gem has 16 jewel-colored lakes and a multitude of waterfalls. Located in the midst of emerald forests, the lakes range in color from gray to emerald to aquamarine. The forests are home to deer, bears, wolves, and a wide variety of birds.
Krka Waterfalls National Park
Krka National Park is another beautiful national park day trip with acclaimed waterfalls that is a very different experience from Plitvice Lakes. For good reason, Krka National Park is one of the top travel destinations in Croatia. Skradinski Buk waterfall is the most famous in the park. With 17 cascades in a series, the wall of water is literally jaw-dropping.
Enjoy the history at Šibenik
This city has a spectacular medieval center, fortifications, cafés, and restaurants that reflect the Dalmatian lifestyle in an authentic Mediterranean setting. The fortresses in Šibenik and its surroundings serve as spectacular event venues and you should definitely include one on your Dalmatia itinerary if you are a history buff.
Explore the charms of Split
When you enter Split's Old Town and Diocletian Palace, it is hard to believe that it is such a big city. Walk along the Riva, the waterfront promenade, and enter through its four gates. With its many squares, labyrinthine streets, and a cathedral complex, Diocletian's Palace is not just one building, but pretty much the entire old town.
Visit the spectacular Kornati National Park
You must definitely put Kornati National Park on your day trip list because it's an offshore paradise with 89 islands and reefs. Zadar is the ideal base for exploring Kornati National Park. Kornati Islands are the most dense group of islands in the Mediterranean Sea. It consists of 140+ islands, both small and large. The largest island is Kornat.
Take an adventure on the Zrmanja River
You can take a day trip to the Zrmanja River from Zadar via the town of Obrovac, which is one of the most beautiful rivers in Europe. A dirt road connects Zadar to Obrovac, from which you get an amazing aerial view of the river.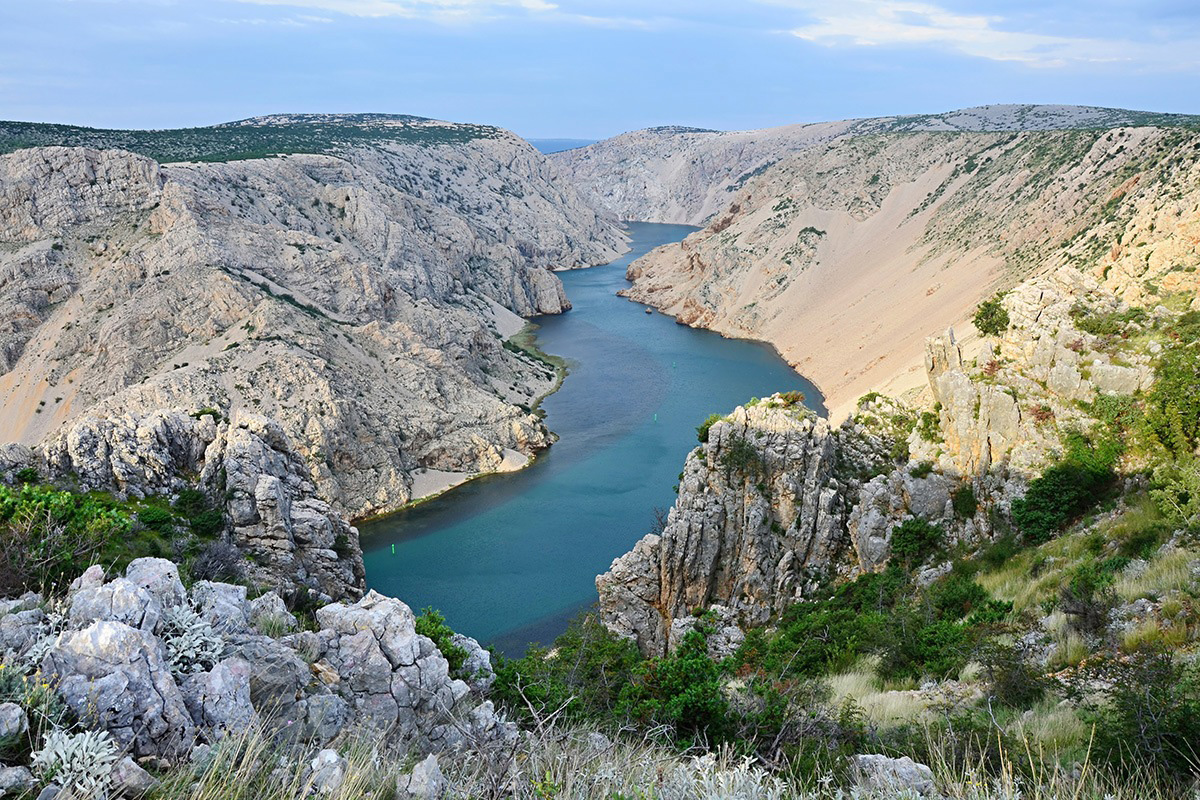 Visit the Telašćica Nature Park
The Telašćica Nature Park is situated on Dugi Otok island's southeast coast. It consists of a beautiful bay and a number of islands and islets in the vicinity. On the one hand, there are tranquil beaches, while on the other, dramatic cliffs rise. The park is filled with wildlife, including red coral, vineyards, and olive groves.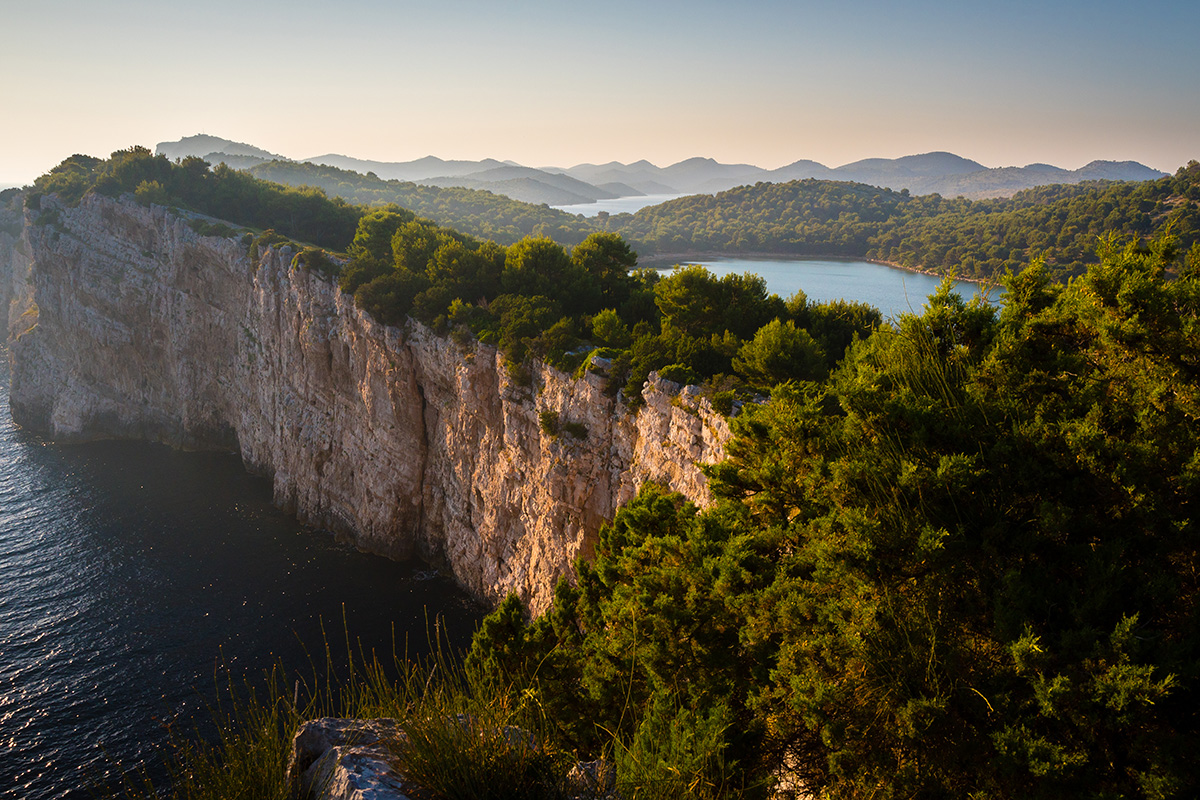 Watch exotic birds at Lake Vrana Nature Park
Lake Vrana is the largest natural lake in Croatia. Rarely does nature provide so much joy to humans as it does in Lake Vrana. If you prefer an easier way of experiencing nature, Lake Vrana is perfect for you. Due to the preservation of a large area of the lake and endangered bird habitats, the lake is an ornithological paradise that is included on the list of important ornithological areas in Europe.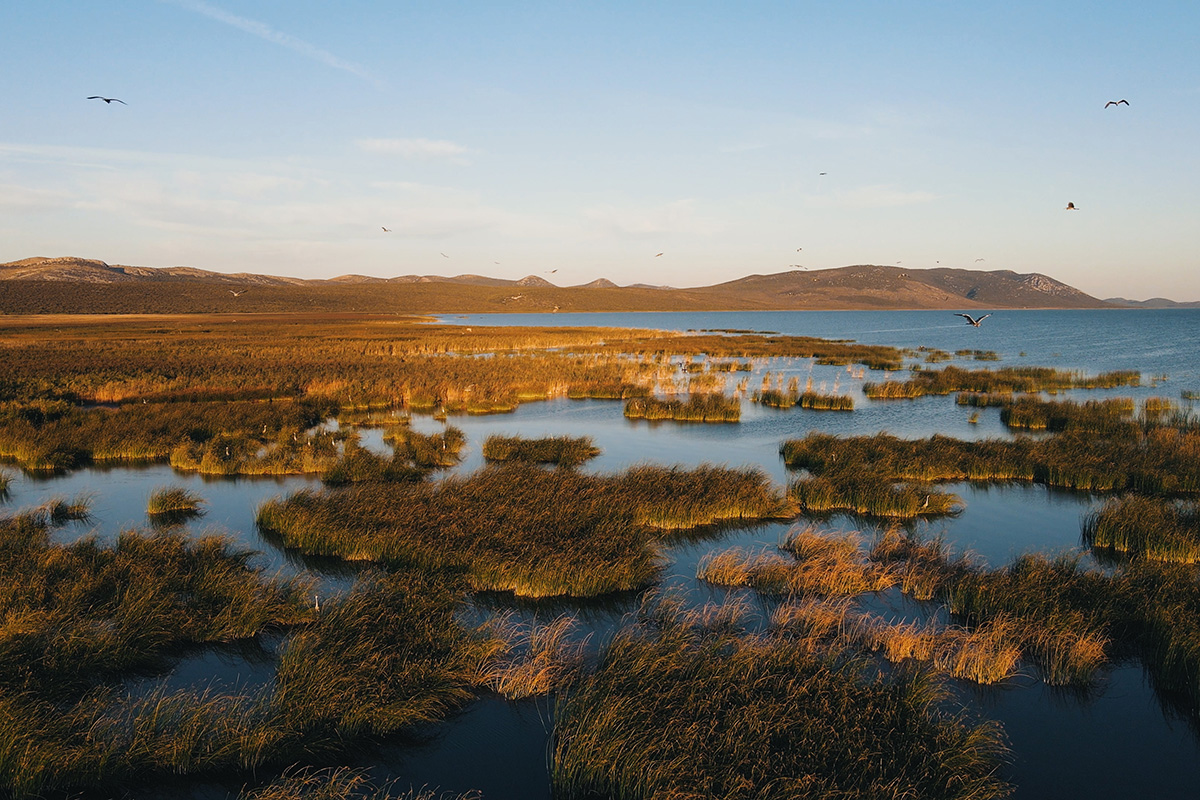 Food in Zadar
In Zadar, dining options are thriving. Our community insiders have scouted out the top restaurants in the area. Embracing the Adriatic culture, Zadar exemplifies the local lifestyle centered around a love for exquisite cuisine. Indulge in the enticing blend of fragrances, tantalize your taste buds and savor exceptional dishes. Whether you're craving fast food, pastries, cozy trattorias, traditional taverns, or upscale dining experiences – Zadar has it all. You'll find many charming restaurants nestled within the intimate city architecture, conveniently located in the heart of town.
Car rental in Zadar and Croatia
We highly recommend using our metasearch engine to find the most affordable car rental options in Zadar, as well as at the Zadar Airport and throughout Croatia. Our platform conveniently displays all the top companies offers in one place, allowing for easy comparison and selection of the best fit for your needs.
We cover all major cities and airports across Croatia, including Makarska, Trogir, Opatija, Split, Šibenik, Biograd, and many more. Compare deals at any airport in Croatia – such as Split Airport, Zadar Airport, Rijeka Airport, Pula Airport, Zagreb Airport and Osijek Airport.
Accommodation in Zadar
The Almayer Art & Heritage Hotel in Zadar's old town is a stunning boutique hotel favored for its modern and artistic atmosphere. The Piazza Rooms offer budget-friendly yet lovely accommodations, while the Top Center Zadar Studio Apartments provide stylish and peaceful living in the heart of the city. In the same vicinity lies Falkensteiner Premium Camping, a 5-star establishment featuring Acquapura SPA, a whirlpool, and an outdoor pool. Additionally, its mobile homes are highly praised by guests.
For those seeking a 4-star seaside stay, look no further than Falkensteiner Hotel Adriana with its excellent cuisine and pool. At Villa Ivana B&B, guests can choose from double rooms or apartments right on the coast, where breakfast also receives high praise for its superb quality.