Best hotels in Zadar
Looking for designer resorts, five-star grande dame hotels, or historic hotels in Zadar? Any taste is catered to in Zadar. 
Vineyard slopes and meadows with wild asparagus, crumbling Roman remains, and rosemary-scented islands strewn across the emerald Adriatic make up Croatia's northern Dalmatian coast, which is just as picturesque as the well-known sections surrounding Split and Dubrovnik to the south. But very few people go there. However, low-cost airlines serve Zadar effectively, and the city's picturesque waterfront location, Venetian churches, and Austro-Hungarian architecture make it an excellent starting point for exploring.
It's better to stay in Zadar's Old Town area if you're only going to be there for a night or two. Once you have finished visiting the well-known Sea Organ, the Roman Forum remains, Saint Anastasia's Cathedral, and People's Square, you can easily access all of the restaurants and cafes in Zadar. However, hotels near the center of Zadar city may be more expensive and noisy at night. In order to find tranquil accommodations, look for hotels in Zadar that are close to the harbor. Our selection of Zadar's best hotels is this one.
1. Falkensteiner Hotel & Spa Iadera
An outstanding luxury hotel and spa located close to Zadar. This hotel is among the best in Croatia – it's elegant and contemporary, well situated near the shore, and offers stunning accommodations, an amazing spa, and unparalleled views of the sea and sunsets. Situated on Croatia's stunning Dalmatian coast in Punta Skala, close to the sea, and only a 15-minute drive from Zadar's immaculately preserved ancient town center. The hotel has amazing indoor pools, saunas and steam rooms, relaxation areas, spa rituals, and cosmetic treatments. Additionally, the staff at the hotel is helpful, friendly, and efficient. Without a doubt, the Falkensteiner Hotel deserves to be ranked first on our list of the best hotels in Zadar.
2. Almayer Art & Heritage Hotel
In Zadar's Old Town, this boutique hotel is situated in a tastefully refurbished 19th-century building in the heart of Zadar. In addition to a courtyard cafe-restaurant offering creative Mediterranean cuisine and superb wines, the hotel has nine rooms. It features modern art and stylish but understated contemporary decor. This was once a hospital used by the military. Situated on the site of a former monastery, it was built in 1863. A warm Croatian couple who manage and own the Hotel Almayer are joined by a group of diligent and competent staff members. There are five junior suites and four double rooms. Each has a large, vibrant oil painting by German artist Carsten Weck.
3. Hotel Miramare Zadar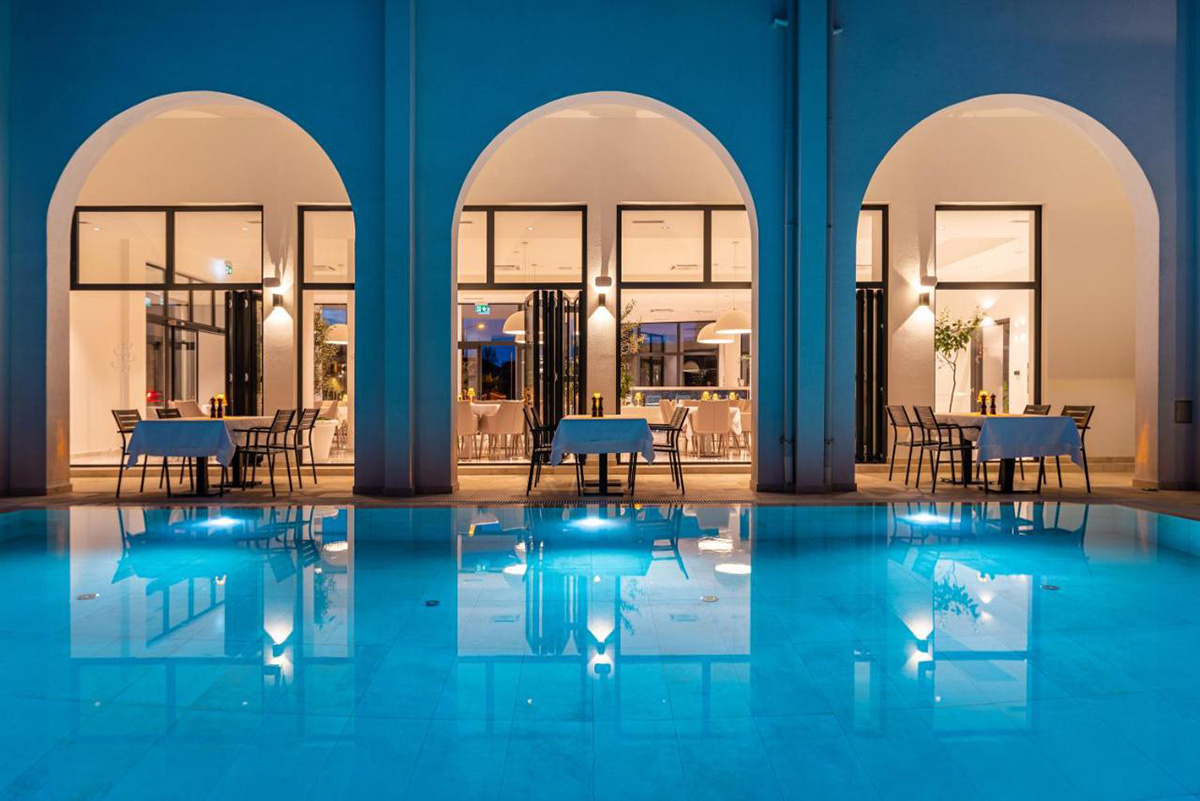 With 32 rooms and 4 suites, the Miramare Hotel is an elegant boutique hotel in Zadar. Design rooms are furnished with all the standard modern hotel amenities, plus king-sized beds, modern decor, and windows that may be extended. The hotel is located in the heart of Zadar, in a lovely square near the city center. Visitors can enjoy the magnificent courtyard pool and the on-site restaurant, which features a rotating menu created by a local chef and provides traditional meats, fish, and wines from the region. Boutique Hotel Miramare is an excellent option whether you're looking for the ideal romantic retreat or need a dedicated workplace as a business traveler.
4. Hotel Bastion Zadar
The magnificent Hotel Bastion by Relais & Chateau was built on the ruins of a former Venetian medieval fortress from the 13 century and is located in this historic center of Zadar, on the edge of its famous Zadar's Peninsula. Hotel Bastion features two exquisite terraces that provide Mediterranean dining options. While the renowned Kaštel restaurant offers delicious Mediterranean food, the Kirtal aperitif bar serves cocktails and a breakfast buffet. The rooms include unique handmade art deco furniture and have been equipped with "smart room" technology. Among all the hotels in Zadar, Hotel Bastion is without a doubt the most unique.
5. Teatro Verdi Boutique Hotel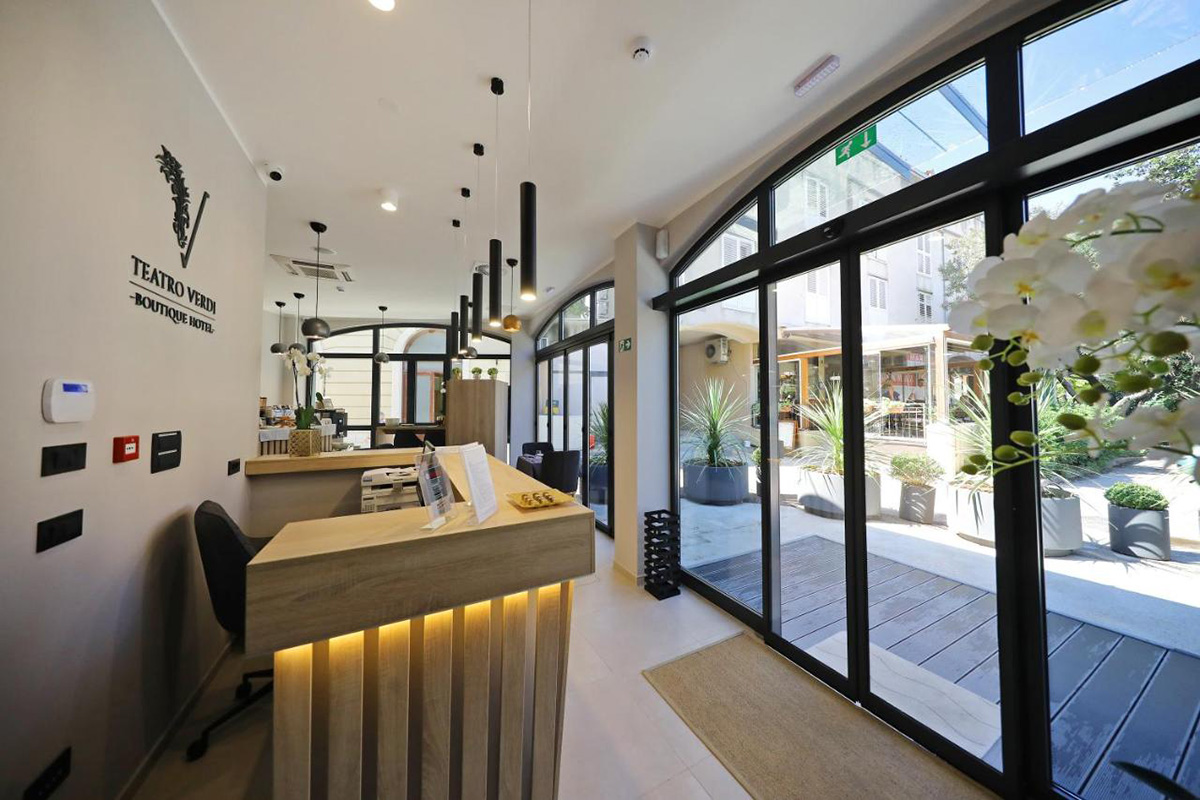 This boutique hotel is located in Zadar's old town. With its perfect location, the hotel offers guests to stay close to Zadar's cultural and historical center. The hotel is situated a short distance from the St. Anastasia Cathedral in Zadar's old town. There are numerous other well-known locations within 300 meters of the hotel. In addition to the usual amenities, apartments, and rooms include lovely views of gardens. Your appetite will be satisfied with the daily continental and à la carte breakfasts as well as the opportunity to request room service. Giuseppe Verdi, the former theater next door, served as inspiration for the Teatro Verdi Hotel's design.
6. Art Hotel Kalelarga
As its name implies, the Art Hotel Kalelarga is a trendy, modern hotel with an art design that is situated on Kalelarga, Zadar's most well-known boulevard. The hotel has 10 luxurious rooms that will make you feel pampered. Each room was designed with the coexistence of color, shape, stone, and practicality in mind. The stone in the apartments is designed to mimic the color of Kalelarga Street, which will balance the mood of your Zadar vacation. In the evening, unwind with carefully chosen wines and have a discussion on the hotel's restaurant terrace, which offers the ideal fusion of artistic appeal right in the middle of the ancient Zadar.
7. Falkensteiner Club Funimation Borik
The Falkensteiner Club Funimation Borik is a hotel on the sea. While the kids are off exploring Falkyland, you can relax in the hotel's spa center's sauna, massage, or hot tub. You can read in the solarium or engage in tennis, volleyball, and water sports. Additionally, a variety of water sports, including diving and surfing, are easily accessible to guests. Zadar city center, with all its attractions, is only a quick 12-minute drive away. Searching for the ideal Zadar hotel for your family's vacation? Among all the hotels in Zadar, this one is an ideal choice.
8. Hotel Kolovare Zadar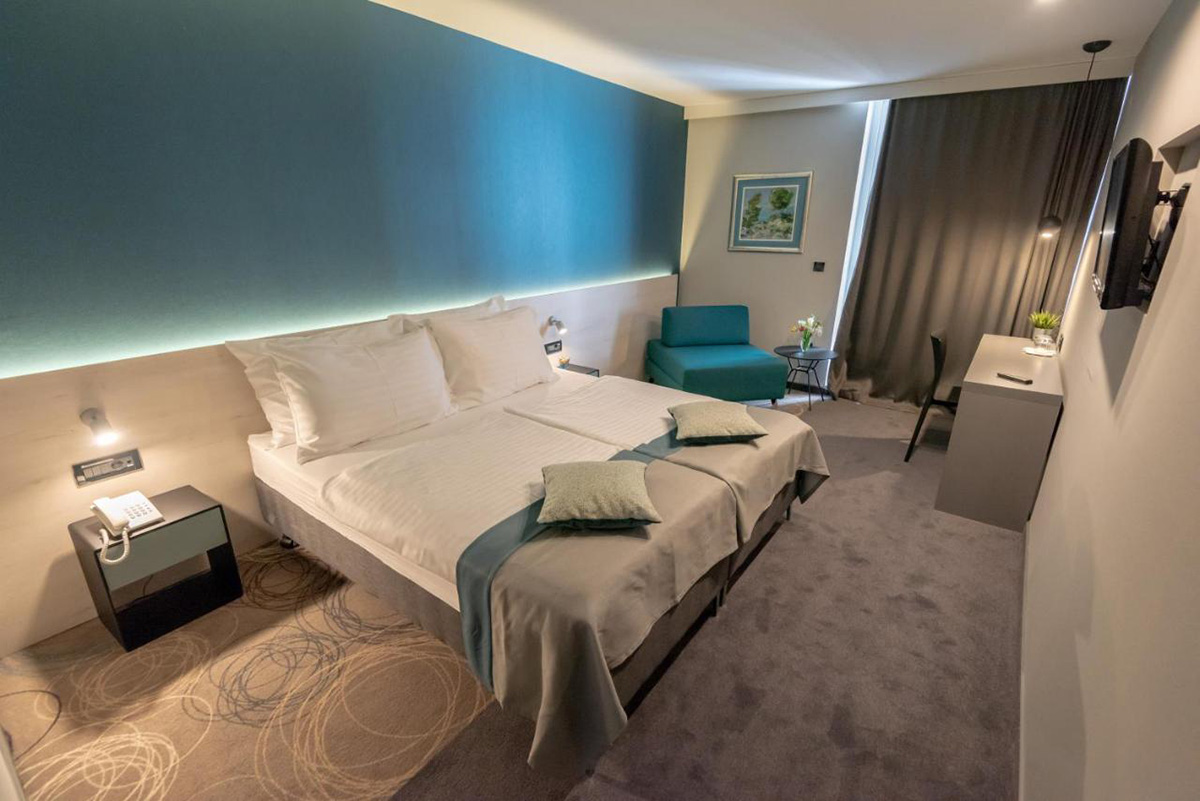 Guests can independently explore Zadar and its historical sites from Hotel Kolovare, which is situated a 15-minute walk from Zadar's old town. It is situated in a serene area just above a pebbly beach, surrounded by a pine forest and the Lungomare's coastal promenade, from where you can see the islands and the Zadar strait. The hotel has unique architecture that has been designed for the Mediterranean environment. Its air-conditioned rooms are elegantly furnished and tastefully adorned. The hotel offers 12 apartments alongside its 195 rooms. And also, Hotel Kolovare is one of the oldest hotels in Zadar.
9. Hotel Niko
The Zadar city center can be reached in ten minutes from this family-run hotel, and the beach is only a short distance away. For those who want to experience Zadar's history and unwind, this is the perfect hotel. For groups of various sizes, a range of lodging options are available, from single rooms to suites. The furnishings are modern, but they nevertheless have a feeling of old-world elegance. For those who want to see the stunning Zadar Peninsula at sunrise and sunset, certain hotel rooms also have sea views. Visitors can enjoy dining at the hotel's modest Mediterranean-style restaurant while drinking a selection of Croatian wines.
10. Hotel Delfin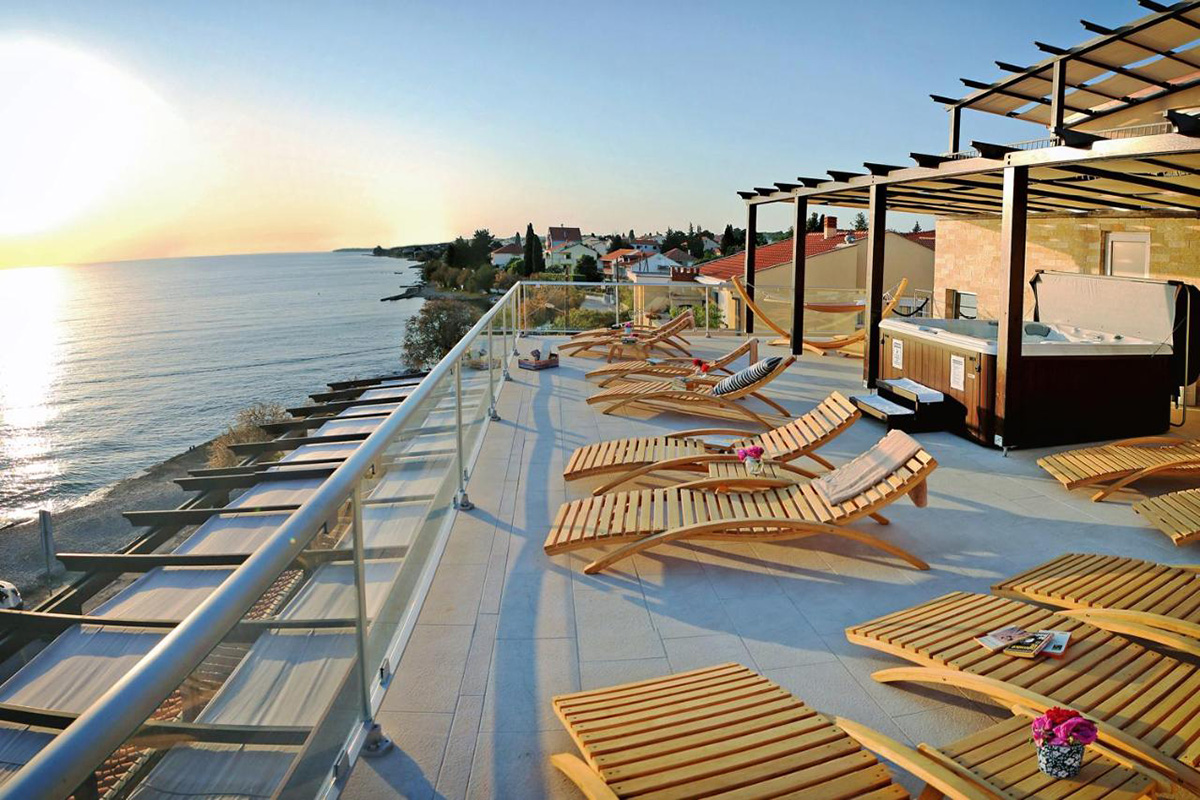 Situated in the Diklo neighborhood of Zadar, the three-star Hotel Delfin offers cozy en suite rooms with free wifi, air conditioning, and satellite television. Many accommodations feature a balcony overlooking the Adriatic Sea. The covered outdoor restaurant terrace is an excellent spot to unwind after a day of sightseeing, and it's only 10 meters from the Adriatic Sea. Concurrently, there is convenient access to the Zadar city center via the public bus stop right outside the front door. This hotel is an excellent choice if you're looking for lodging in Zadar that is away from the bustling downtown area. It's one of the best hotels in Zadar for couples.
Best hotels in Zadar FAQ
What are the best hotels in Zadar close to the Old Town?
The best hotels close to the Old Town include Art Hotel Kalelarga, Hotel Bastion, and Teatro Verdi Boutique Hotel.
What are the best luxury hotels in Zadar?
The most popular luxury hotels include Falkensteiner Hotel Adriana, Hotel Bastion, and Hotel ZaDar. 
What are the best cheap hotels in Zadar?
The best cheap hotels include Mediteran, Hotel Delfin, and Hotel Donat.
What are the best hotels in Zadar for families?
Many families that traveled to Zadar enjoyed staying at Hotel Niko, Mediteran, and Falkensteiner Club Funimation.
What are the best hotels in Zadar for couples?
The best hotels in Zadar that are loved by couples include Art Hotel Kalelarga, Hotel Niko, and Falkensteiner Hotel Adriana.
What are the best hotels in Zadar on the beach?
The best hotels by the beach include Hotel Niko, Falkensteiner Hotel Adriana, and Falkensteiner Club Funimation.
What are the best hotels with a pool in Zadar?
The best hotels in Zadar with a pool include Mediteran, Falkensteiner Hotel Adriana, and Falkensteiner Club Funimation.
What are the best hotels with a spa in Zadar?
Hotels that received excellent reviews for the best spa center in Zadar include Hotel Bastion, Falkensteiner Club Funimation, and Hotel Hotel ZaDar.
Learn more about Zadar
Situated on a small peninsula, Zadar's old town is a haven of world-class museums, medieval cathedrals, and Roman remains. It also boasts stylish restaurants. Zadar, encircled by historic fortifications, is a fascinating city. Zadar is home to 75,000 people and is the political, economic, cultural, and administrative hub of northern Dalmatia.
Because of its pristine nature and charming islands, boaters swarm to its coastlines. Together with three nature parks, the area boasts an astounding 24 larger islets and over 300 smaller ones. Zadar's sunsets are among the best in the world, according to a quote from Alfred Hitchcock, which you may verify if you spend a night there.
Zadar has an interesting and lengthy past. It started out as an Iaderan colony, was taken over by the Romans, and was later settled by Venetians who were frequently invaded by Turks. Venetian power shifted hands in the eighteenth century, first to the Austro-Hungary, then to Italy, until 1943, when German forces seized control.
This city is vibrant with energy from both locals and tourists, unlike most other tourist cities in Croatia. It provides much more than just historical monuments. Zadar is home to numerous architectural marvels spanning antiquity to the present, such as the first-ever Sea Organ and Greetings to the Sun.
From Zadar, you can easily visit one of the most amazing natural gems that Croatia has to offer. National parks like Kornati, Paklenica, Plitvice Lakes, and Krka. Or Nature parks like Lake Vrana and Telaščica.
Zadar's distinct attractiveness lies in its unusual combination of modern buildings with aspects of Antique, Romanesque, Renaissance, and Habsburg architecture. You just must see it for yourself!
You might also like these articles!
• The 10 best hotels in Zagreb
• The 13 best hotels in Dubrovnik
• The 10 best hotels in Rovinj