Best apartments in Pakoštane
In Adriatic embrace, where azure waves gently kiss the shore, apartments in Pakoštane stand as poetic sanctuaries, whispering tales of coastal dreams beneath the Mediterranean sun.
Situated in the heart of Dalmatia, Pakoštane boasts a small-town charm along with a rich history and stunning beaches. Because of its close proximity to Croatia's most magnificent national and nature park, Pakoštane is a popular destination in Croatia. From luxury apartments near the beach to spacious family retreats, a variety of apartments in Pakoštane are here for everyone's taste. The architectural symbiosis of modern elements and Mediterranean beauty makes apartments in Pakoštane an unforgettable coastal getaway. In addition to private apartments, the offer includes a hotels, several larger and smaller campsites, and the attractive Pine Beach tourist resort.
1. Apartments at Heritage Hotel Maškovića Han 
We will start our list with Heritage Hotel Maškovića Han. Although the property is located in the nearby village of Vrana, it is just 5 kilometers from Pakoštane. Maškovića Han is a Heritage Hotel and represents the westernmost Ottoman fortress of its kind in Europe. You can experience an archaeological site of an original 17th-century Turkish hammam, as well as a small museum. There is an onsite restaurant and bar, as well as a reception for all questions that you might have. The property offers several apartments and rooms for guests. The list of best apartments in Pakoštane wouldn't be completed without Maškovića Han, that's for sure!
2. Apartments Villa Zdenka
Nestled in the picturesque town of Pakoštane, Villa Zdenka promises a serene and luxurious escape on the Dalmatian coast. Offering a heated outdoor pool and barbecue area, this charming villa provides a true holiday escape for its guests with eight apartments available for reservation. The idyllic setting and the gentle lull of the Adriatic Sea invite you to experience a harmonious retreat unlike any other when in Pakoštane. Relax on your private terrace or patio with enchanting garden views, perfect for morning coffees or sunset soirees. You'll also meet friendly hosts and even learn something about their olive oil products.
3. Apartments Villa Garamm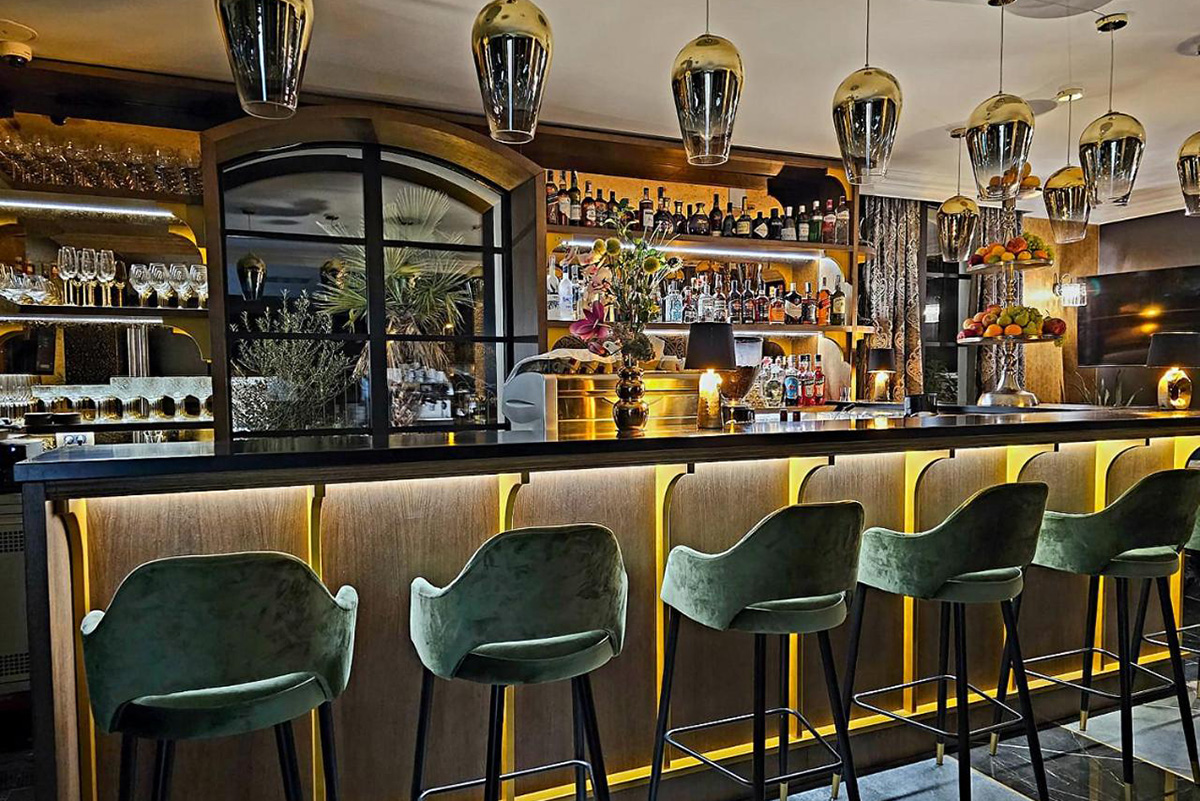 Experience tranquility at Villas Garamm and its apartments, your gateway to an oasis of calm. The outdoor pools, set amidst verdant surroundings, invite you to relax. Whether you desire an exhilarating swim or a peaceful float, these pools are the epitome of indulgence. Indulge in the ultimate pampering by submerging yourself in the whirlpool bath, as it soothes your worries away with its effervescent waters. Each apartment at Villas Garamm boasts a fusion of refinement and coziness. Come bask in the opulence of Villas Garamm, where the Adriatic breeze meets luxury and the allure of Pakoštane awaits.
4. Villa Arcus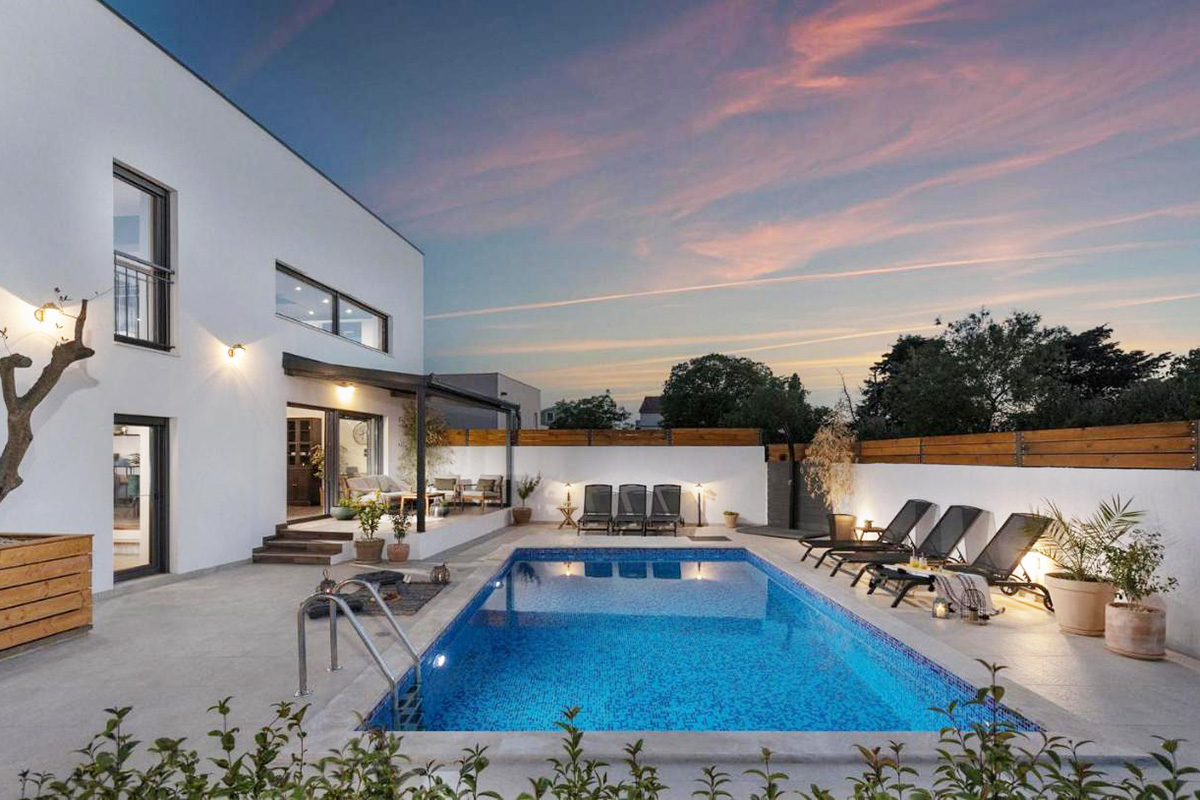 Look no further for a lavish stay in a picturesque setting. Villa Arcus, situated in the charming town of Pakoštane, is an architectural gem offering all the amenities for an unforgettable vacation. With 3 bedrooms, each with a beautiful view of Lake Vrana, and a maximum capacity to accommodate up to 7 people. Relax with the healing scents of Pakoštane while resting on the sun loungers by the beautiful pool or prepare a delicious lunch on the outdoor grill in the complete privacy of the fenced yard while enjoying the peace and quiet on the terrace. Enjoy a Mediterranean getaway in the unique luxurious atmosphere of Villa Arcus!
5. Apartments Punta
Situated only a few meters away from the pristine Punta beach, Apartments Punta in Pakoštane is ideal for beach lovers to soak up the sun and sea. Catch picturesque garden views from the balcony while savoring your morning coffee or wine as you bask in the sunset. Relax in the garden, surrounded by the fragrance of blooming flowers, or take in the Mediterranean sun from the terrace. A sun terrace and garden provide an escape from hot summer days. With its location and cozy rooms, Apartments Punta deserves a spot on this list of the top apartments in Pakoštane.
6. Apartments Villa Favi
In the heart of Pakoštane Villa Favi found its place. An enchanting sanctuary for those seeking a harmonious blend of comfort and coastal beauty. With its cozy and minimalistic apartments and its location, Villa Favi represents a true gem when finding apartments in Pakoštane. It offers more than just accommodation – it offers a chance to immerse in the tranquil embrace of the Pakoštane and its soundings. Just minutes away are Punta Beach and Janice Beach. Apartments are perfect for couples who just want to leave their car and enjoy their vacation, because, apartments at Villa Favi are just a minute away from the center of Pakoštane.
7. Apartments Maslenik Pakoštane
Situated among the gentle slopes of ancient olive trees in Pakoštane, you can find Apartments Maslenik. The alluring ambiance of Apartments Maslenik beckons you to unwind and disconnect from the daily grind. The property houses seven luxurious apartments that combine luxury with peace and an outdoor heated pool for an exceptional stay. And with friendly hosts, you can rest assured that at Apartments Maslenik you will have a memorable stay. Maybe not the luxurious one or with the best location, nevertheless, Apartment Maslenik deserves to be on the list of the best apartments in Pakoštane.
8. Apartments Villa Dalmatino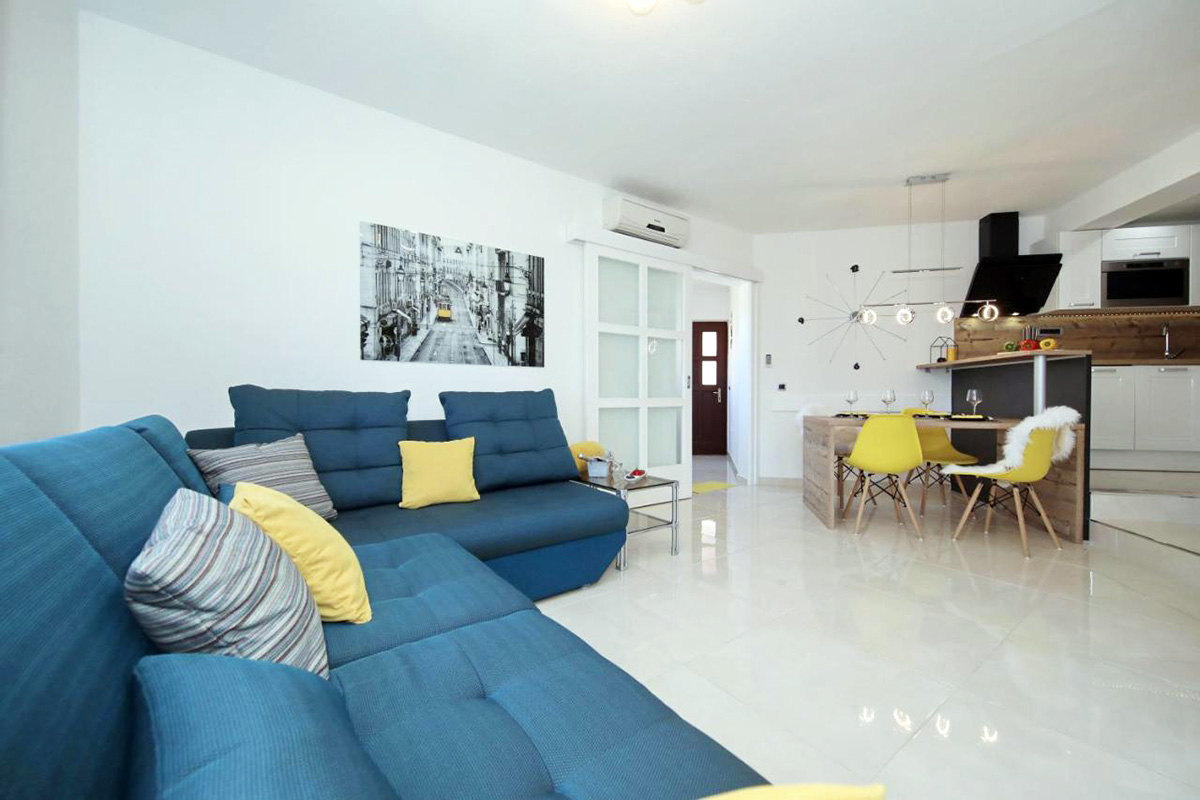 Situated on the beachfront in Pakoštane, Villa Dalmatino boasts stunning views of the Adriatic sea and garden. The property also includes an outdoor grill available for all guests. Guests can make use of the bicycle rental service offered at Villa Dalmatino and have the option to enjoy fishing nearby. Janice Beach is just a minute away from the apartments, Punta Beach is within an 8-minute walk, and Pine Beach is only 1.2 kilometers away. Apartments Villa Dalamtino is perfect for families seeking close proximity to beaches and ultimate relaxation during their vacation in Pakoštane.
9. Apartments Victoria Pakoštane
On prime location, near the bustling promenade and scenic coast of Pakoštane, Apartments Victoria welcomes guests with a promise of a unique seaside getaway. Ideally situated near the beautiful Punta Beach and just a leisurely 5-minute stroll from Janice Beach, this hidden gem in Pakoštane promises the perfect blend of comfort and coastal charm. In Apartments Victoria, each room provides an idyllic space to unwind and take in the serene ambiance of your seaside retreat. For select rooms, prepare to be enchanted by the garden views or catch a glimpse of the magnificent island near Pakoštane in the distance from your private terrace.
10. Apartment Old Town House Pakoštane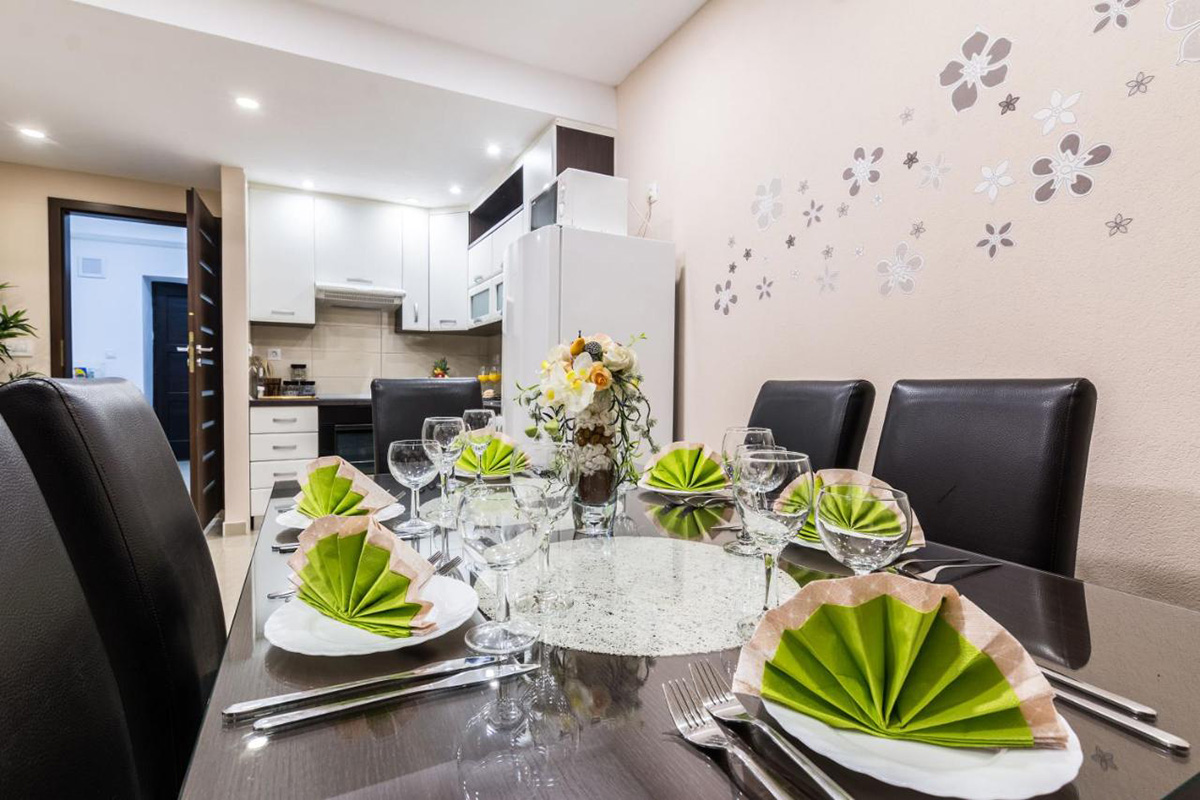 Situated in the historic district, right in the heart of Pakoštane, lies Old Town House Pakoštane. Located just 200 meters away is the renowned Janice Beach, while an array of popular restaurants and attractions are only a stone's throw away from the center of Pakoštane. Boasting 2 bedrooms, a cozy living room, and a fully equipped kitchen with a fridge and stovetop, this apartment is well-appointed for your stay. Despite lacking balconies and natural light, it still earns its spot on our list of top apartments in Pakoštane.
Learn more about Pakoštane
With its fairytale location – between the sea and lake, Pakoštane is a harmonious Dalmatian town with abundant biodiversity. Its rich tourism tradition spanning half a century is a testament to the plethora of offerings here. Contributing to its allure are the adjacent islets of St. Juština, Školj, and Babuljaš. Located in the heart of Dalmatia, Pakoštane is a charming small town worth visiting.
The largest natural lake in Croatia, Lake Vrana, protects it on the north side. The surrounding area boasts breathtaking natural beauty, including national parks such as Kornati, Krka, Paklenica, and Plitvice Lakes, as well as nature parks like Lake Vrana and Telašćica Bay. These can be easily explored through group or individual tours led by knowledgeable local guides.
Discover the charming old town with its winding streets and abundance of stunning beaches, where the vacation vibes are at their finest. Coffee meetings can be found at the romantic harbor in the mornings, while the small and quaint restaurants in the center come alive in the evenings, serving up delectable Croatian dishes.
However, it's not just Pakoštane that will capture your heart, the surrounding area offers unique sights and exciting excursion opportunities. The picturesque archipelago off the coast and the abundance of natural wonders in the interior will leave you in awe. Plus, with a wide variety of apartment options available in Pakostane, your holiday experience is sure to be top-notch.
You might also like these articles!
• The 13 best hotels in Dubrovnik
• The 10 best hotels in Rovinj