Best hotels in Opatija
Hotels in Opatija become your seaside sanctuaries, where the Adriatic whispers lull you to slumber amidst timeless elegance.
Are you trying to find the hotels in Opatija that will guarantee an unforgettable vacation? Selecting the ideal hotel can be challenging at times, particularly in Opatija where there are many excellent options. There are more 4- and 5-star hotels here than almost anywhere else in Croatia. And they are distinguished by their retro aesthetic and incredibly sophisticated atmosphere.
Many of these historically noteworthy hotels are even right next to the Adriatic Sea. A few even have their own private beach or pool. But which are the most beautiful hotels in Opatija and which of these hotel options are best for a memorable journey to this alluring city? See our list of the best hotels in Opatija.
1. Hotel Kvarner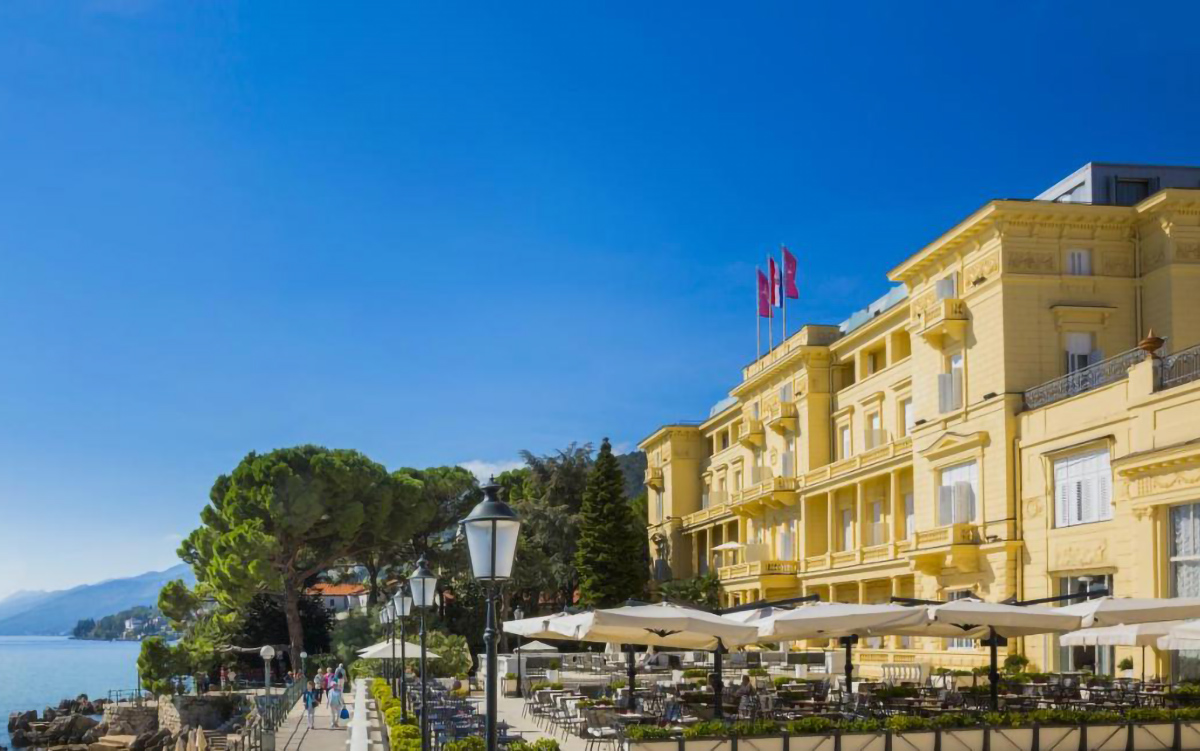 The Hotel Kvarner is the grande dame of all the hotels in Opatija. With its remarkable interior and rich history, Hotel Kvarner is a timeless symbol of charm along the Adriatic coast. It has been Opatija's benchmark for sophistication since its founding in 1884. The well-known Crystal Hall, the biggest of its kind in the region and a well-liked location for weddings and business gatherings, is located in the hotel. It's the perfect location for outdoor events, with a recently renovated terrace that looks out over the sea and the Lungomare promenade. Conveniently situated close to well-known Opatija attractions. Hotel Kvarner provides excellent hotel options on the Opatija Riviera.
2. Amadria Park Hotel Milenij
The goal of Amadria Park Hotel Milenij is to make your stay as comfortable and pleasurable as possible, which explains why so many visitors return year after year. The Milenij Hotel provides its visitors with a variety of in-room amenities, such as a minibar, air conditioning, and a flat-screen TV. Free wifi is also available for guests to use. To enhance your stay, the hotel provides room service and a concierge. The hotel has breakfast and a pool as well. Try some ribs at one of the neighboring restaurants, like Ruzmarin or Roko, while you're in Opatija.
3. Hotel Navis Opatija
A spectacular location, striking architecture with lots of designer touches, and an amazing stay combine to create something truly special and unforgettable. Built into the steep rocky slope just above the sea, Hotel Navis is situated on the coast in Croatia's Kvarner region, halfway between Opatija and Rijeka. Luxurious rooms and breathtaking architecture characterize Hotel Navis. An ultra-stylish modern design hotel where modern art and plush textiles contrast with polished, dark concrete walls. The Hotel Navis boasts a superb waterfront location, a small lobby bar, a secure underground parking area, a spa and wellness center, and an exceptional restaurant.
4. Hotel Miramar Opatija
Hotel Miramar offers the best hotel experiences in Opatija. Each room at this elegant hotel has a minibar, air conditioning, and a flat-screen TV. Free internet access allows you to stay connected while friendly staff tends to your needs with room service and concierge services. Relax by the pool and begin your day with a complimentary breakfast as a valued guest. Even better, parking is free for your convenience. Take in the local sights, such as the Statue of the Madonna del Mare, and savor Croatian food at well-known restaurants like Ruzmarin and Roko. Your stay at Hotel Miramar guarantees an all-encompassing Opatija experience. With Lungo Mare, Volosko, and Angiolina Park all within walking distance.
5. Ikador Luxury Boutique Hotel & Spa
A haven of noble harmony, Ikador is located in the center of the picturesque Opatija Riviera. The Ikador Hotel is a favorite retreat for modern hedonists thanks to its opulent interior design, elegant architecture, lush Mediterranean park, and first-rate service. Ikador offers a range of facilities and services in a thoughtfully created palette of flavors, scents, emotions, and experiences from its nine large and elegant rooms to its seven luxurious suites. This hotel features balconies in the Art Deco style, inspired by the neighboring period villas, and a modern facade with Venetian window shutters. The hotel also has an outdoor pool, a private deck beach, an Ikalia Spa center with a view of the ocean, and an innovative mini golf course.
6. Hotel Ambasador
Experience elegance and luxury at the Hotel Ambasador in Opatija. Guests can experience a distinctive fusion of classic charm and top-notch excellence at this five-star oasis. With 243 roomy and luxuriously furnished rooms and suites, it is an oasis that spoils each visitor in Opatija. Experience immersive activities, delicious local cuisine, and breathtaking design. With its cutting-edge conference spaces, top-notch dining options, and tranquil spa, Hotel Ambasador promises to provide guests with an amazing experience. Discover regional customs blended with European elegance, where you can rejuvenate in the spa, savor Mediterranean cuisine, and taste internationally recognized regional wines.
7. Hotel Palace Bellevue
Discover the epitome of elegance at the 4-star Hotel Palace Bellevue, a hidden gem in the center of Opatija. This historic hotel in Opatija is situated in the city's center with its classy interior, 87 rooms that offer unrivaled views of the Adriatic Sea, and elegant architecture. The hotel has undergone a neo-baroque renovation, bringing new life to its common areas and rooms. The guest experience has been improved with the addition of a new wellness center and improved services.
8. Hotel Bevanda
A superb five-star design hotel in Opatija. Hotel Bevanda provides exquisite dining options, extraordinarily opulent accommodations, and first-rate service. Relais & Châteaux is a prestigious property hotel chain service that lists just four properties in Croatia. Overlooking the islands of Cres and Krk, Hotel Bevanda is situated directly on the waterfront in Opatija, Croatia's Kvarner region, at the head of the Adriatic. The staff always provides excellent service and is friendly and helpful. The stylish Lido beach resort is right next door, and there's an outdoor pool with views of the sea. Each of the ten opulent rooms at the Bevanda features a balcony with views of the surrounding islands and the Adriatic.
9. Hotel Mozart Opatija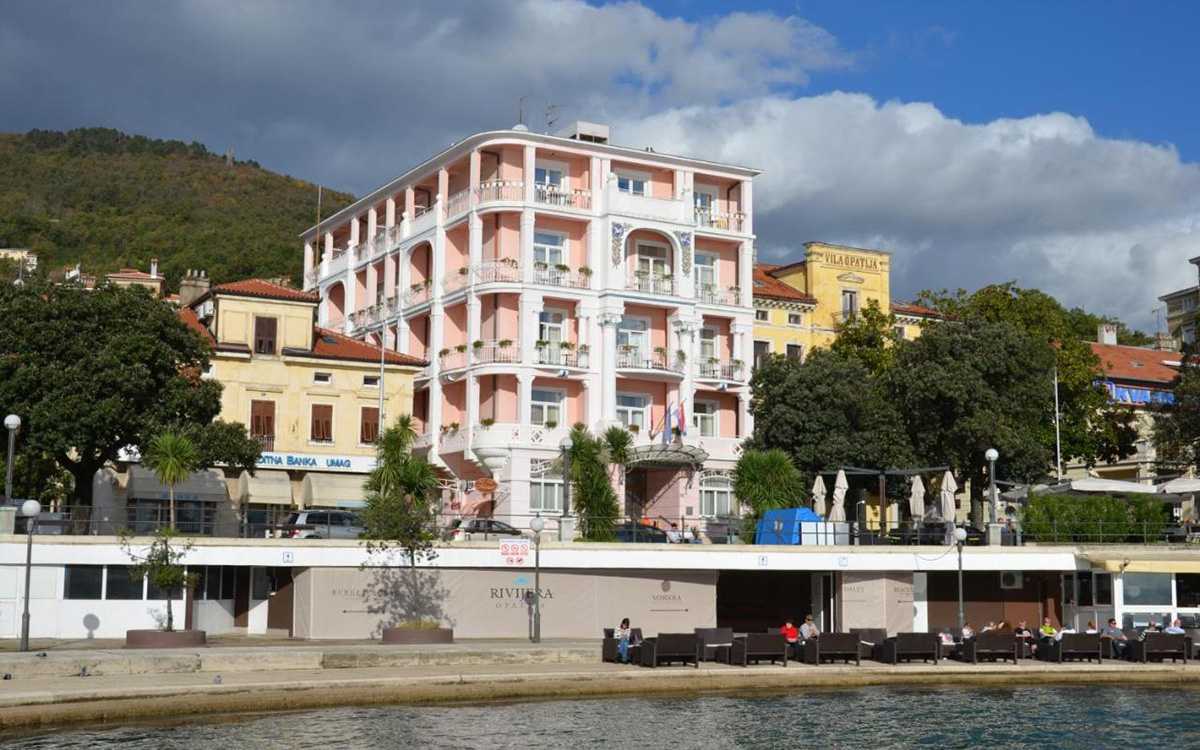 Explore the classic charm of Hotel Mozart, a shining example of refinement in the center of Opatija, located close to the famous promenade and the beach. Constructed in 1894, this boutique gem is a live example of Opatija's tourism heritage. The elite of a bygone era used to reside in its architectural splendor, which was steeped in secession inspiration. Featuring state-of-the-art wellness services, a cosmetic studio, residential suites, 26 opulent rooms, and 2 junior suites with panoramic bay views, Mozart upholds its legacy in the modern era. The Hotel Mozart cordially welcomes you to immerse yourself in the allure of the present while retaining the charm of the past.
10. Amadria Park Hotel Sv. Jakov
Discover a world of classic elegance at the five-star Milenij Hotel Sv. Jakov. Tucked away in the center of Opatija, in the lovely St. Jacob Park. The air-conditioned rooms with parquet flooring, luxurious fabrics, antique furnishings, and air conditioning radiate a sense of historic charm. Every room has a fully stocked minibar and satellite TV with pay-per-view channels. Enjoy Italian and international cuisine at Cantinetta Sv. Jakov, paired with fine wines. Only a few steps away, at a partner hotel, is the spa that guests can also use. With Hotel Sv. Jakov, we are finishing our list of the best hotels in Opatija.
Best hotels in Opatija FAQ
What are the best hotels in Opatija near the city center?
The best hotels in Opatija near the city center include Hotel Miramar, Hotel Ambasador, and Hotel Camellia.
What are the best hotels in Opatija with a sea view?
The best hotels in Opatija with a sea view include Hotel Kvarner, Hotel Miramar, and Hotel Milenij.
What are the best luxury hotels in Opatija?
The best luxury hotels in Opatija include Hotel Miramar, Hotel Navis, and Hotel Ikador.
What are the best hotels in Opatija for families?
Many families that traveled to Opatija enjoyed staying at the Hotel Miramar, Hotel Ambasador, and Hotel Ikador.
What are the best hotels in Opatija for couples?
The best hotels in Opatija that are loved by couples include Hotel Miramar, Hotel Navis, and Hotel Ikador.
What are the best pet-friendly hotels in Opatija?
The best pet-friendly hotels in Opatija include Hotel Navis, Hotel Ambasador, and Hotel Kvarner.
What are the best hotels with a pool in Opatija?
The best hotels with a pool include Hotel Miramar, Hotel Navis, and Hotel Ikador.
What are the best hotels in Opatija with free parking?
The best hotels with free parking include Hotel Miramar, Hotel Navis, and Hotel Ikador.
Learn more about Opatija
Opatija is a harmonious city also referred to as Vienna by the Sea, The Old Lady, The Adriatic Nice, The Pearl of the Adriatic, and The Queen of Tourism.  Tourism in Croatia started in Opatija and the city rightly bears such names. The city's establishment and the tourism industry got their start in 1844.
You can sense Opatija's rich history and culture just by strolling around the city. And perhaps even hear the verses of the past. This unique and charming seaside town, full of culture and history, is a haven of picturesque settings, monuments, vibrant parks, and dreamy hotels and villas.
Situated along the stunning Adriatic coast, Opatija offers a distinct atmosphere of unique sea and forest promenades and Habsburg-era architecture. And on the other, a breathtaking scene of mountains and forests in the hinterland. Because of this, the city is teeming with exquisite and verdant parks and gorgeous vegetation.
Opatija is one of the jewels of the Adriatic coast because of its gorgeous scenery and comfortable Mediterranean climate. Its rich cultural legacy and pronounced Habsburg influence make it unique.
You might also like these articles!