Best hotels in Vodice
Hotels in Vodice, where dreams find their cozy abode and sea breezes whisper tales of tranquil nights.
With a wide range of accommodations to suit every taste, hotels in Vodice, are the pinnacle of coastal elegance. These hotels in Vodice offer a tasteful blend of contemporary luxury and traditional Mediterranean charm. They offer access to sandy beaches and glistening waters since they are tucked away along the immaculate Adriatic.
Explore Vodice's historic streets and indulge in regional cuisine at the on-site restaurants to experience the magic of this place. Hotels in Vodice combine comfort, beauty, and the rich heritage of this coastal gem to offer an unforgettable Croatian experience, whether it's relaxation, water sports, or cultural immersion.

1. Hotel Olympia Sky
Olympia Sky is a five-star resort located near the crystal-clear sea in Vodice. Set the gold standard for environmentally conscious travelers, the hotel is distinguished by its unwavering commitment to environmental efficiency. A spectacular bar and heated pool are located on the ninth floor, and a panoramic à la carte restaurant with unrivaled views of the Vodice archipelago is located on the tenth floor. If you're looking for some tasty food or just a leisurely sip of your preferred beverage, the hotel has multiple bars that provide a variety of choices. Wellness enthusiasts will also appreciate the common areas, which include a fitness center and spa, that are shared with the Olympia next door.
2. Hotel Punta Vodice
The Punta Hotel Complex is located just a few meters from the center of Vodice, a famous tourist destination on the Adriatic coast. The hotel is recognizable with its ten floors and offers islands in the palm of your hand, while the center of Vodice with all its sights is only a few steps away. Hotel Punta, with its rich offer and personalized service, provides you with an unforgettable stay. Wish for a morning with a beautiful view of the Adriatic Sea or the old town of Vodice. And with the scents of the Mediterranean, provide yourself with an atmosphere of warmth and comfort that our staff will provide you with a smile on your face.
3. Hotel Imperial
Step inside the peaceful Imperial Park Hotel, nestled in the heart of Vodice. Whether you're looking for an active-wellness getaway, complete relaxation, or a vacation enhanced by the restorative power of vitamin D and sea salt, the hotel can accommodate your every need. The hotel's distinctive location within a verdant park and natural setting – a rare find in Vodice, extends beyond our comfortable accommodations and the spotless beach. The hotel's sanctuary caters to a wide range of interests, from sports enthusiasts and rest seekers to foodies and sea lovers. Hotel Imperial deserves its spot on our list of the best hotels in Vodice.
4. Hotel Olympia Vodice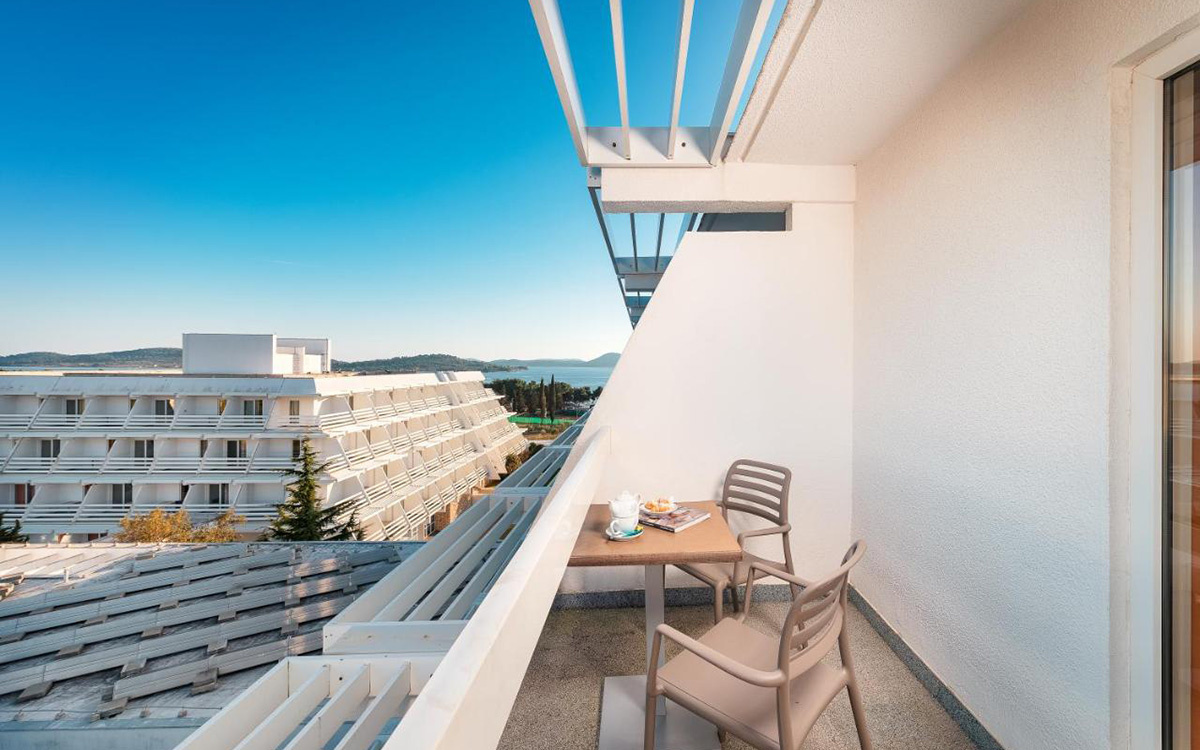 Olympia Vodice promises a dream vacation that will remain etched in your memory forever, deep in the heart of Dalmatia, the Mediterranean. Take a nap under the refreshing pine trees that line the crystal-clear Adriatic Sea, toast to your successes at the 10th-floor Olympia Sky restaurant, and let our lively beach enthrall you with infectious beats. Nature, the essence of the Mediterranean, and contemporary design come together to create this haven. Which makes you feel loved, special, and completely divine. A new era of Adriatic vacations is ushered in by Olympia Vodice, which offers first-rate lodging, faultless service, and an abundant embrace of nature.
5. Hotel Scala D'oro
Nestled in Vodice, the enchanting Scala D'oro Hotel invites you to discover its elegantly designed rooms. Some rooms offer the added luxury of a private balcony, providing a serene space to unwind. Your mornings in the hotel begin with a delightful buffet breakfast served daily. For an authentic Mediterranean experience, savor delectable dishes at the hotel's a la carte restaurant. After an eventful day, unwind with a refreshing drink at the bar. Nearby, a world of adventure awaits, with diverse sports and recreational activities such as diving, snorkeling, hiking, and windsurfing, ensuring an unforgettable stay at Scala D'oro in Vodice.
6. Hotel Miramare Vodice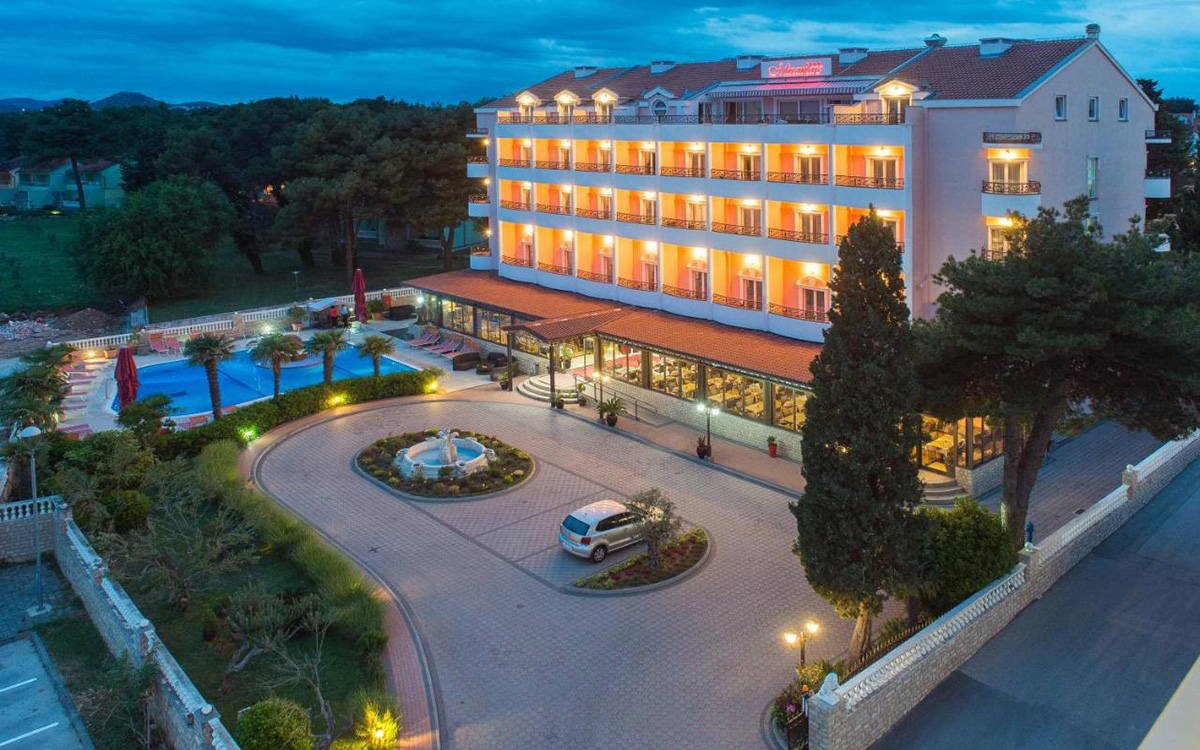 The preferred option for discerning guests looking for a balance of affordability, comfort, and convenience is Hotel Miramare in Vodice. For your convenience, the hotel has room service, currency exchange, and a front desk open around the clock. Savor a relaxing swim in the pool and eat at the on-site restaurant. The experience is improved overall by the hotel's close proximity to notable locations such as the Church of St. Elias the Prophet, Rakitnica Fortress, and the Church and Parish of St. Cross. With restaurants like Konoba Tri Piruna, Arausa, and Restaurant Adria only a short stroll away, explore Vodice's culinary scene. A fulfilling stay is guaranteed while you discover Vodice's treasures, thanks to Hotel Miramare.
7. Hotel Villas Aarausana & Antonina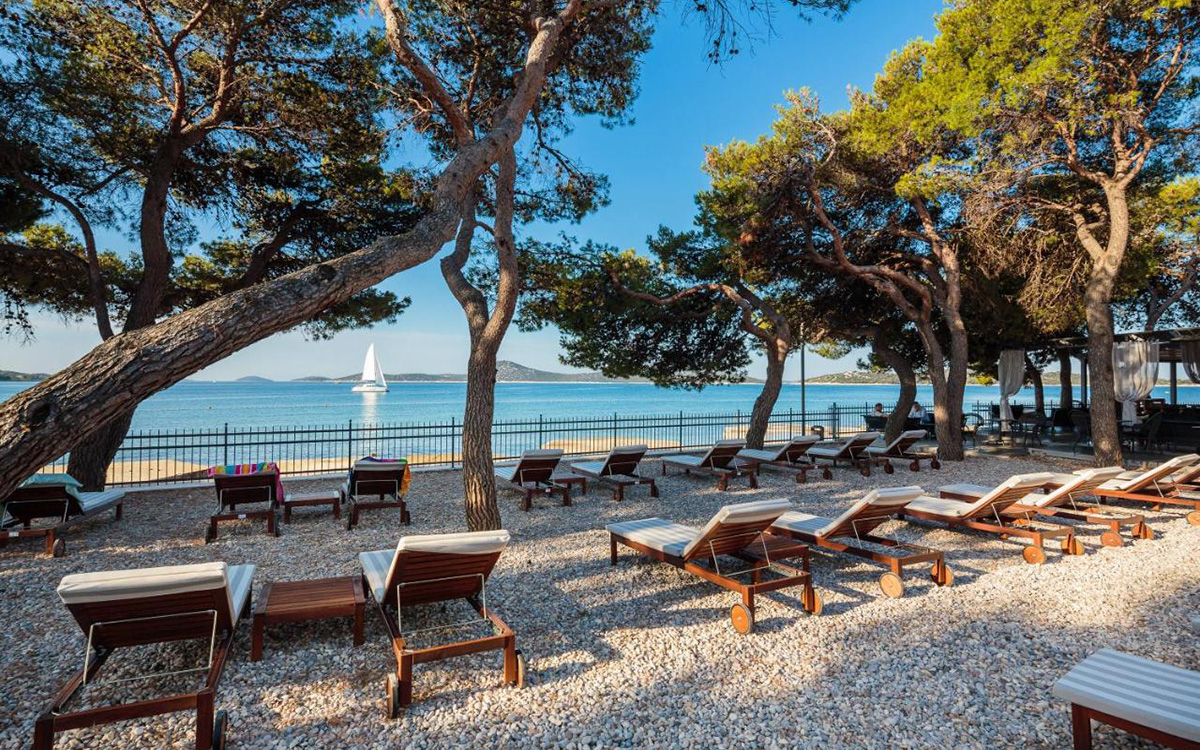 With its prime beachfront location only a short distance from the city center, Hotel Villas Arausana & Antonina beckons you to stay in the center of Vodice, one of Dalmatia's most popular tourist destinations. These two exceptional villas guarantee a stay defined by contemporary comfort and an unwavering dedication to providing first-rate, individualized service. Renovated recently and tastefully modernized, they provide an excellent hotel experience. Take advantage of the chance to enjoy the sea just a short distance away and soak up the Mediterranean sun. Rethink your trip with Hotel Villas Arausana & Antonina, which combines Dalmatian charm with modern luxury amenities to create a truly remarkable stay.
8. Hotel Stella Maris
The Hotel Stella Maris is located in a quiet yet lively neighborhood at the entrance to the picturesque town of Vodice, just a short stroll from the beach and town center. As soon as you enter this hotel, you will sense its distinct, cozy atmosphere that will make you feel as though you are in your own Croatian home.  Every component has been thoughtfully chosen, and each room is visually appealing. Beautiful details combined with a traditional and modern design can be found at the Hotel Stella Maris. The three-story Hotel Stella Maris has 24 rooms with views of the Adriatic Sea, islands, and a courtyard.
Best hotels in Vodice FAQ
What are the best hotels in Vodice close to Old Town?
The best hotels close to Old Town include Matilde Beach Resort, Hotel Olympia, and Hotel Imperial.
What are the best cheap hotels in Vodice?
The best cheap hotels in Vodice include Hotel Stella Maris and Matilde Beach Resort.
What are the best hotels in Vodice for families?
Many families that traveled to Vodice enjoyed staying at the Hotel Olympia Sky, Hotel Olympia, and Hotel Punta Vodice.
What are the best hotels in Vodice for couples?
These hotels in Vodice are highly rated by couples Scala D'oro, Hotel Olympia Sky, and Hotel Villas Aarausana & Antonina.
What are the best hotels in Vodice on the beach?
The best hotels in Vodice on the beach include Matilde Beach Resort, Hotel Punta Vodice, and Hotel Imperial.
What are the best hotels with a pool in Vodice?
The best hotels with a pool include Hotel Olympia Sky, Hotel Imperial, and Hotel Punta Vodice.
What are the best hotels with a spa in Vodice?
The best hotels with a spa include Hotel Punta Vodice, Hotel Olympia, and Hotel Olympia Sky.
Learn more about Vodice
There's a lot to talk about in regards to Vodice. In Dalmatia, this quaint town on the Šibenik Riviera is a well-liked vacation spot. The lively nightlife, stunning turquoise beaches, and amazing hotels are the main draws for tourists. Vodice, which is often ranked among Dalmatia's best coastal locations, has a lively marina and quaint old town at its center.
While the summer months offer a bustling atmosphere full of street performers, festivals, delicious Dalmatian cuisine at local restaurants, and exciting beach parties, there are also lots of quiet resorts ideal for families looking for a quiet getaway.
Some of the most well-known cities in Dalmatia, many of which have UNESCO World Heritage status, are easily accessible from Vodice. Trogir, Šibenik, Split, and Zadar are a few of these. Vodice is conveniently located near several of Croatia's most breathtaking attractions, so there is no shortage of exciting things to do during the day.
You might also like these articles!
• 10 best apartments in Vodice