Best hotels in Rovinj
Hotels in Rovinj are a gallery of dreams, where each choice paints a canvas of luxury, history, and the enchanting beauty of the Adriatic coast.
Rovinj's tasteful but limited hotel stock has been transformed by the Maistra Group. Which has developed brilliant, family-friendly hotels. Transformed entire islands into self-contained resorts with swimming pools, spas, and restaurants, and built two of the most beautiful hotels in the region. These stylish hotels in Rovinj blend the city's history with modern influences while you wander through Venetian-influenced architecture.

1. Hotel Monte Mulini
Hotel Monte Mulini, one of Rovinj's top performers, boasts five-star luxury that perfectly complements its breathtaking location. The hotel houses 99 rooms, including 14 suites, all featuring modern carpets and unique furnishings with jacuzzi-tub bathrooms. From the balconies, guests can enjoy views of a small outdoor pool. The hotel is situated near a rocky beach that offers natural shade from the surrounding greenery. To the south, a series of cove-like beaches stretch along the bay. For sports enthusiasts, there are four clay tennis courts, as well as a basketball court, bowling alley, and gym. Both the Mediterraneo and Wine Vault restaurants serve delicious Mediterranean fusion dishes.
2. Grand Park Hotel Rovinj
Situated in a stunning, modern resort-style complex with breathtaking vistas of Rovinj's Old Town across the bay, the three-star Hotel Park offers top-notch amenities typically found in five-star establishments. The Grand Park section boasts comfortable en-suite rooms situated above spacious social areas, with the marina on one side and a beautiful forest park on the other. From a well-equipped fitness center to nearby bike rentals and scuba diving opportunities, there is never a dull moment. To unwind after a day of fun-filled activities, guests can enjoy a sauna session or indulge in a relaxing massage. The spacious swimming pool at the front of the building offers stunning views of the sea.
3. Hotel Lone
The Lone Hotel has a lot to offer. From its delectable buffet breakfast to its convenient proximity to the sea, it truly has it all. Moreover, the bustling city center is just a short 15-minute walk away. Treat yourself to the spa, which features massage services, a facial room, and a tranquil sauna. While staying here, don't miss out on dining at their sushi restaurant or checking out their nightclub and other dining options. It's safe to say that this is one of the best hotels in Rovinj that you won't want to miss out on – you might never want to leave!
4. Hotel Eden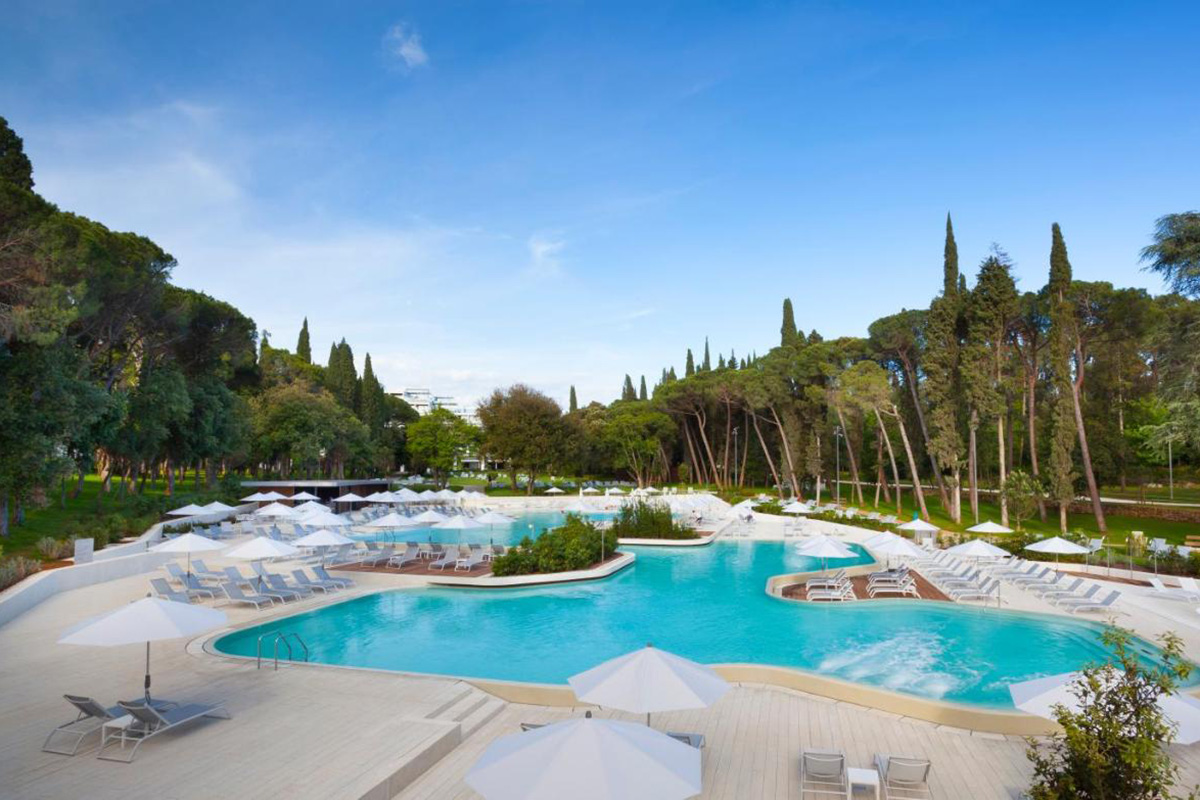 The Hotel Eden, the most convenient of the Maistra properties in relation to Rovinj's Old Town, offers rooms with balconies facing either the Adriatic or a century-old park filled with pine trees. The complex also includes a heated indoor seawater pool, jacuzzi, and Finnish and Turkish saunas. Enjoy Mulini Beach, a new addition providing access to the sea, as well as a large outdoor pool equipped with whirlpools and water massages. For dining options, visit Burin restaurant where you can indulge in classic Istrian cuisine featuring boškarin beef, local prosciutto, fish, truffles and Lim Bay shellfish. Enhance your meal with a glass of red Teran or white Malvazija.
5. Hotel Amarin Rovinj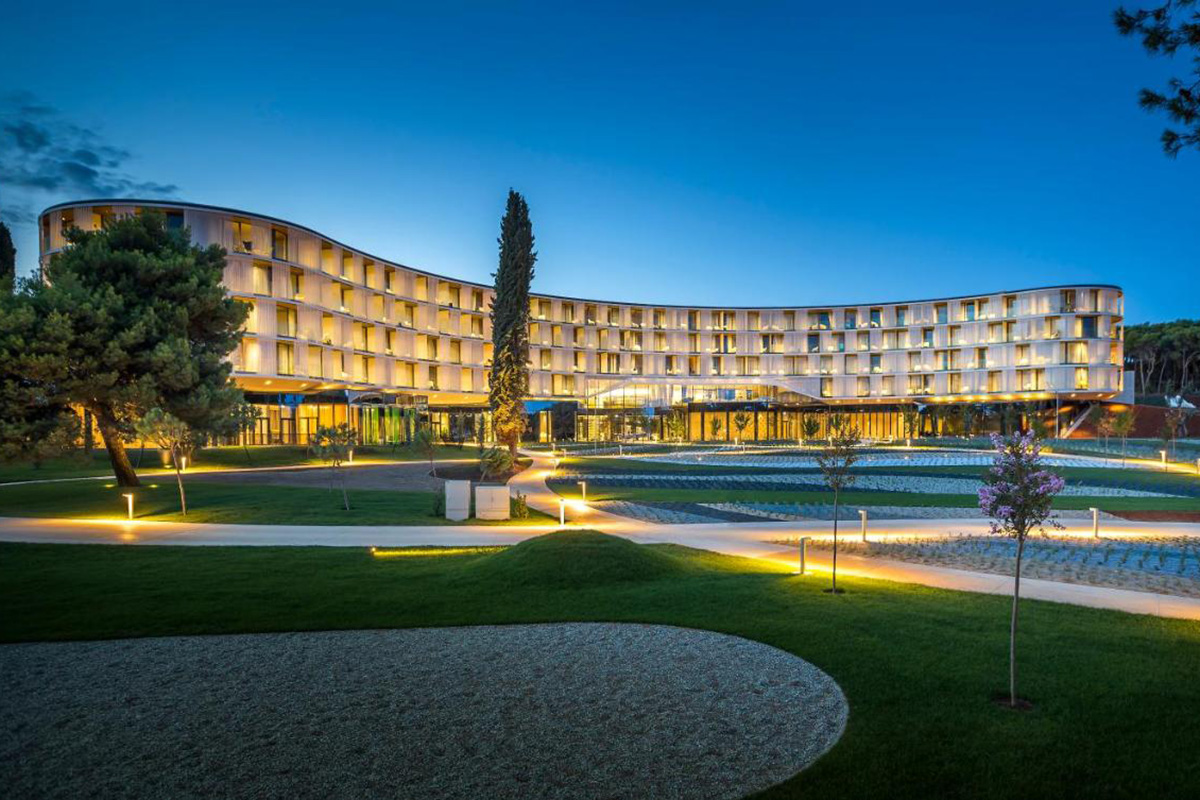 L'hôtel Amarin by Maistra Select mérite définitivement de figurer sur la liste des meilleurs hôtels de Rovinj. L'hôtel est idéal pour les familles et dispose d'une péninsule verte privée et d'un accès facile à l'océan. Profitez du bruit apaisant des vagues déferlantes depuis votre chambre avec vue sur la mer, tout en vous prélassant dans des peignoirs confortables. Pour vos repas, le Lovor Real Grill et le restaurant Marsea proposent des choix à la carte ou vous pouvez essayer le buffet avec une section spéciale pour les enfants. Les équipements de l'hôtel s'adressent également aux familles avec une aire de jeux, 4 piscines et même une baby-sitter sur place pour les parents souhaitant profiter d'une soirée.
6. Hotel Istra
What a charming property! The atmosphere is incredibly tranquil and it's truly worth your money. You'll be delighted to know that Maistra Select All Suite Island Hotel Istra, situated on St. Andrew Island, offers a variety of amenities such as an à-la-carte restaurant, wellness and spa center, and both indoor and outdoor pools. Not only that, but just a quick 15-minute boat ride will take you to Rovinj's Old Town. Adjacent to the hotel is a stunning beach for you to enjoy at your leisure. If you have business matters to attend to, there are meeting facilities available.
7. Hotel Adriatic Rovinj
Hotel Adriatic Rovinj, located in beautiful Croatia, stands out as one of the top luxury hotels in the area. Start by visiting the complimentary Wellness and Spa center, or opt for a free boat ride to explore St. Katarina and St. Andrew islands. When hunger strikes after your adventures, don't worry – delicious options await you. Begin your day with a fresh al el-carte meal or treat yourself to French-inspired pastries at Brasserie Adriatic. Additionally, there is a pool bar on-site and plenty of local restaurants in the old town to discover. Keep Hotel Adriatic at the top of your list when searching for accommodations in Rovinj's old town!
8. Hotel Delfin
Picture waking up at Hotel Delfin Rovinj to the magnificent sight of the old town and sea. It truly cannot be matched. Not only will you have easy access to the Rovinj Marina, but you will also be surrounded by numerous other attractions that may eliminate the need for a car rental. Additionally, their on-site restaurant features delectable traditional Croatian cuisine. Indulge yourself by reserving a deluxe suite with a view of the sea, it will definitely not disappoint. Trust us, Hotel Delfin is among the top hotels in Rovinj, and your stay there will be unforgettable.
9. Hotel Arupinum
Discover the sleek design and chic ambiance of Arupinum, a modern hotel offering 20 upscale rooms. Take advantage of amenities such as an outdoor pool, a sunbathing terrace with loungers, and an elegant à-la-carte restaurant. Arupinum Hotel also has a magnificent bar with a spacious terrace for your enjoyment. Located just 500 m from a pebbly beach and 800 m from Rovinj's city center, Hotel Arupinum is the ideal destination for relaxation. Pamper yourself at the spa and wellness center or unwind at the bar and restaurant on the expansive terrace. Experience the best of Rovinj by staying at this exceptional hotel!
10. Hotel The Melegran
One of the best hotels in Rovinj's old town is The Melegran. Being located near top restaurants and attractions, as well as within walking distance of Baluota Beach, Mulini Beach, and Sveti Andrija Beach, it's an ideal location for beach enthusiasts. For those interested in biking, The Melegran offers in-house bike rentals in one of the best biking areas in town. But that's not all – guests can also enjoy a bar, free wifi, and a shared lounge within the hotel. With various rooms to choose from, including spacious family rooms, you'll surely find your perfect fit in this trendy and upcoming hotel in Rovinj.
Best hotels in Rovinj FAQ
What are the best hotels in Rovinj near Old Town?
The best hotels close to Old Town include the Adriatic Hotel, Hotel Angelo d'Oro, and Spirito Santo Palazzo Storico.
What are the best luxury hotels in Rovinj?
The most popular luxury hotels in Rovinj include the Adriatic Hotel, Grand Park Hotel Rovinj, and Monte Mulini.
What are the best cheap hotels in Rovinj?
The best cheap hotels in Rovinj include Grand Park Hotel Rovinj and Hotel Katarina.
Which hotels in Rovinj are good for families?
Many families that traveled to Rovinj enjoyed staying at the Adriatic Hotel, Grand Park Hotel Rovinj, and Monte Mulini.
Which hotels in Rovinj are good for couples?
These hotels in Rovinj are highly rated by couples Monte Mulini, Adriatic Hotel, and Hotel Angelo d'Oro.
What are the best hotels in Rovinj on the beach?
The best hotels in Rovinj on the beach include Grand Park Hotel Rovinj, Monte Mulini, and Hotel Amarin.
What are the best hotels with a pool in Rovinj?
The best hotels in Rovinj with a pool include Monte Mulini, Grand Park Hotel Rovinj, and Hotel Lone.
What are the best hotels with a spa in Rovinj?
Hotels that received excellent reviews for the best spa center in Rovinj include Hotel Eden, Grand Park Hotel Rovinj, and Hotel Amarin.
Learn more about Rovinj
Many consider Rovinj to be the most romantic place in the Mediterranean. A long time ago, Rovinj was an island protected by high, sturdy stone walls. The baroque St. Euphemia's church guards the crowded, colorful houses, narrow streets, and small squares. Tourists are coming to feel the charm of Rovinj all around the world. What draws them to Rovinj? Perhaps it's the enchanting remnants of the past that can be felt while strolling through the narrow cobbled streets. Or maybe it's the cluster of 22 islands and islets, temperate Mediterranean weather, beautifully manicured parks, clean streets, welcoming locals, or a diverse range of town events? It could be all these reasons combined!
You might also like these articles!
• The 10 best hotels in Šibenik
• The 10 best hotels in Zagreb
• The 13 best hotels in Dubrovnik