A beautiful country with a rich history, beautiful coastline, stunning architecture and a unique culture. Croatia has exploded onto everyone's radar as one of Europe's coolest travel destinations. Although Split and Dubrovnik are firmly establishing themselves as popular tourist destinations, Croatia has more to offer than its two superstars. Here are 10 most beautiful cities in Croatia.
1. Zadar
Looking for the most beautiful cities in Croatia? Let's start with Zadar. The city is renowned for its romantic, passionate, and spirited atmosphere. It is a vibrant city that prides itself on its exploration of new art forms and ideas to enhance its location. It welcomes all with open arms and leaves a lasting impression on every guest! There's no doubt why it is one of Europe's most visited cities, home to the modern marvels, Sun Salutation and Sea Organ. The streets are lined with centuries of history in its charming Old Town district, making it an unforgettable experience. Those who have the opportunity to visit this ancient city will not be disappointed, this place has something for everyone! From Zadar, you can easily visit one of the most beautiful archipelago in Europe – Kornati Islands. Croatian's largest lake – Lake Vrana and one of the most amazing National Parks in Croatia – Paklenica.
2. Pula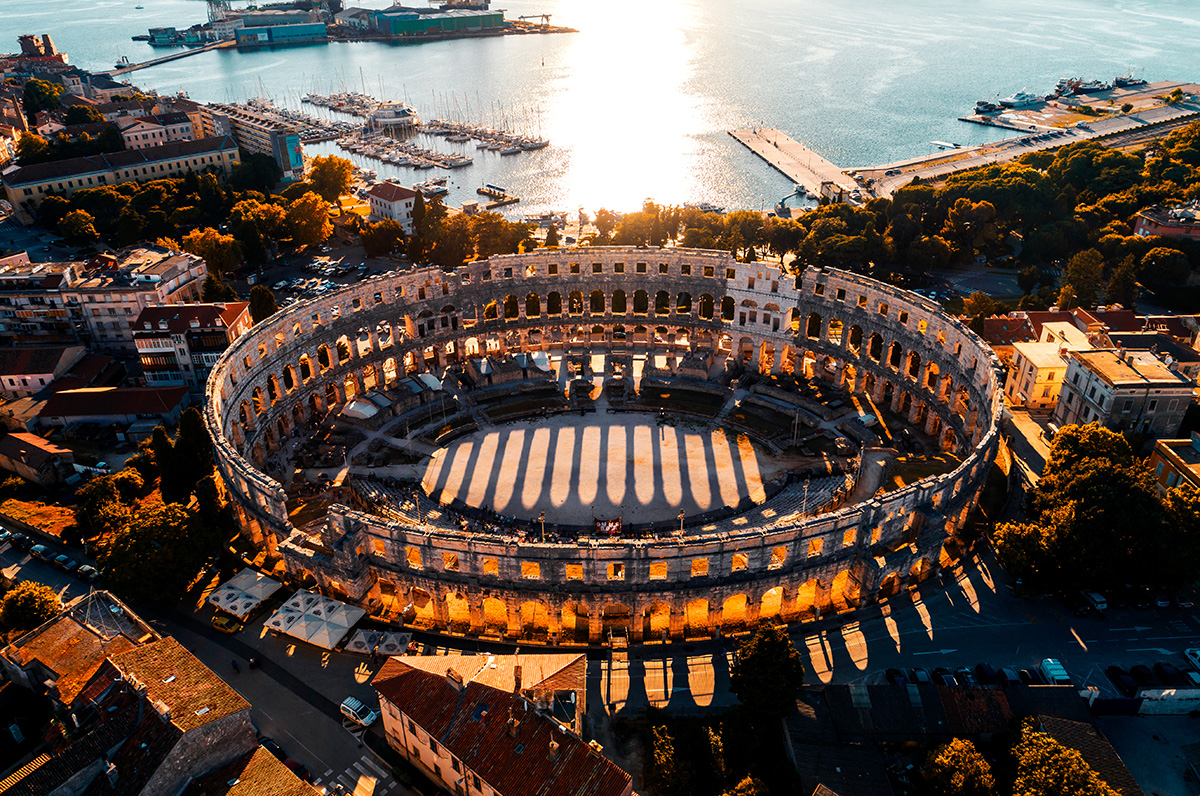 The largest city in Istria is Pula, which also has a completely different vibe than any other city in the region. With its long shipbuilding and navy history, Pula has always had a more industrial, urban vibe than the touristy, dolce vita atmosphere of other Istrian towns. Pula is brimming with history and features, particularly the monumental Pula Arena, one of the few maintained Roman amphitheaters and a venue for summer concerts and festivals. Moreover, visitors can find plenty of museums and churches to explore. Whether you are attracted by its Mediterranean climate, picturesque atmosphere, or its exciting nightlife scene, Pula is a suitable destination at any time of the year. While being a thriving commercial center on the waterfront, it still has its traditional small-town charm. Pula is undoubtedly one of the most beautiful cities in Croatia.
3. Opatija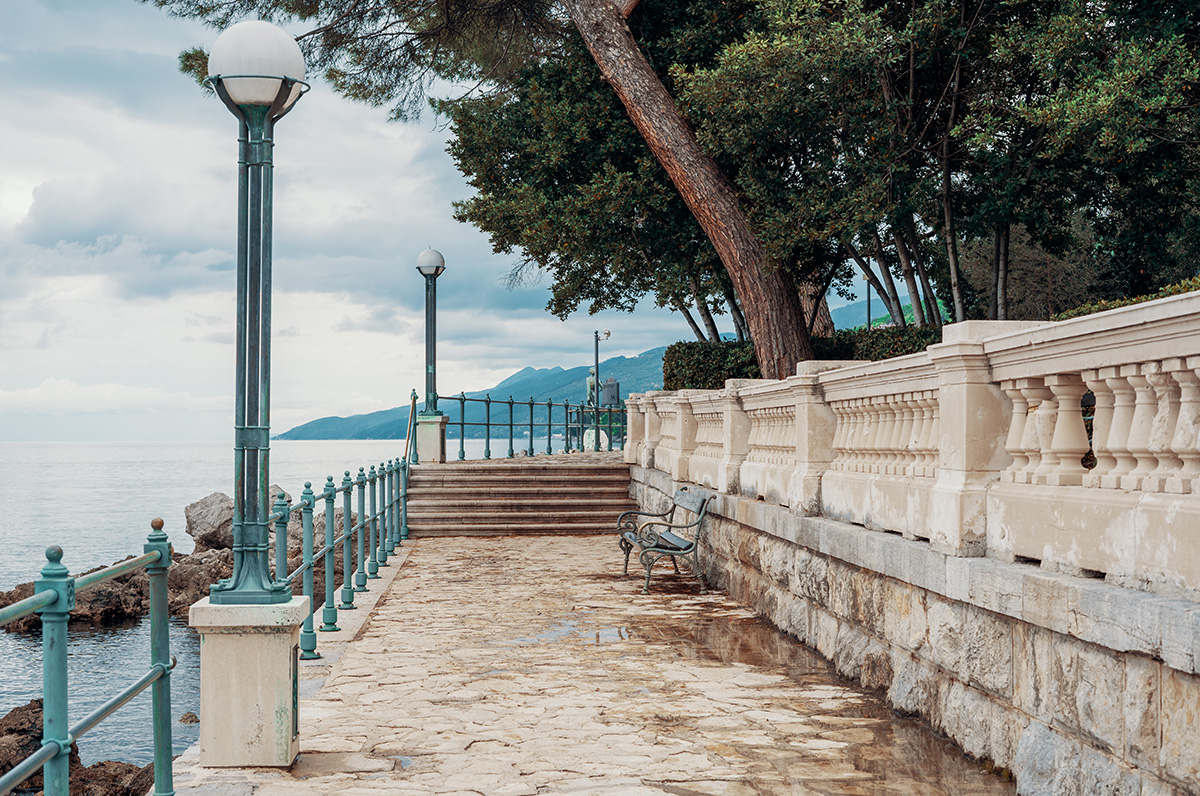 Located in the Kvarner region of Croatia's Istrian peninsula, Opatija is a tranquil resort celebrated for its mild climate and stunning setting. The town was a popular 19th-century holiday destination for Austrians, evidenced by the plethora of classical hotels built around the turn of the 20th century. When the 2014 movie Grace of Monaco was being filmed, Opatija's elegant architecture and Mediterranean beauty made it an obvious choice to stand in for the French Riviera. Its 12km rocky coast is lined with a lush promenade known as Lungomare. Travelers can explore dozens of coves along the way to Lovran that offer opportunities to relax on shore or take a dip in the sea.
4. Split
Split is a vibrant port town on Croatia's Dalmatian coast, its ancient center, beautiful architecture, and exquisite cuisine make it popular with travelers. It's home to impressive Roman monuments, crystal-clear beaches, and one of the most stunning promenades on the Adriatic Coast – giving tourists plenty to experience. The most renowned attraction in Split is Diocletian's Palace, one of the most impressive Roman ruins in the world. Whether you're drawn by its culture, arts, music, or sports facilities, or simply after leisurely days spent exploring the Marjan Forest Park (known as the "lungs of the city"), Split has something for everyone. Its stores and private residences present a truly Mediterranean atmosphere whilst its wild natural side opens up opportunities for outdoor pursuits. With centuries-old churches and pine trees dotting the Marjan Peninsula, there's a lot to discover in this charming town.
5. Dubrovnik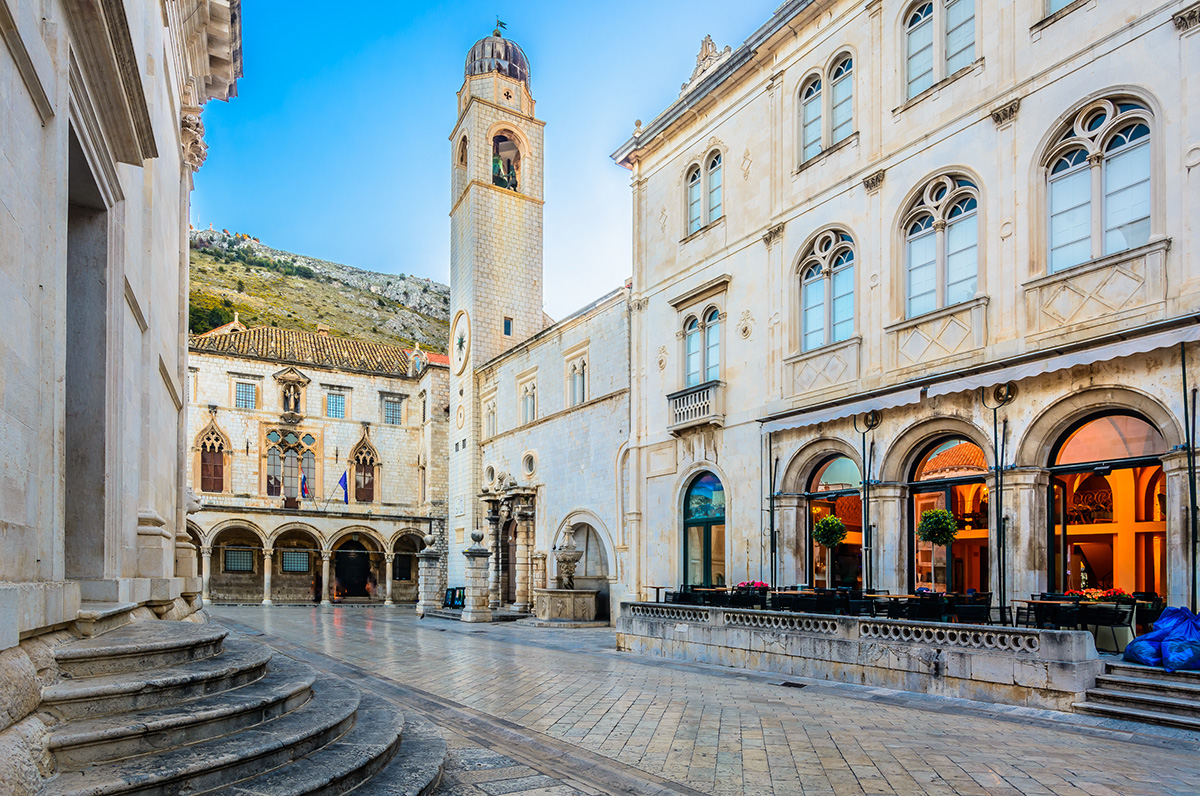 The city of Dubrovnik, located in the South of Croatia, is one of the most popular destinations in the country. Known for its rich cultural and historical heritage, as well as local Mediterranean cuisine, stunning beaches, and various galleries and museums, it's a living museum and vibrant stage connecting its past with the present. It is surrounded by medieval walls that are an impressive 1940 meters long and have been preserved to this day, attracting tourists from far and wide. Since 1979 it has also had UNESCO protection. Dubrovnik is the ideal location for relaxation with excellent air connections to many European cities. A city that will captivate your heart completely each time you return, full of unique experiences waiting to be explored!
Car rental at Dubrovnik Airport
6. Šibenik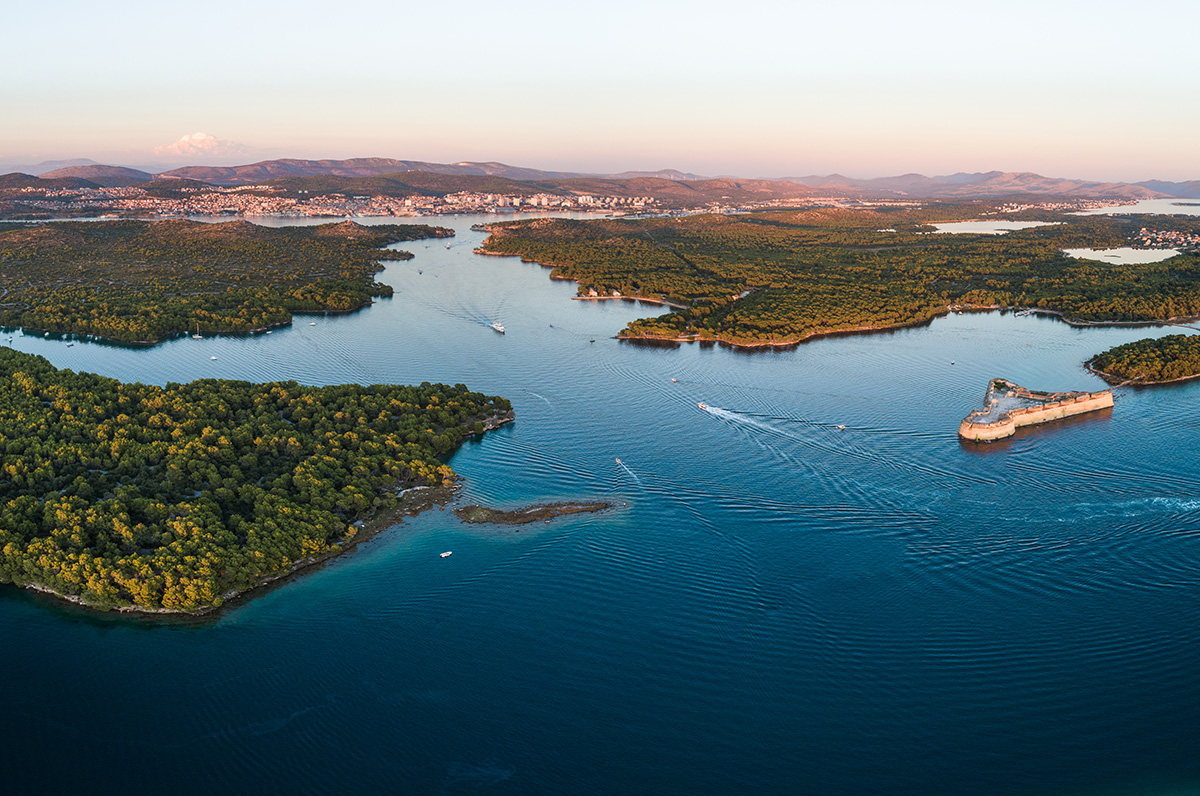 Šibenik, known for its unique urban expression, stands connected to the open sea by the vibrant, sinuous St. Anthony's Channel. This entrance is defended by the Renaissance fortress of St. Nicholas and three other citadels – St. Michael, St. John, and Barone, all symbols of Šibenik's unvanquished centuries-long history and three of the few such fortresses in the entire Mediterranean Sea region. What is truly remarkable is that Šibenik is one​ of a handful of cities worldwide to have two monuments listed in UNESCO's heritage registry, most notably its fifteenth-sixteenth century cathedral of St. James which took five generations more than a hundred years to construct and create perfect proportions giving it a feeling of having been cast from one single piece. From Šibenik, you can easily explore one of the most beautiful hidden destinations in Croatia – Kuda's Bridge. The list of most beautiful cities in Croatia is unimaginable without Šibenik.
7. Makarska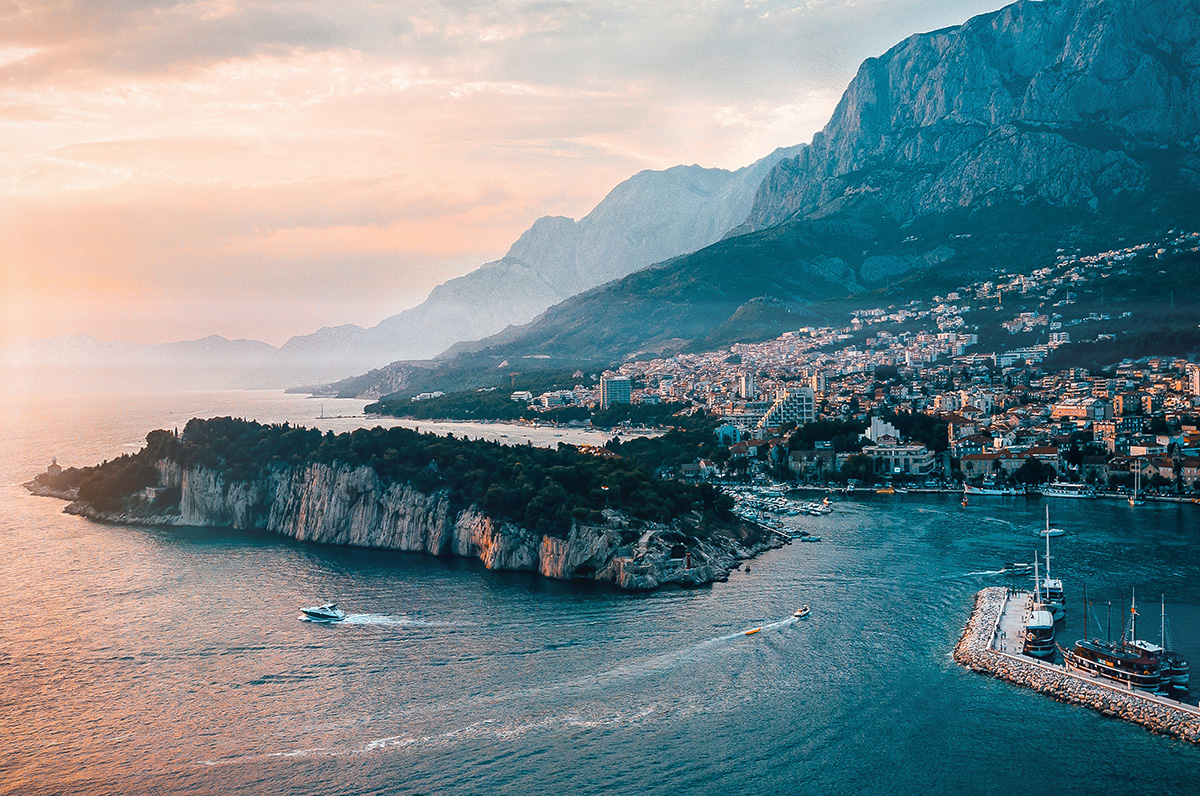 The Makarska Riviera, located in the heart of central Dalmatia, is renowned for its 60 kilometers of picturesque Adriatic coast. With plenty of small fishing spots, this destination is becoming increasingly popular among those who want to experience its natural beauty and top-tier services. The area offers a breathtaking combination between Biokovo's majestic mountains and sea, along with crystal clear beaches and marinas adorned with blue flags – proof of its ecological cleanliness. On top of that, visitors can savor Dalmatian cuisine specialties, and exquisite local wines as well as take part in vibrant entertainment experiences, all while exploring its long-standing cultural and historical heritage.
8. Rovinj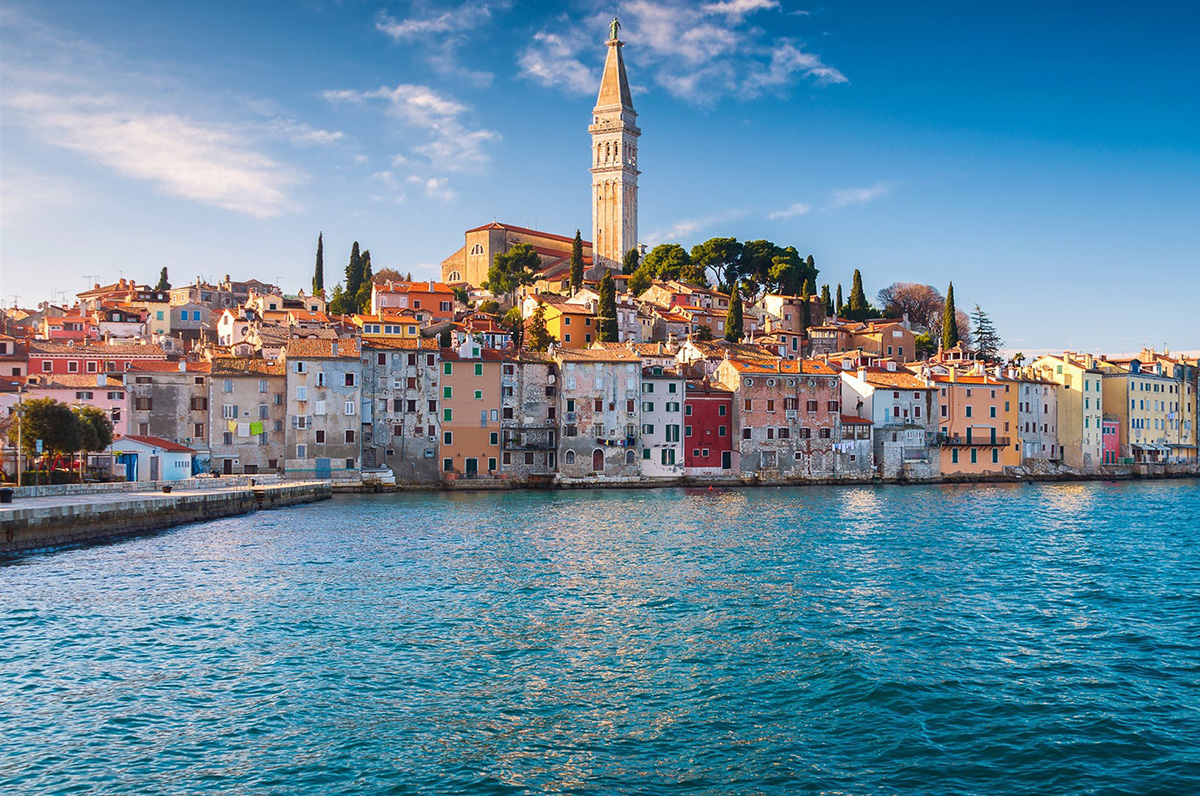 Rovinj, located on the Istrian Peninsula's western coast, is known to many as one of the Mediterranean's most romantic places. Long ago, it was an island defended by towering walls of stone. Colorful homes, narrow alleys and small squares are now sheltered under the watchful eye of the baroque St. Euphemia's church. There are many islands in Rovinj's archipelago, but perhaps the most notable are St. Andrew's Island or Red Island and St. Katarina Island. Not too far from downtown lies a forest park called Golden Cape, a relaxing area with plenty of beaches to explore on foot or bicycle. Rovinj is not a big city, regardless, it deserves to be on the list of the most beautiful cities in Croatia.
9. Rijeka
From the 16th century, Rijeka was reborn in Renaissance style, many of the historic buildings now imbue the city with a resplendent Baroque atmosphere. Croatia's grandiose National Theatre is an apt example of this architectural ancestry – its neoclassical design is fitting for any leading European city. Nature has provided an ample complement to the cultural attractions, with the Učka mountain range bestowing breathtaking views upon visitors who come for its museums, galleries, parks and beaches. Its outskirts are sadly marred by modern construction works but much of the center still stands true to its Austro-Hungarian roots. What is more, from its concrete core stemming out lies a luscious green metropolis, replete with Croatia's largest port and bustling ships, cargo and cranes alongside its waterfront.
10. Zagreb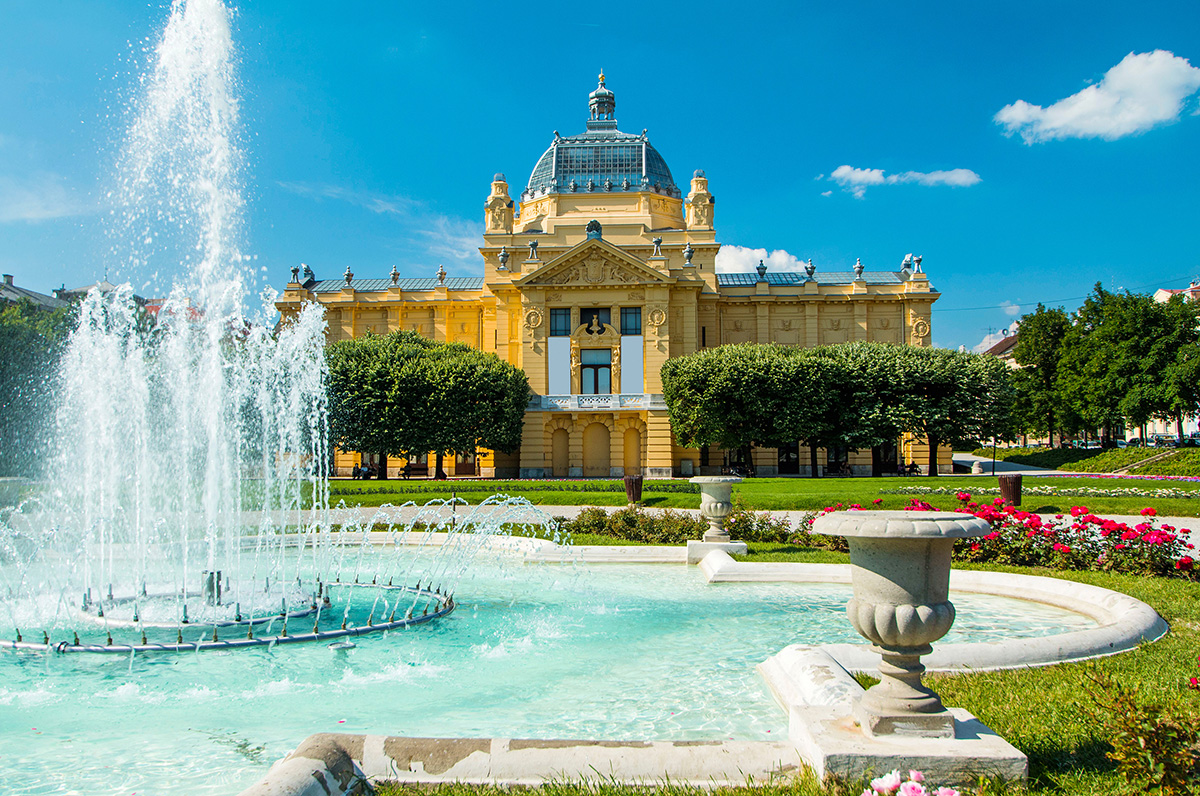 Zagreb, the capital city of the country is a bustling center of the Republic of Croatia and is renowned for its rich cultural and historical heritage, as well as its modern-day amenities. Surrounded by the mountain of Medvednica and the banks of the Sava River, Zagreb's parks, streets and squares create a beautiful cityscape. Ban Josip Jelačić Square acts as a hub for most of the locals, it is often used for romantic rendezvous or for friends to meet up after doing their weekly grocery shopping at Dolac Market. As all roads seem to lead to this historic square, it truly can be thought of as the beating heart of Zagreb. If you rent a car in Zagreb and take your journey to the Dalmatian coast don't forget to stop at Plitvice Lakes, one of the most amazing nature places in Croatia.
You might also like these articles!
• 9 charming small towns in Croatia
• 7 most romantic islands in Croatia